This post contains affiliate links. (Disclosure policy)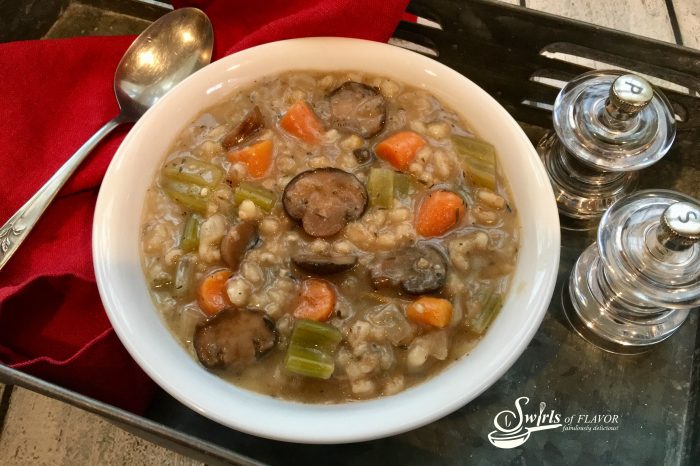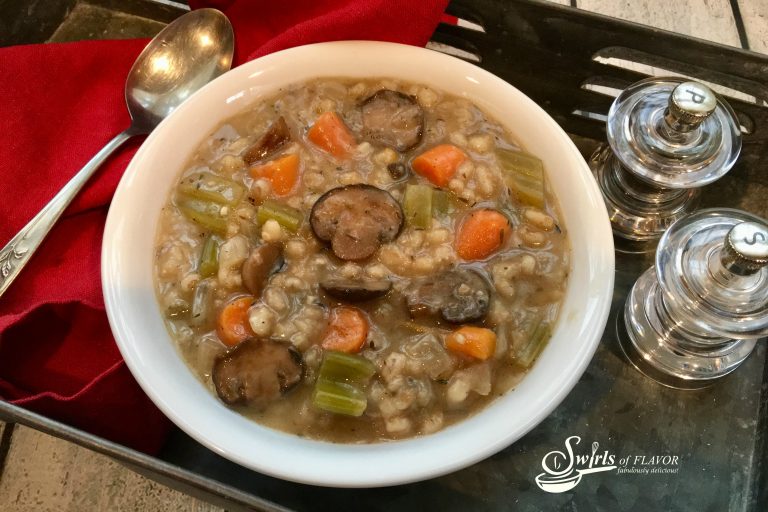 There's a chill in the air reminding me that the seasons are making a shift. The occasional hot sunny day is becoming a distant memory. Summer has lost it's grip and fall has begun to take over. Cups of hot tea, dinner roasting in the oven and bowls of hearty soup all come to mind now. Slow Cooker Mushroom Barley Soup is simmering in my slow cooker on my kitchen counter as I write this and my mouth is watering from the "Swirls of Flavor" filling the air! Looking for a new slow cooker? The Hamilton Beach Set 'N Forget Programmable Slow Cooker is my favorite! No need to worry if you're running late getting home. This slow cooker will switch from cook to warm and keep everything at the perfect temperature while waiting for you to arrive home!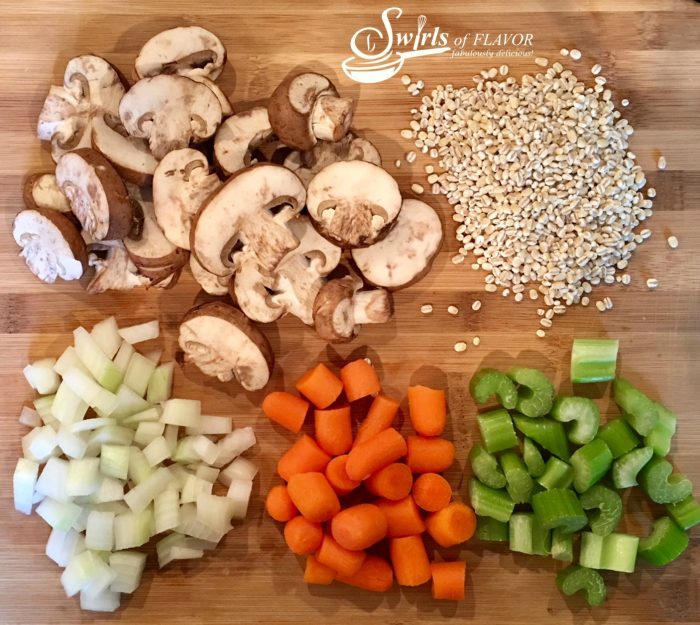 Bursting with tender mushrooms, carrots, celery and onions, these vegetables are complimented by bits of al dente barley in a perfectly seasoned broth. But don't just stop at Slow Cooker Mushroom Barley Soup! Put that slow cooker to work!
Slow Cooker Pineapple Chili Chicken, Coconut Curry Thai Chicken, Bone Broth, Moroccan Chicken , Salsa Verde Chicken are among the slow cooker recipes here at Swirls that will cook themselves for you. You can even cook then freeze them and heat up another day!
And if it's more soups you're looking for, look no further! Avocado Lime Chicken Soup , Southwest Black Bean Soup , Cheddar Potato Soup , Italian Wedding Soup and the classic Creamy Tomato Soup With Cheddar Bacon Grilled Cheese Croutons simmer on your stovetop and will warm you up on a chilly fall day. Oh yes, welcome back my dear friend Fall. I really am so happy that you have arrived!
Slow Cooker Mushroom Barley Soup
2017-10-26 15:21:08
Serves 4
Slow Cooker Mushroom Barley Soup is bursting with tender mushrooms, carrots, celery and onions complimented by bits of barley in a perfectly seasoned broth. Let your slow cooker do the work for you today!
Nutrition Facts
Amount Per Serving
* Percent Daily Values are based on a 2,000 calorie diet. Your Daily Values may be higher or lower depending on your calorie needs.
Ingredients
1 cup chopped carrots
1 cup chopped celery
1 cup chopped onion
1 pkg. (10 ounces) sliced crimini or white mushrooms, about 3 cups
1 clove garlic, minced
1 tsp. dried thyme
1/2 tsp. kosher salt
1/4 tsp. pepper
1/2 cup uncooked barley
4 cups chicken, beef or vegetable broth
2 Tbs. butter
Instructions
Arrange carrots, celery and onion in bottom of slow cooker. Top with mushrooms then garlic, thyme, kosher salt and pepper. Top with barley and add broth.
Cook 6 hours on low. Stir in butter and let cook additional 15 minutes until butter is melted and blended in.
Swirls of Flavor https://swirlsofflavor.com/