Brimming with lemon flavor and a hint of fresh ginger, our Chicken Orzo Soup is easy to make and will be on your table in just 30 minutes.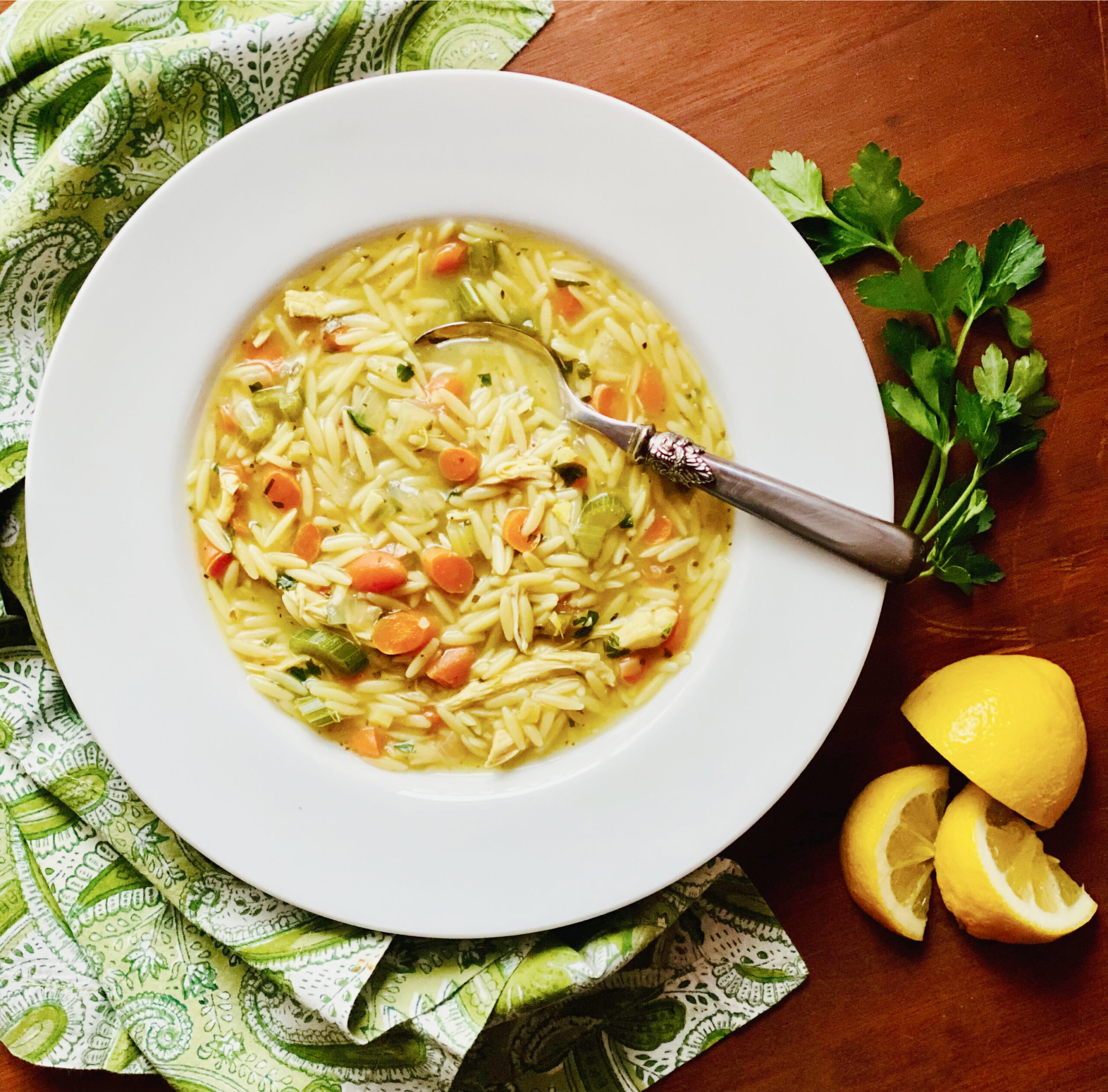 Chicken Orzo Soup
There's nothing quite like a bowl of chicken soup to warm the soul. Add in the bright flavor of lemon, notes of fresh ginger and tender orzo pasta, and every spoonful will be a taste of heaven. Our homemade chicken and orzo soup recipe is a bowl full of comfort food.
And it's so easy to make our lemon orzo soup on your stovetop. Just saute the vegetables and seasonings until they just begin to soften.
Then add in the broth and once it comes to a boil, stir in uncooked orzo pasta and shredded cooked chicken. Now let that cook until the pasta is al dente.
The finishing touches are bright notes of lemon juice and fresh parsley.
Homemade soup is one of the easiest things to make from scratch and really doesn't take much time at all. Here at Swirls we have lots of homemade soup recipes for you to try!
This orzo soup is definitely one of my favorites with it's vibrant citrus flavor and tender pasta. Enjoy!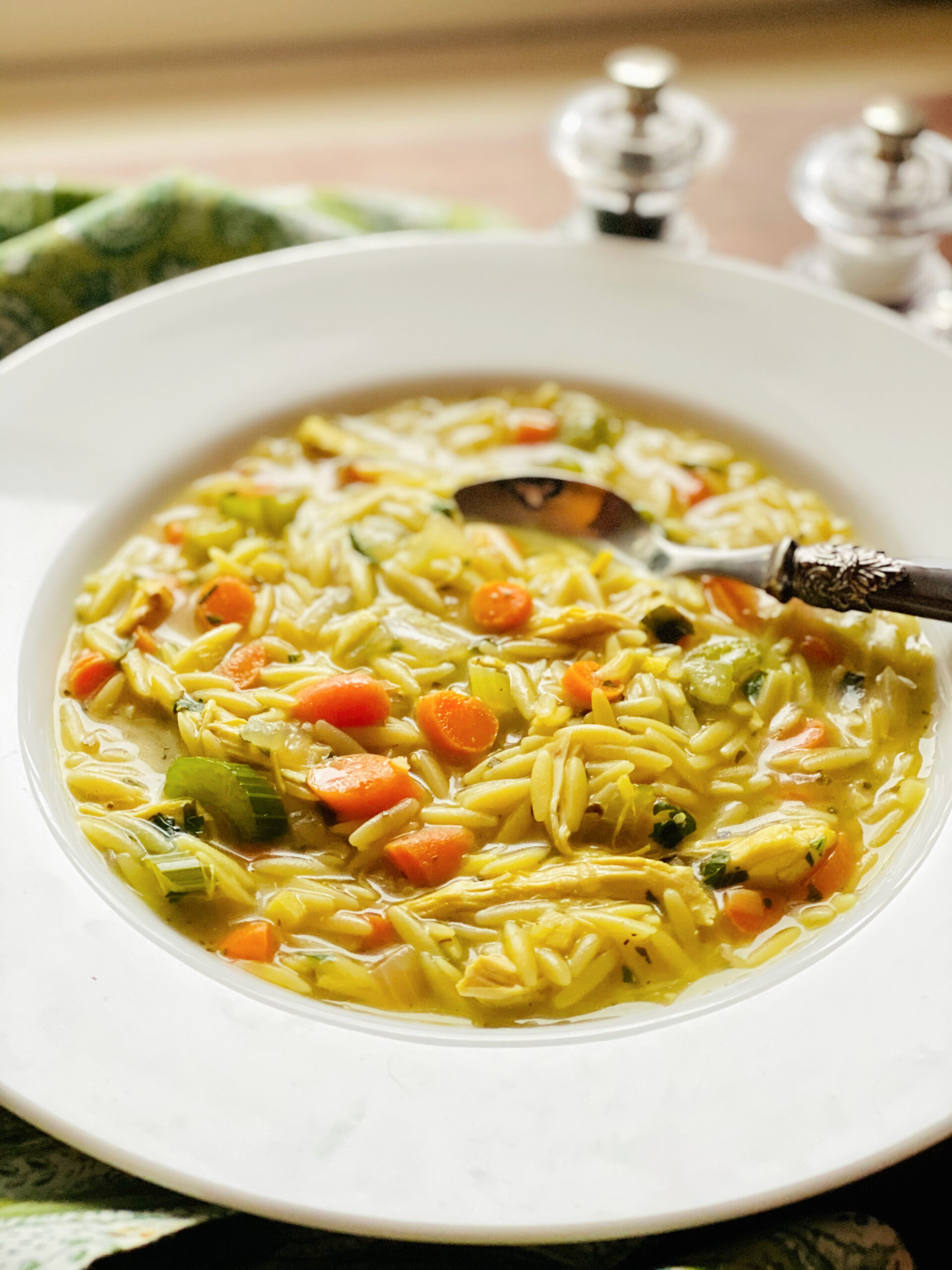 Swirls of Flavor Recipe Tips
Stir in cooked white rice in place of the orzo
No fresh ginger, you can just leave it out and this soup will still taste delicious!
Substitute dried oregano or dried marjoram for the Italian seasoning
Stir in baby spinach
Make this soup vegetarian, omit the shredded chicken and make with vegetable broth
How to make chicken orzo soup
Cook vegetables and seasonings in oil until just tender.
Add broth and bring mixture to a boil
Add shredded chicken and uncooked orzo
Cook until orzo is al dente
Stir in lemon juice and parsley
Orzo Soup FAQ's
What is orzo soup made of?
A typical orzo soup is made of chicken, orzo, onions, celery, carrots and broth. You can also add in garlic and seasonings.
Is orzo a pasta or rice?
Orzo is a short cut pasta that is shaped like a large grain of rice. It is traditionally made from white flour but can also be made with whole grain.
Can you freeze orzo soup?
Yes, you can freeze orzo soup although the texture of the orzo may change slightly.
Ingredients you will need to make this recipe
Olive oil – to saute the vegetables in
Onion – for savory notes
Carrots – for sweet notes
Celery – gives a depth of flavor
Fresh ginger – a hint of pepper and sweetness
Garlic – lends a bit of savory
Dried Italian seasoning – for a Mediterranean touch
Chicken broth – the base of the soup
Cooked chicken – provides protein
Orzo – tender pasta gives lots of body to the soup
Lemon juice – adds a bright citrus flavor
Parsley – fresh herb notes
Related Recipes
I make commissions for purchases made through links in this post.