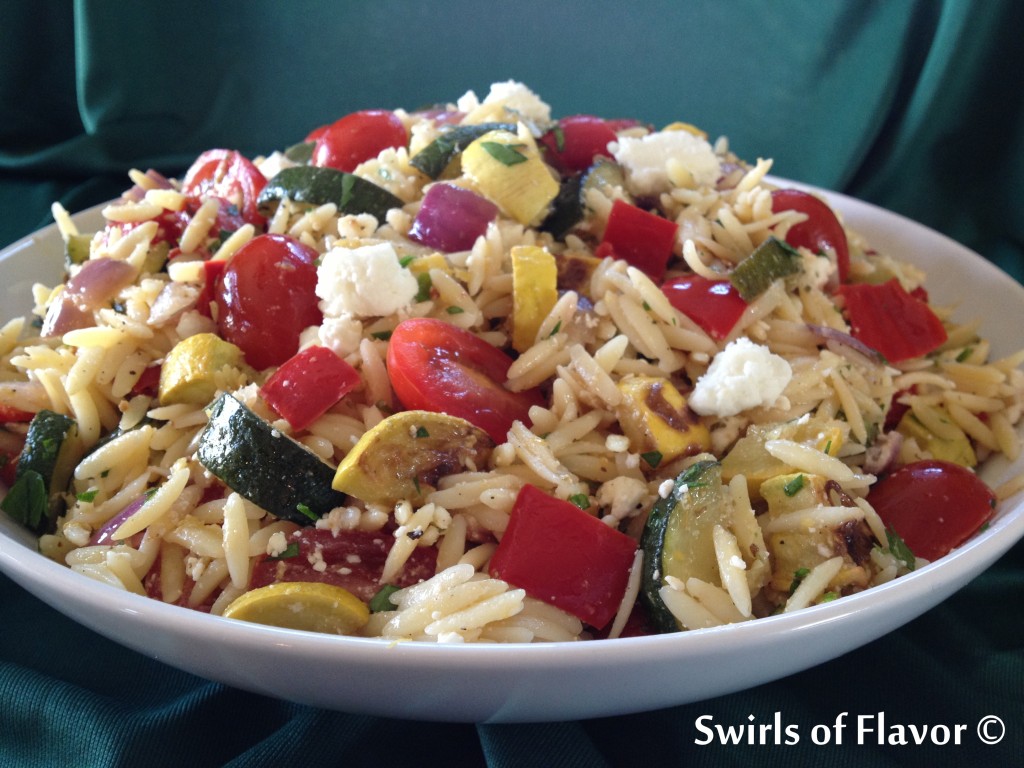 Roasted Rainbow Vegetables with Orzo & Feta combines an array of vegetable colors and flavors with pasta and a lemony vinaigrette. Roasting the vegetables adds layers of flavor to this dish. This recipe is so versatile you can serve it warm or at room temperature, make it right before serving or make it a day ahead, serve it with your meal or double or even triple* the recipe and serve a crowd! The first time I created this recipe was for my daughter-in-law's "Sprinkle". Apparently when you are expecting your second baby, and it's the opposite sex of your first baby, you now have a "Sprinkle" instead of a "Shower". Who knew? Well, now I know! Roasted Vegetables with Orzo & Feta was a big hit on the buffet table at the "Sprinkle"! I'm sure it will be a big hit on your table too!
Roasted Rainbow Vegetables with Orzo & Feta
1 (8 oz.) zucchini, chopped, 2 cups
1 (6 oz.) yellow squash, chopped, 1 1/2 cups
1 (4 oz.) red onion, chopped, 1 3/4 cups
1 red pepper, chopped. 1 cup
1/3 cup + 1 Tbs. olive oil, divided
1/2 tsp. dried oregano
1/4 tsp. garlic powder
3 Tbs. red wine vinegar
1 Tbs. lemon juice
1 Tbs. lemon zest
1/2 tsp. kosher salt
1/4 tsp. pepper
8 oz. orzo pasta, cooked, drained and cooled down with cold water
1 cup grape tomatoes, halved lengthwise
4 oz. crumbled Feta
2 Tbs. chopped parsley
1. Preheat oven to 425F. Line large shallow baking sheet with edges with foil.
2. In large bowl toss zucchini, squash, onion, red pepper, 1 Tbs. olive oil, oregano and garlic powder. Arrange in even layer on prepared baking sheet.
3. Roast 25 minutes or until lightly browned and roasted.
4. In serving bowl whisk remaining 1/3 cup olive oil, vinegar, lemon juice, lemon zest, salt and pepper until blended.
5. Add roasted vegetables, orzo, tomatoes, Feta and parsley; toss until evenly coated.
Yield: 7 cups
* When doubling or tripling this recipe be sure to roast vegetables in batches in even layers. Piling vegetables all together on one baking sheet will cause them to steam and not roast and caramelize!