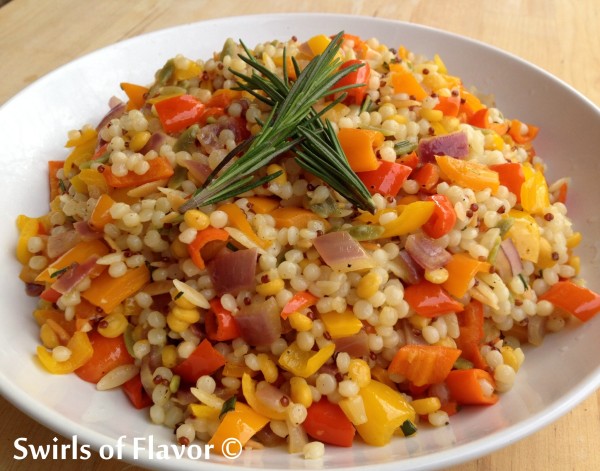 Have you noticed those pretty bags of mini peppers in the produce section of your grocery store lately? Their beautiful vibrant colors of orange, red and yellow catch my eye every time I pass by them. Bursting with sweetness and  a rainbow of colors, these little mini peppers make a great addition to your favorite recipes! And Sweet Mini Peppers Couscous is sure to become a favorite!
Sweet Mini Peppers Couscous
8 ounces harvest grains blend, such as Trader Joe's OR Israeli couscous
2 Tbs. butter, divided
1 lb. sweet mini peppers, trimmed, seeded, chopped, 3 cups
1 small red onion, chopped, 1 cup
2 cloves garlic, minced
1 tsp. kosher salt
1/2 tsp. pepper
1/2 tsp. dried chopped rosemary
1/4 cup white wine OR chicken broth

1. Prepare harvest grains blend or Israeli couscous according to package directions.
2. Meanwhile, in large non-stick skillet over medium-high heat melt 1 Tbs. butter. Add peppers, onion, garlic, kosher salt, pepper and rosemary. Cook until peppers are tender, 3-4 minutes, stirring occasionally. Add wine; cook 1 minute.
3. Add harvest grains blend or Israeli couscous to pepper mixture, stirring until combined. Add remaining 1 Tbs. butter. Cook until butter is melted, 1 minute.
Makes 6 cups.