Mexican Quinoa Stuffed Peppers are an easy recipe that's perfect for a weeknight dinner and beautiful enough to serve to guests. Quinoa stuffed peppers take on a Mexican flair, bursting with a filling of quinoa, black beans, corn, tomatoes and salsa. This post contains affiliate links. If you make a purchase through one of these links, I make a small commission at no extra cost to you. (Privacy Policy)
Stuffed peppers, a retro comfort food from my childhood, have had a resurgence of popularity lately. Personally, I'm loving the ease of making these quinoa stuffed peppers because the filling all cooks in one pot. No need to cook the quinoa in a one pot and the rest of the filling in another! And having dinner all tucked into a delicious bell pepper makes this stuffed pepper recipe so much fun and very appealing.
By using several colors of bell peppers, Quinoa Stuffed Peppers are not only filled with good for you protein and grains, but will look so beautiful on your dinner table and we all know that you eat with your eyes before you eat with your mouth. Actually that was the first thing I was told in culinary school and I always keep that in mind when creating my recipes. Serve them on a beautiful platter that compliments their colors and dinner just became deliciously gorgeous.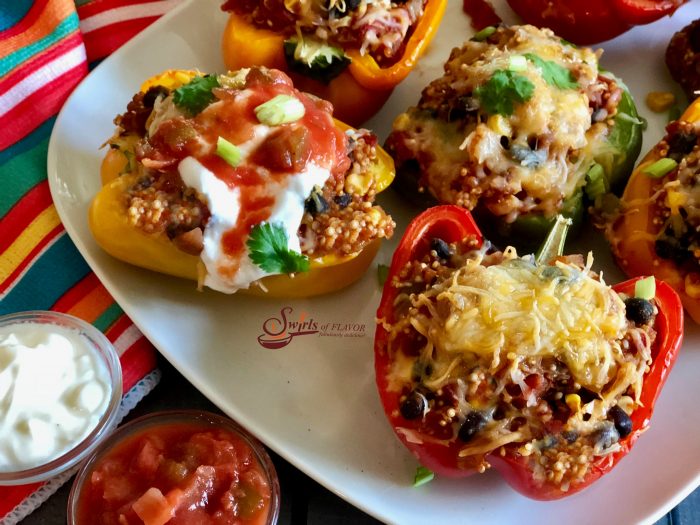 Benefits of Quinoa
Quinoa is a prefect choice for a stuffed pepper filling because of it's many benefits including:
Quinoa is a complete source of protein.
Quinoa is filled with all the essential amino acids that your body needs.
Quinoa cooks quickly.
Quinoa is very high in fiber; much higher than most other grains contain.
Quinoa has a low glycemic index making it good for blood sugar control.
Quinoa is non-GMO.
Quinoa is gluten free.
Quinoa is high in magnesium and iron.
Quinoa is very high in antioxidants.
More Quinoa Recipes
Are you convinced of the benefits of quinoa and need more quinoa recipes now? Then it's time to add these quinoa recipes to your line up stat!
Lemon Basil Avocado Quinoa with a light citrus dressing, fresh basil and the superfood avocado, is a light yet satisfying addition to any summer meal.
Mediterranean Quinoa Salad With Feta & Dill is brimming with artichoke hearts, kalamata olives, dill and creamy feta cheese, the fresh flavors of Greece.
Filled with lentils and quinoa, carrots and kale, Quinoa Lentil Broth Bowl will be a perfect Meatless Monday dinner when you make it with vegetable broth and top it with an egg!
Fresh mozzarella, tomatoes and basil…..the true flavors of summer! Quinoa Caprese combines quinoa, the oh-so popular super food, and the flavors known as "Caprese" for your new favorite dish of the summer!
And don't forget to add quinoa to your breakfast! Grab N Go Quinoa Egg Muffins are an ideal way to stat your day packed with protein! Fresh mozzarella, tomatoes and basil…..the true flavors of summer!
Mexican Quinoa Stuffed Peppers
Mexican Quinoa Stuffed Peppers is an easy recipe that's perfect for a weeknight dinner and beautiful enough to serve to guests. Stuffed peppers take on a Mexican flair, bursting with a filling of quinoa, black beans, corn, tomatoes and salsa.
Course:
Main Course, Side Dish
Ingredients
4

bell peppers,

halved lengthwise and seeded

1

Tbs.

olive oil

1

onion,

chopped, 1 cup

2

cloves

garlic,

minced

1

Tbs.

chili powder

1

tsp.

ground cumin

1

can (15 ounces)

black beans,

drained and rinsed

1

cup

corn kernels

1

can (14.5 ounces)

diced tomatoes with zesty mild green chilies

1

cup

salsa

½

cup

uncooked quinoa

¾

cup

water

½

cup

shredded cheese
Instructions
Preheat oven to 375F.

Arrange pepper halves, cut side up in a 9 x 13-inch baking dish. Add 2 Tablespoons water, cover and bake 20 minutes.

Meanwhile, heat oil in large non-stick skillet and cook onion, garlic, chili powder, cumin and kosher salt until tender, 3-4 minutes, stirring occasionally.

Add beans, diced tomatoes with their juices, salsa, corn, quinoa and water and bring to a boil.

Reduce heat and simmer 15 minutes. Let stand 5 minutes until liquid has been absorbed.

Spoon filling into peppers and top with cheese. Return peppers to oven and bake 10 minutes or until cheese is melted and peppers are tender.

Garnish with cilantro leaves. Serve with sour cream and additional salsa, if desired.
Recipe Notes
Makes 5 cups of quinoa filling.