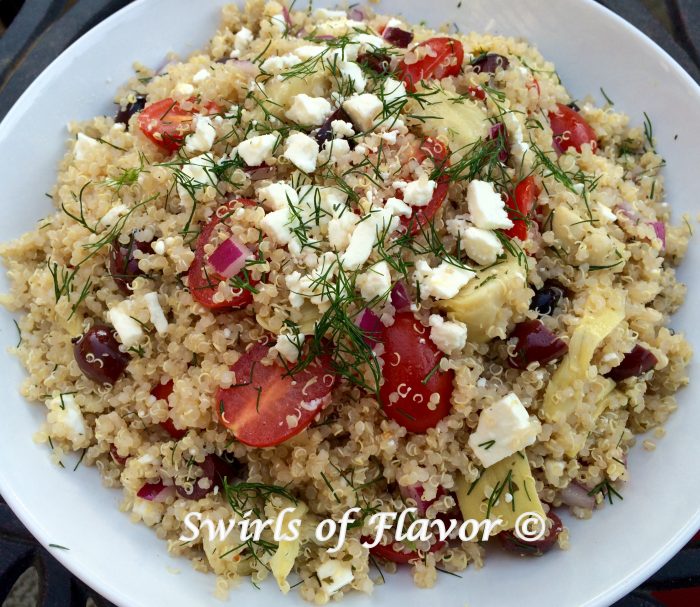 Quinoa, still popular after all these years. With all the other grains popping up quinoa has lots of good reasons to still be a crowd favorite. It's gluten free, high in protein, high in fiber, nutrient dense and low calorie. But wait, that's not all! Did I mention that it's also high in magnesium, boosts your metabolism, has anti-inflammatory properties, purifies your blood and has a low sugar content making it low on the glycemic index? Quinoa is not just a passing fad. Quinoa is here to stay folks! Quinoa Salad With Feta & Dill is brimming with the fresh flavors of the Mediterranean….artichoke hearts, kalamata olives, dill and creamy feta cheese!
Mediterranean Quinoa Salad With Feta & Dill
1 cup quinoa
3 Tbs. olive oil
3 Tbs. red wine vinegar
1/2 tsp. kosher salt
1/4 tsp. pepper
1 jar (7.5 ounces) marinated quartered artichoke hearts, drained
1 cup grape tomatoes, halved lengthwise
1/2 cup pitted kalamata olives, halved lengthwise
1/2 cup crumbled feta cheese
1/4 cup chopped red onion
1/4 cup chopped fresh dill
In medium saucepot bring 2 cups water to a boil over medium-high heat. Add quinoa. Reduce heat and simmer, covered, until water has been absorbed, 12-15 minutes.
Remove from heat. Using a fork, fluff up quinoa. Let stand, covered, 5 minutes. Uncover and cool to room temperature.
Meanwhile, in serving dish combine olive oil, red wine vinegar, kosher salt and pepper until blended.
Stir in quinoa, artichoke hearts, tomatoes, olives, feta, red onion and dill and gently toss until evenly coated. Serve at room temperature or chilled.
Makes 6 cups.