Best Ever Meat Sauce is a homemade pasta sauce that is ready in just 30 minutes and bursting with flavor. This easy meat sauce recipe is quick enough for a weeknight dinner and impressive enough for entertaining.

Easy Meat Sauce Recipe
A quick meat sauce packed with flavor that takes only 30 minutes to make? Yes! No more store bought pasta sauce laden with sugars and preservatives necessary!
Best Ever Meat Sauce is not only quick and easy to make, it's bursting with flavor too! Serve with pasta, zucchini noodles or even top pizza dough for a hearty dinner.
This easy meat sauce makes four heaping cups of a hearty sauce so you can serve some tonight and have more for another day. Perfect for a weeknight dinner and impressive enough for your Sunday Supper! Italian just got easier!
First Published: January 8, 2016... Last Updated: October 3, 2019
I must admit, that being from an Italian family, I had never tasted jarred pasta sauce until I was in college. Yes, college! My mom and grandma always made, not just homemade pasta sauce, but homemade pasta too!
So you can imagine my reaction when it was my college roommate's turn to make us all dinner and she just boiled pasta and heated up jarred sauce? I was in shock, to say the least! But, hey, she tried and I happily ate it. It was a culinary adventure!
But I am back to my roots with making homemade pasta sauces. And many times the pasta isn't homemade but when it is everyone gets excited! And my grandchildren always want to help make the pasta with me. Now that what I call making delicious memories together, right?
This Best Ever Meat Sauce recipe received a 5 Star rating from my sweet granddaughter Zoey! She was very intent on eating every bit of sauce on her plate......and very happy she did! Just look at that smile on her beautiful little face! 5 Stars everyone! She loved it!
You can let this sauce simmer on low on your stove top for longer than the recipe calls for, if you have the time. The flavors will just get better and better! But if you're looking for a quick and easy meat sauce today, that will taste amazing, then you're in the right place!
This post contains affiliate links. If you make a purchase through one of these links, I make a small commission at no extra cost to you.
Ingredients you will need to make this recipe
ground beef
garlic
dried basil
dried oregano
kosher salt
red wine
canned crushed tomatoes
water
sugar
Pasta Recipes
Are you a pasta lover like me? Then look no further because we've got pasta recipes galore!
Broccoli Rabe Pancetta Pasta is a favorite pasta recipe of mine. Pancetta, the ever delectable Italian style bacon, elevates this recipe to another level of fabulously delicious and the oricchiette pasta, shaped like "little ears", catch the bits of onion, garlic and pancetta for your every bite!
Skillet Tortellini Pomodoro With Pancetta in a light buttery garlic white wine sauce is studded with crispy bits of pancetta, sautéed tomatoes and fresh arugula and basil.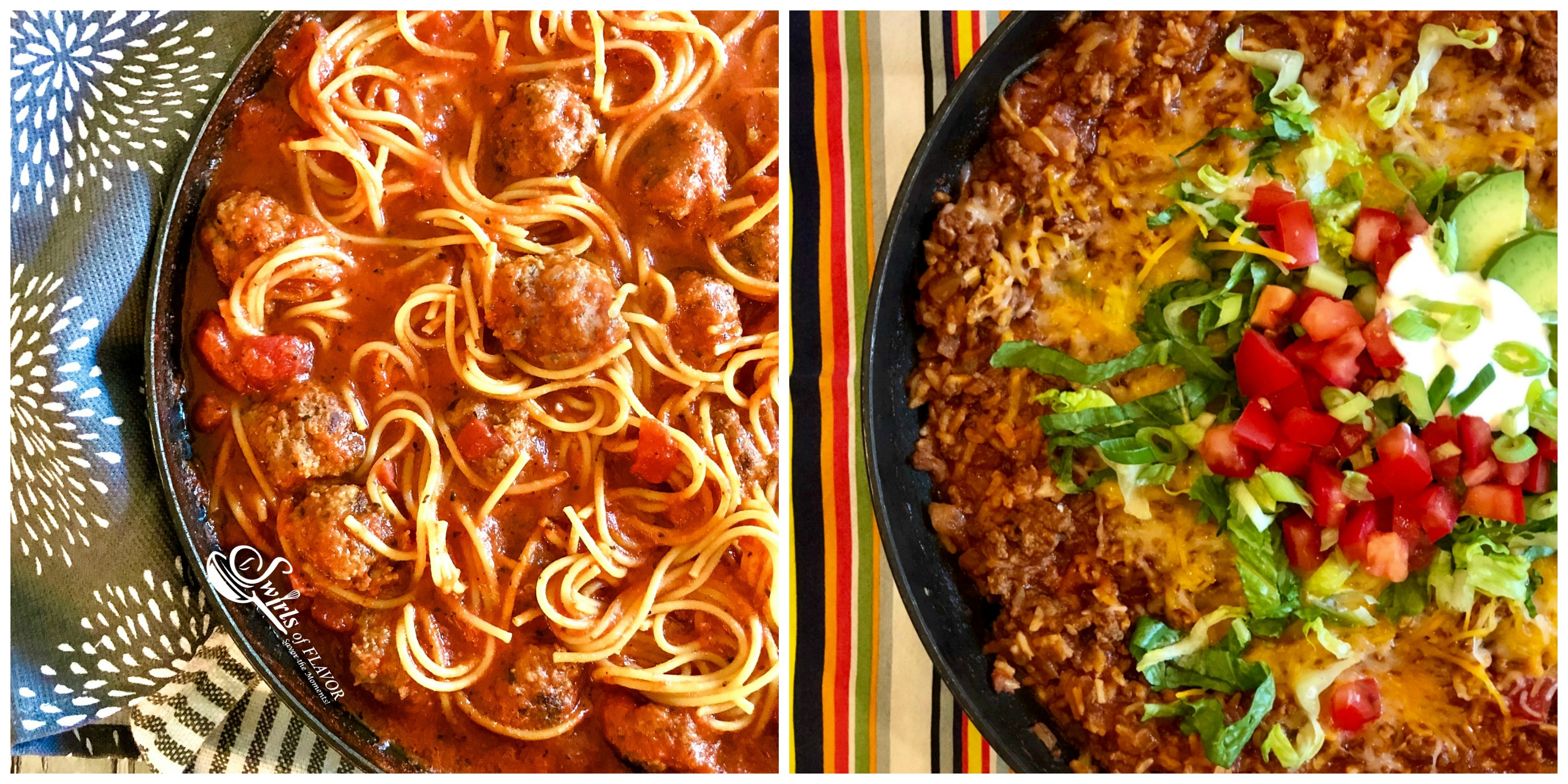 One Pot Spaghetti and Meatballs is an easy recipe that cooks pasta and homemade meatballs together in a delicious tomato sauce. Ground beef meatballs simmer in a quick homemade sauce and then uncooked spaghetti is added. Skillet spaghetti and meatballs finishes cooking together in one pot for a saucy pasta dinner!
Change up your Taco Tuesday this week with our One Pot Taco Beef and Rice. A taco skillet recipe that's quick, easy and delicious will soon become a family favorite taco alternative. With all the flavors of a taco, you can eat this easy taco rice recipe in a bowl or in taco shells.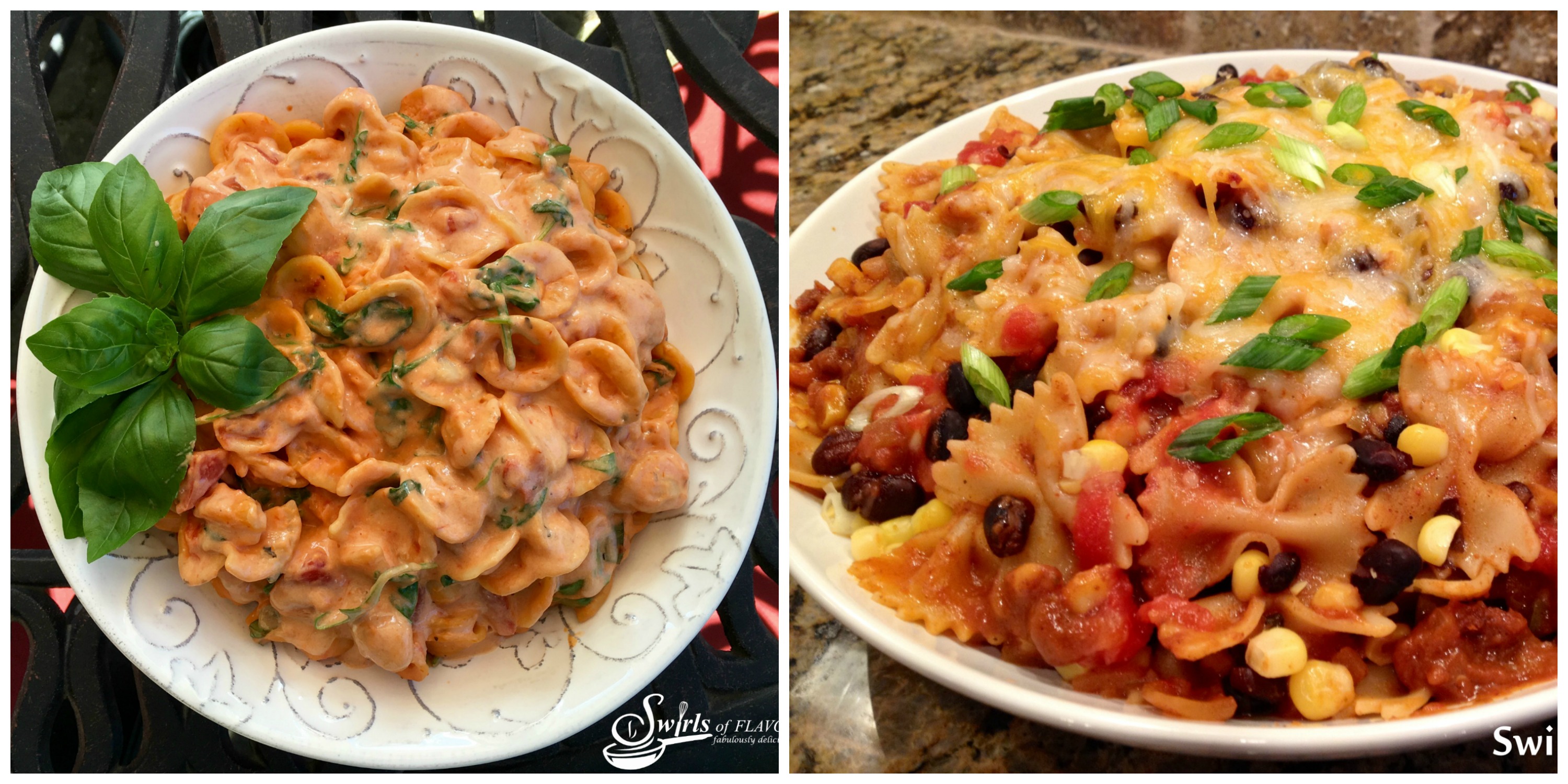 One Pot Creamy Tomato Basil Pasta makes it's own velvety tomato sauce and gets it's creaminess from a secret ingredient….cream cheese! And pasta is it's most delicious when it's homemade! And it's easier than you think with my Homemade Pasta recipe!
One Pot Mexicali Bowtie Pasta is seasoned with salsa, chili powder and cumin, giving it a Mexican flair. Top it with melty cheese and fresh scallion and all you'll need is cornbread and a salad and you're all set for a Mexican fiesta!
Best Ever Meat Sauce
Best Ever Meat Sauce is a homemade pasta sauce that is ready in just 30 minutes and bursting with flavor. This easy meat sauce recipe is quick enough for a weeknight dinner and impressive enough for entertaining.
Instructions
Heat saucepot over medium-high heat and cook ground beef, garlic, basil, oregano and kosher salt until browned, stirring occasionally.

Add red wine and cook 1 minute.

Stir in crushed tomatoes, water and sugar.

Bring to a boil. Reduce heat to medium-low and simmer, uncovered, until sauce has thickened, about 25 minutes, stirring occasionally.

Serve over pasta, zucchini noodles and/or on pizza dough.
Notes
Recipe makes 4 heaping cups of meat sauce. Serve some with pasta tonight and have more for another day or freeze remaining sauce for next week!
Nutrition
Calories:
160
kcal
|
Carbohydrates:
3
g
|
Protein:
10
g
|
Fat:
11
g
|
Saturated Fat:
4
g
|
Cholesterol:
40
mg
|
Sodium:
279
mg
|
Potassium:
187
mg
|
Fiber:
1
g
|
Sugar:
2
g
|
Vitamin A:
10
IU
|
Vitamin C:
1
mg
|
Calcium:
35
mg
|
Iron:
2
mg