Take the ordinary out of dinner tonight with Lasagna Roll-Ups all Vodka! Top lasagna noodles with cheese, roll up and bake with vodka sauce! Not only fabulously delicious but quite impressive too! Perfect for your Meatless Monday, your Sunday Supper, your weeknight dinner and fancy enough for entertaining!
Lasagna Roll-Ups alla Vodka
12 lasagna noodles, cooked and drained
1 jar (24 oz.) vodka sauce
1 container (15 oz.) ricotta cheese
1 1/2 cups shredded mozzarella, divided
1 tsp. dried basil
1 tsp. garlic powder
1/2 tsp. kosher salt
1. Preheat oven to 375F. Coat 2-quart baking dish with non-stick cooking spray.
2. Spread 1 cup vodka sauce over bottom of prepared baking dish.
3. In bowl combine ricotta, 1/2 cup shredded mozzarella, basil, garlic powder and kosher salt.
4. Arrange lasagna noodles on flat surface. Spread cheese mixture over noodles, dividing evenly, about 2 1/2 tablespoons per noodle. Roll up and arrange, seam side down, in prepared baking dish. Top with remaining vodka sauce.
5. Bake, covered, 45 minutes. Uncover, top with remaining 1 cup shredded mozzarella. Bake, uncovered, additional 10 minutes or until hot and bubbly and cheese is melted.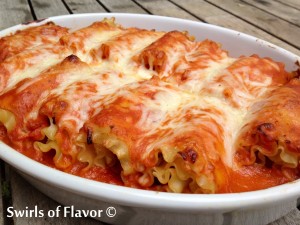 Makes 6 servings/2 roll-ups per serving.