Gingerbread Cinnamon Rolls and Christmas morning are a perfect match. Our Christmas Cinnamon Rolls is an easy recipe filled with gingerbread spices and brown sugar and topped with a silky cream cheese glaze. This cinnamon roll recipe is guaranteed to become your next holiday tradition.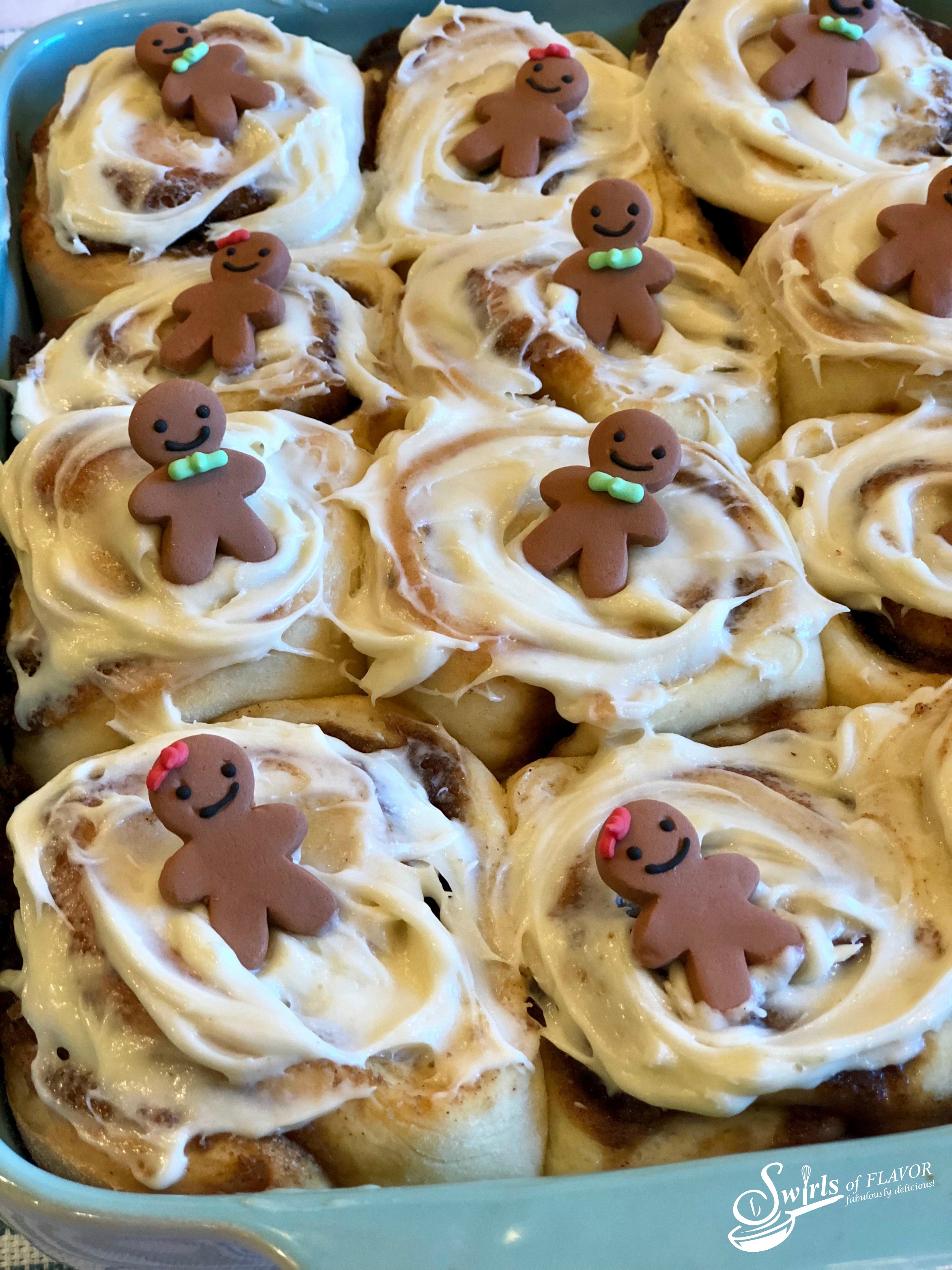 Cinnamon Rolls Recipe
The holiday flavor of gingerbread combines with tender sweet cinnamon buns for a delicious way to start a holiday morning.
Gingerbread Cinnamon Rolls can be made the night before and let come to room temperature while you're opening gifts.
Pop them in the oven while the kids are playing with their new toys and you'll have fluffy rolls with a brown sugar filling bursting with cinnamon, ginger, cloves and nutmeg, all the spices of gingerbread, and topped with a silky cream cheese glaze in just minutes.
Gingerbread Cinnamon Rolls just made your holiday morning perfect!
Fill your holidays with deliciousness with our easy Christmas recipes.
I make commissions for purchases made through links in this post.
Be sure to visit the Swirls of Flavor Amazon Storefront for GG's kitchen recommendations!
Can cinnamon rolls be made ahead?
Rolls can be prepared one day ahead and baked the next morning. Just follow these simple steps:
Arrange unbaked rolls in a prepared baking dish
Cover with plastic wrap and refrigerate overnight
Before baking, let rolls come to room temperature and rise until doubled in a warm place, about 1 hour
Bake as directed in the recipe
How to make Christmas cinnamon rolls
Scroll down for the full recipe instructions and ingredient amounts in the recipe card below
Roll out dough for cinnamon rolls
Brush molasses evenly over top of dough
Sprinkle dough with brown sugar and gingerbread spices
Beginning at long end roll up dough
Slice the cinnamon roll loaf dough into 12 rolls
Arrange rolls in baking dish
Lett rise
Bake, frost and decorate!
Swirls of Flavor Recipe Tips
Add dried cranberries to the brown sugar filling
Add mini chocolate chips to the dough before baking
Add finely chopped crystallized ginger to the brown sugar filling
Substitutions
Substitute pumpkin pie spice for the cinnamon, ginger, cloves and nutmeg and make pumpkin spice rolls
Gingerbread Recipes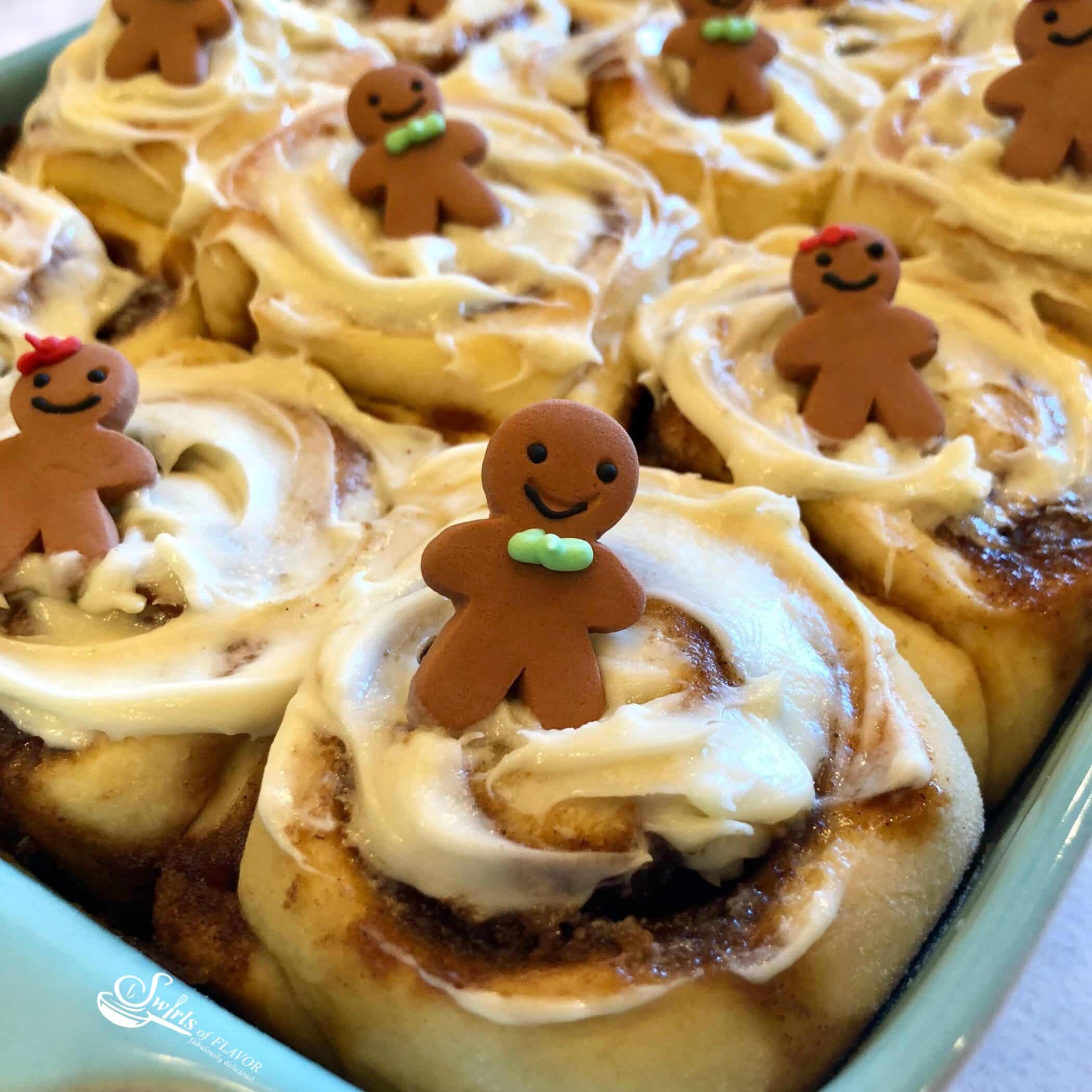 Easy Homemade Bread Recipes
Ingredients for gingerbread rolls
quick-rising dry yeast
salt
milk
butter
eggs
molasses
light brown sugar
cream cheese
Christmas Breakfast Ideas

Best Ever Crumb Cake is piled high with buttery crumbs and make with simple basic ingredients from your fridge and pantry. Trust me when I tell you that this is the Best Ever Crumb Cake you'll ever taste! Every bite of our moist crumb cake recipe is heavenly when a rich vanilla-scented cake is topped with buttery cinnamon crumbs kissed with powdered sugar!
Italian Hot Chocolate is an easy recipe for the hot chocolate served in Italy, a rich chocolate that is thick, creamy and silky smooth. You'll need a spoon to "drink" this hot chocolate and it's so decadent you can even call it a dessert!
Cinnamon Bun Bread Pudding is a perfect addition to your holiday brunch menu! Every bite has the flavors of a cinnamon bun! Start with a brown sugar cinnamon butter layer topped with challah bread soaked in vanilla custard and finish it off with even more brown sugar mixture on top. Oh, and don't forget the sweetened cream cheese that's stuffed in the middle!
Berry Pink Lemonade Prosecco Punch is flavored with puckering raspberry lemonade and bubbly Prosecco and topped off with the sweet bursts of fresh berries and is as pretty as it is delicious!
Print
Gingerbread Cinnamon Rolls
Christmas morning and Gingerbread Cinnamon Rolls go hand in hand. Gingerbread Cinnamon Rolls is an easy recipe filled with brown sugar and gingerbread spices and topped with a silky cream cheese glaze.
As an Amazon Associate I earn from qualifying purchases.
I earn a commission from Instacart from qualifying purchases.
Instructions
Dough;
Combine 2 cups flour, granulated sugar, yeast and salt in a large bowl.

Microwave milk and butter until butter is melted and mixture is very warm, 128-130 degrees. Add milk mixture to flour mixture and stir until blended. Stir in eggs and add enough remaining flour until a dough forms.

On lightly floured surface, knead dough until smooth, about 5 minutes, adding more flour if needed. Roll dough into a 20 x 16-inch rectangle.
Filling:
Combine melted butter and molasses and mixture brush on dough to cover.

Combine brown sugar, cinnamon, ginger, cloves and nutmeg and sprinkle over dough to cover.

Beginning at long end, roll up and pinch seam to seal. cut into 12 pieces.

Grease a 9 x 13 baking dish and arrange rolls, cut sides up in baking dish. Cover and let rise in a warm place 1 hour or until dough has doubled.

While dough is rising, preheat oven to 350F. After dough has risen, bake 25 minutes or until tops are golden.
Glaze:
While rolls are baking, beat cream cheese and butter until blended. Gradually add confectioners' sugar and vanilla and beat until smooth. Spread glaze over warm rolls and top with gingerbread people.
Notes
Make Ahead Directions
Rolls can be prepared one day ahead and baked the next morning. Just follow these simple steps:
Arrange unbaked rolls in prepared baking dish
Cover with plastic wrap and refrigerate overnight
Before baking, let rolls come to room temperature and rise until doubled in a warm place, about 1 hour
Bake as directed in recipe
Swirls of Flavor Recipe Tips
Add dried cranberries to the brown sugar filling
Add mini chocolate chips to the dough before baking
Add finely chopped crystallized ginger to the brown sugar filling
Substitutions
Substitute pumpkin pie spice for the cinnamon, ginger, cloves and nutmeg and make pumpkin spice rolls
Nutrition
Calories:
500
kcal
|
Carbohydrates:
77
g
|
Protein:
7
g
|
Fat:
18
g
|
Saturated Fat:
11
g
|
Cholesterol:
75
mg
|
Sodium:
334
mg
|
Potassium:
181
mg
|
Fiber:
2
g
|
Sugar:
40
g
|
Vitamin A:
608
IU
|
Calcium:
76
mg
|
Iron:
3
mg
First Published: December 8, 2018... Last Updated: December 6, 2022 for better readability and user experience