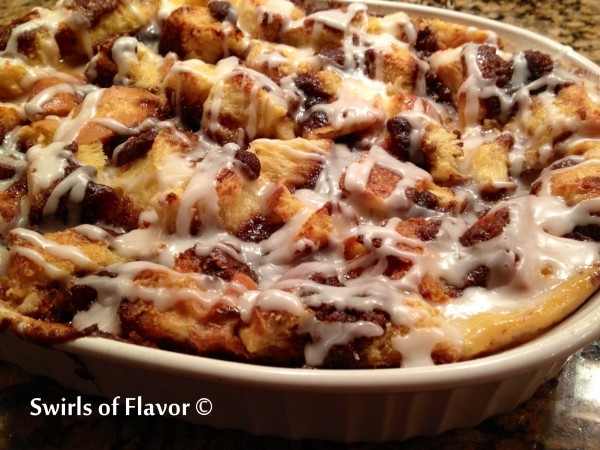 New Year's Day brunch is the perfect way to kick off the new year and Cinnamon Bun Bread Pudding is the perfect addition to your brunch menu! Every bite has the flavors of a cinnamon bun! Start with a brown sugar cinnamon butter layer topped with challah bread soaked in vanilla custard and finish it off with even more brown sugar mixture on top. Oh, and don't forget the sweetened cream cheese that's stuffed in the middle! You can assemble it ahead of time and just pop it in the oven when you're ready. Yes, definitely the perfect addition to the first day of the new year! Wishing you a year filled with happiness and fabulously delicious Swirls of Flavor recipes!
Cinnamon Bun Bread Pudding
3/4 cup packed brown sugar
2 tsp. ground cinnamon
4 Tbs. butter, melted
10 ounces Challah bread, cut in 1″ cubes, 8 cups
1 pkg. (8 oz.) cream cheese, at room temperature
2/3 cup granulated sugar, divided
4 eggs
2 cups milk
2 tsp. vanilla extract
1 cup confectioners' sugar
1. Preheat oven to 350F. Coat 1 1/2 quart baking dish with non-stick cooking spray.
2. Combine brown sugar and cinnamon. Stir in melted butter until combined. Reserve 1/4 cup of brown sugar mixture. Spread remaining brown sugar mixture over bottom of prepared baking dish.
3. Top with half (4 cups) of challah bread cubes.
4. In small bowl whisk cream cheese and 1/3 cup granulated sugar until blended. Dollop over challah bread. Top with remaining challah bread cubes.
5. Combine eggs, milk, vanilla and remaining 1/3 cup granulated sugar until blended. Pour over challah bread cubes. Top with reserved brown sugar mixture.
6. Cover with foil**. Bake, covered, 50 minutes. Uncover and bake additional 15-20 minutes or until custard mixture is set. Let stand 15 minutes.
7. Meanwhile combine confectioners' sugar with 1 Tablespoonful of warm water. Stir until smooth. Just before serving drizzle over top of bread pudding.
Makes 8 servings.
**If making ahead, refrigerate at this point. When ready to bake, first let it come back to room temperature, and then bake as directed above.