Welcome back to another week of our Spring Thyme Recipes & Style Blog Hop!
A special thank you to Tamyra at Positively Southern for rounding us all up to kick off the much-anticipated spring season with gorgeous table scapes and fabulous recipes! If you hopped on over from Viva La Vintage For Your Home, welcome to Swirls of Flavor! I know you are just bursting with inspiration from my friend Jamala and her beautiful posts! I invite you to kick up your feet now and enjoy the Best Ever Crumb Cake, an easy as pie recipe…but of course it's cake!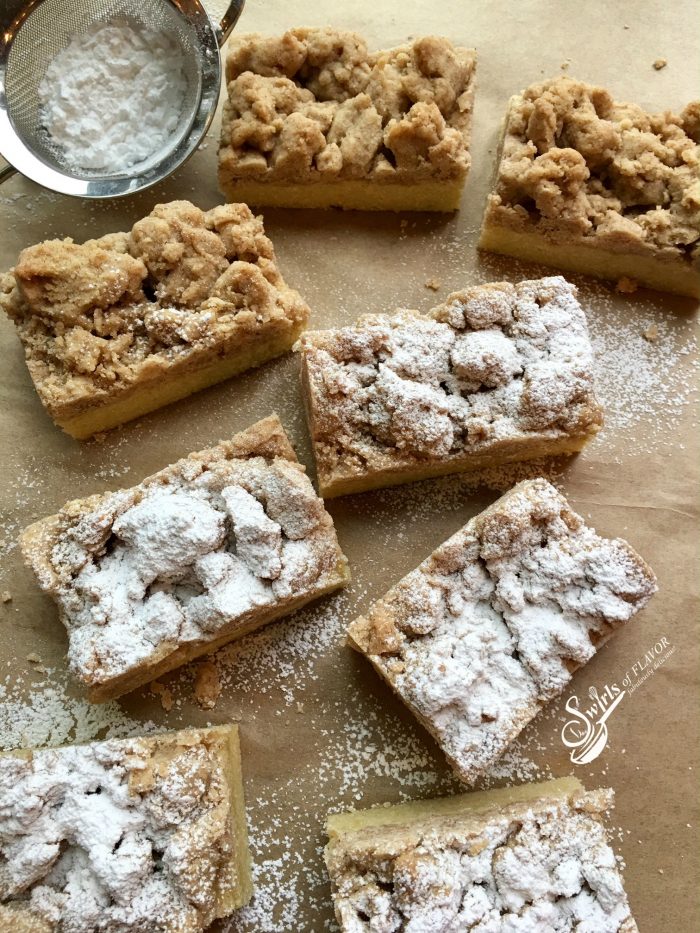 Easter morning brunch and crumb cake are the perfect match. The bunny has arrived, the kids are hopping for joy and now it's time for a piping hot cup of coffee and, what else? A piece of Best Ever Crumb Cake piled high with buttery crumbs, of course! And you probably have all the basic ingredients to bake it up in your kitchen right now! Butter, sugar, eggs, vanilla, flour, milk and salt for the cake. More flour, more sugar, more butter and brown sugar and cinnamon for the crumbs. Oh, and don't forget the confectioners' sugar for a sweet dusting. All it takes are those simple basic ingredients from your fridge and pantry for the Best Ever Crumb Cake you'll ever taste! Every bite is heavenly when a rich vanilla-scented cake is topped with buttery cinnamon crumbs kissed with powdered sugar!
Thanks for stopping by our Spring Thyme Blog Hop!
Happy Easter!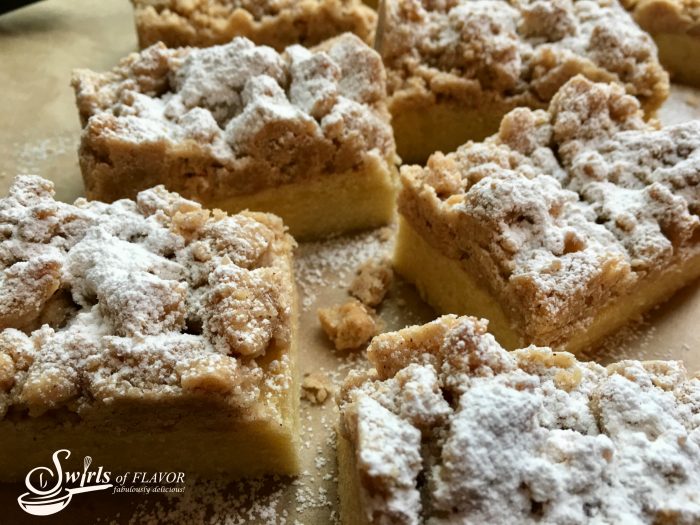 Best Ever Crumb Cake
Cake:
1 cup (2 sticks) butter, at room temperature
1 cup granulated sugar
4 large eggs
1 Tbs. vanilla extract
2 cups all-purpose flour
1/2 tsp. salt
1/3 cup milk
Crumb Topping:
3 cups flour
1/2 cup granulated sugar
1/2 cup packed dark brown sugar
1 Tbs. ground cinnamon
1 cup (2 sticks) butter, melted
1/2 cup confectioners' sugar
1. Preheat oven to 350F. Line a 13-inch by 9-inch baking sheet with shallow sides with foil, leaving a 2-inch overhang. Coat with non-stick cooking spray.
2. Cake: With mixer on medium-high beat butter and granulated sugar until light and fluffy, about 3 minutes.
3. Add eggs and vanilla and beat until combined, occasionally scraping sides of bowl.
4. Reduce mixer speed to medium and gradually beat in flour and salt until blended.
5. Add milk and beat until smooth, thick and blended, about 2 minutes.
6. Spread cake batter evenly in prepared baking sheet and bake 20 minutes.
7. Crumb Topping: Meanwhile, in bowl combine flour, granulated sugar, brown sugar and cinnamon. Stir in melted butter until blended. Using hands, shape into crumbs and arrange on top of partially baked cake batter.
8. Return to oven and bake an additional 25 minutes or until cake is baked through and crumbs are slightly golden.
9. Cool in pan 30 minutes. Using foil overhang, lift crumb cake out of pan and serve warm or cool completely on wire rack.
10. Sprinkle with confectioners' sugar and cut into 16 pieces.
Makes 16 servings.
And now please hop on over to Confetti Style and see what's happening at my friend Shelly's house for our Spring Thyme Blog Hop! Shelly never disappoints with her fabulous sense of style!
Be sure to check out all the lovely ladies in our Spring Thyme Recipes & Style Blog Hop!
Lisa at Clutter Café
Jamala at Viva La Vintage For Your Home
Yours Truly at Swirls of Flavor
Shelly at Confetti Style
Tamyra at Positively Southern
Heather at Totally Tailgates
Marsha at M Jones Style
Pat at Life at Lydia's House
Linda at LindaG Loving Home