When it's chilly outside it's time to set up our Hot Cocoa Bar with all the fixings of a delicious warm drink and sweet treats to go with. Candy canes, fudge sauce, assorted candy, mini marshmallows, whipped topping and more fill our hot chocolate station.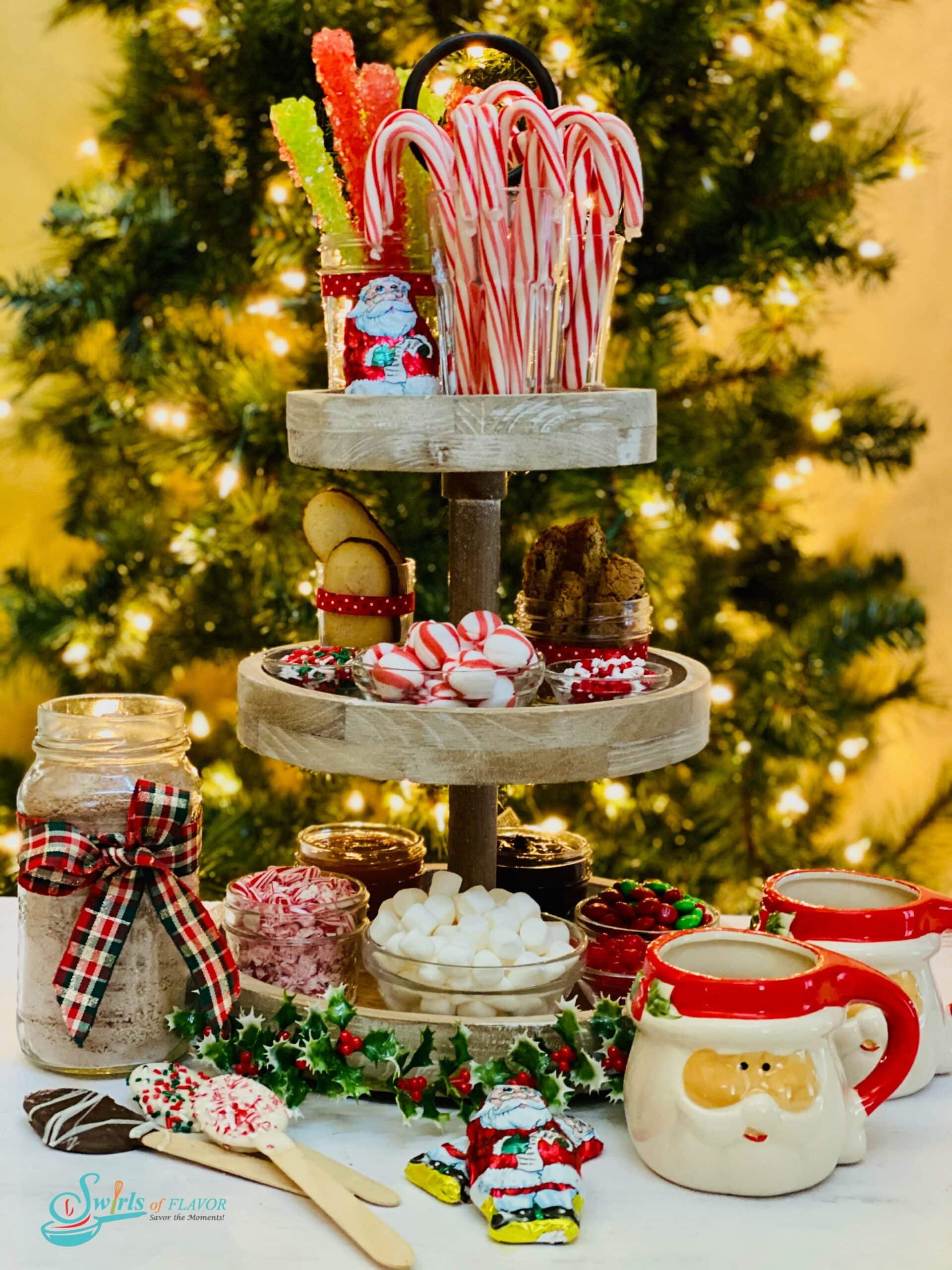 Hot Cocoa Bar
Who can resist a piping hot mug of hot chocolate? I certainly can't! Garnish with your favorite toppings and you're all set.
A candy cane stirrer will turn a simple cup of hot cocoa into a gourmet peppermint mocha hot chocolate.
Add the crowing glory of whipped topping and sprinkle with M&M's, assorted candy, fudge sauce, caramel sauce, sprinkles, the choices are endless.
A chocolate covered spoon for stirring adds a festive touch.
You can personalize your hot chocolate bar with the toppings that you love most and add cookies and other sweet treats to go with. And even add a shot of my Homemade Peppermint Vodka for a boozy beverage!
I make commissions for purchases made through links in this post
Set it up with assorted jars and bowls on a tray or tiered tray. and pretty mugs for everyone. It's time to get toasty warm!
I've linked up with two of my favorite blogging friends for a progressive holiday menu and the chance to win a $100 Amazon gift card!
Start your festivities with a Baked Brie With Jam from Kristin at Dizzy Busy and Hungry.
Move on to the main event with a Grilled Prime Rib Roast courtesy of Lisa at Jersey Girl Cooks.
And, of course, my Hot Cocoa Bar will be your sweet treat at the end of the day!
It's going to be a delicious holiday dinner at your house this year!
Be sure to scroll down and enter for a chance to win the $100 Amazon gift card!
Hot Cocoa FAQ's
What is needed for a hot chocolate bar?
Your hot chocolate bar should include hot chocolate mix, hot water or milk, a thermos for keeping the hot water warm, assorted toppings, mugs or paper cups, spoons or stirrers.
Is there a difference between hot chocolate and hot cocoa?
Typically hot cocoa is made with cocoa powder and hot chocolate is a drink made from cocoa beans. Even though these two drinks are different, the names hot cocoa and hot chocolate are used interchangeably.
Is it better to use milk or water in hot chocolate?
Whole milk will give your hot chocolate more creaminess and richness than water. Low-fat and nonfat milk can also be used.
If you want a thicker richer hot chocolate, make your hot cocoa with half and half. .
Swirls of Flavor Recipe Tips
Serve your favorite store bought or homemade hot cocoa mix
Make a slow cooker hot chocolate recipe
Make it boozy and add a jigger of whiskey, Baileys, Peppermint Schnapps or Peppermint Vodka
Garnish with your favorite toppings
Add chocolate covered spoons for stirring
Serve hot water in a carafe to add to a hot chocolate mix
Use to-go cups with tops

Hot Chocolate Toppings
Personalize your Hot Cocoa Bar and add your favorite toppings such as:
Biscotti
Candy canes
Caramel sauce
Chili powder (for a hint of heat)
Chocolate covered spoons
Chocolate truffles
Chopped candy bars
Cinnamon sticks
Crushed pretzels
Dark chocolate chips
Edible glitter
Fudge sauce
Ground cinnamon
M&M's
Milk chocolate chips
Mini marshmallows
Mini oreos
Nuts
Peanut butter chips
Pirouette cookies
Rock candy sugar stirrers
Shredded coconut
Sprinkles
Starlight peppermint candy
Toffee bits
Whipped topping
White chocolate chips

Ingredients you will need to make this recipe
Instant hot chocolate mix
Hot water or milk
Mini marshmallows
Candy canes
Fudge sauce
Caramel sauce
Whipped topping
Cookies
Sprinkles
Related Recipes

Welcome to the Ultimate Holiday Dinner Giveaway! GIVEAWAY CLOSED
I've partnered with two other bloggers to bring you a holiday dinner complete with an appetizer, entrée and dessert. Take a look at their recipes and then enter to win a $100 Amazon gift card to purchase some holiday goodies.
Appetizer: Brie Appetizer via Dizzy Busy and Hungry
Entree: Grilled Prime Rib Roast via Jersey Girl Cooks
Dessert: Hot Cocoa Bar
Holiday Giveaway Rules:
This holiday giveaway runs starts on Saturday, December 12 th and closes at 11:59 pm on Sunday, December 20 th . One winner will be selected on Monday, December 21 st . Winner will be randomly selected and have 48 hours to respond once notified through email or they forfeit the prize and another winner will be selected. Entries will be verified. No purchase necessary. Void where prohibited by law. This giveaway is open to US residents only who are 18 years of age or older. This giveaway is sponsored by Dizzy Busy and Hungry, Jersey Girl Cooks and Swirls of Flavor. It is in no way sponsored or endorsed by any social media channel. Anyone deemed to be "spamming " the contest will be disqualified.