Avocado Toasts. Enough said. Nutritious, delicious and oh so simple. Yes, avocado toast can be as simple as a slice of toast topped with avocado (and a sprinkle of sea salt, of course!). But I suggest you just let your imagination run wild. You can use all kinds of breads for toasting and add a variety of toppings along with your avocado. The best part? Avocado toast can be breakfast, lunch, a snack or you can even create one hearty enough for dinner. Here are five of my favorite combinations. Let me know how you top your avocado toast!
Five Fabulous Avocado Toasts
Start with your choice of breads for toasting. Here are some choices for inspiration!
Top L to R: Portuguese roll; multigrain English muffin; Mini naan;
Bottom L to R: 7-grain bread; Bagel thins.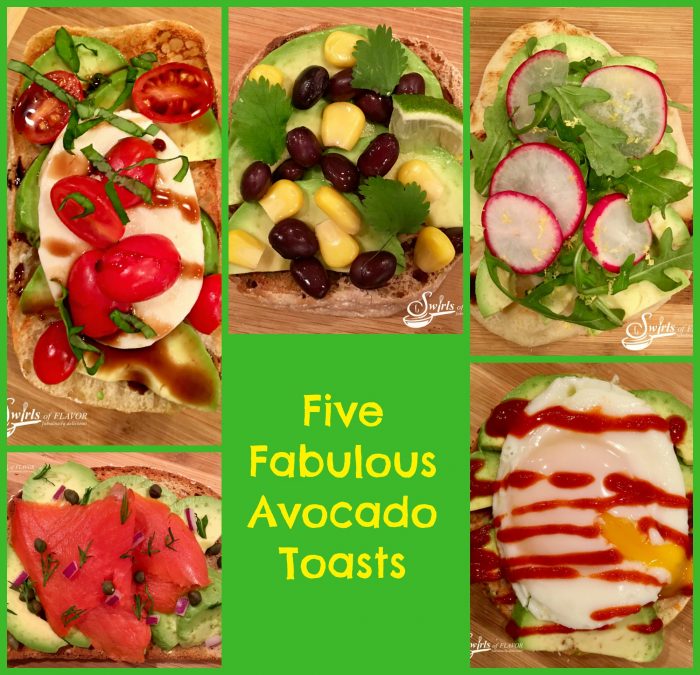 Top a Portuguese roll with avocado, fresh mozzarella, sliced tomatoes, balsamic glaze and thinly sliced fresh basil!
Give it a Mexican twist when you top a multigrain English muffin with avocado, black beans, corn, cilantro and a squeeze of fresh lime juice!
You'll love a mini naan topped with avocado, baby arugula, sliced radishes and grated lemon zest.
A slice of 7-grain bread tastes so good topped with avocado, smoked salmon, red onion, capers and fresh dill!
A bagel thin topped with avocado, a warm cooked egg and a drizzle of sriracha sauce will jump start your morning for sure!