This post contains affiliate links. (Disclosure policy)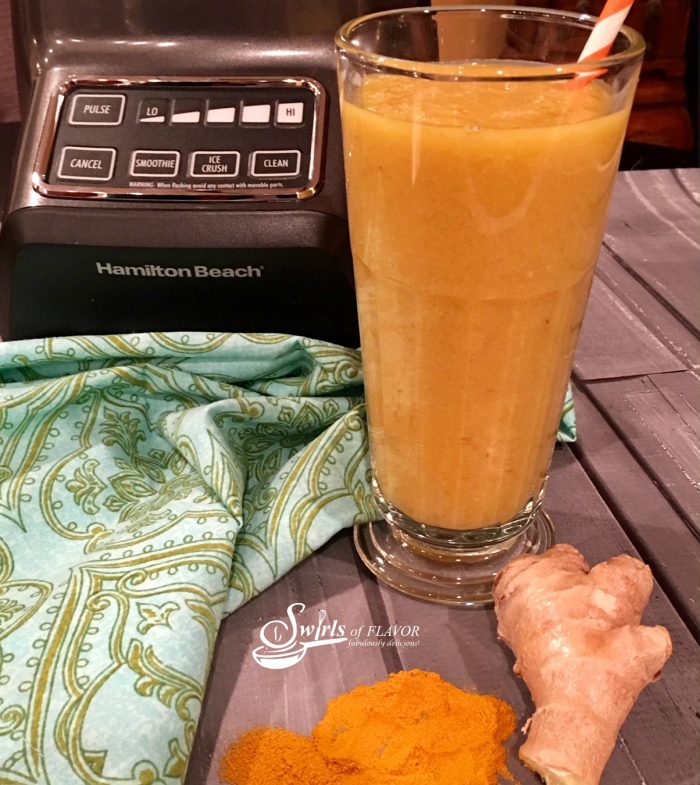 I can't think of a better way to start my day than with a Turmeric Smoothie. Golden in color and bursting with fresh fruit flavors, this smoothie gets you started on the right foot. Turmeric and ginger combine to provide anti inflammatory and antioxidant benefits. Add to that the sweet and tangy mango containing over twenty vitamins and minerals, and you've just upped the benefits with this superfood. And did I mention that a serving of mango is cholesterol free, fat free and sodium free? And then there's our friend, the banana. Also fat free and cholesterol free, the banana provides potassium, vitamins C and B-6, manganese and fiber too!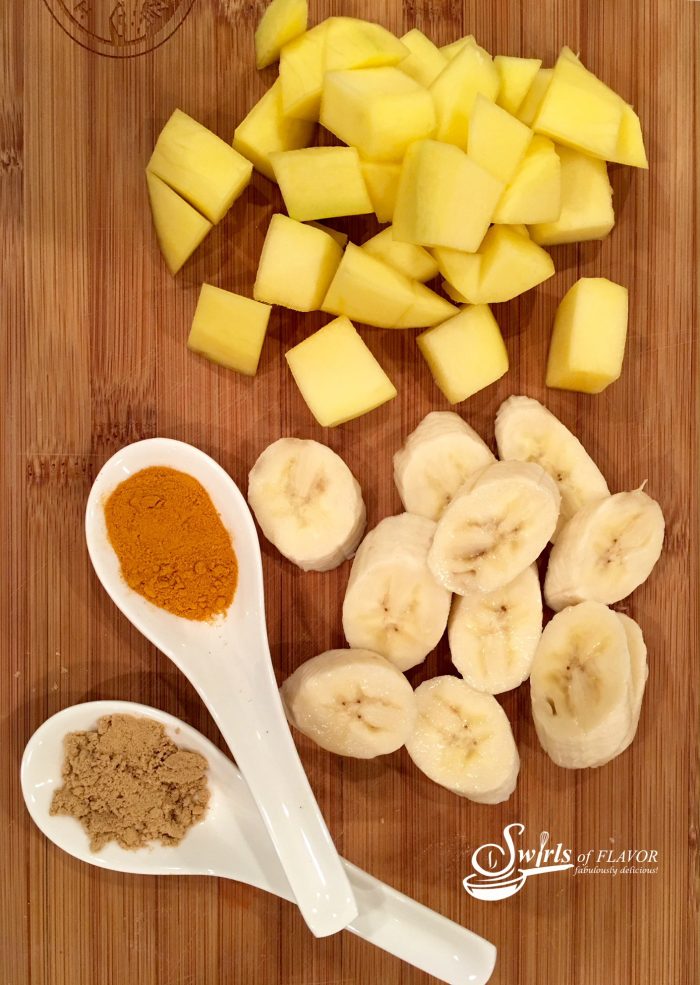 Combine all that goodness with coconut water that is low in calories, contains potassium and magnesium and helps remove toxins from the body and your smoothie is brimming with mega health benefits. Turmeric Smoothie not only tastes good but it is good for you too. Now that's a win-win in my book!
Hamilton Beach sent me the Hamilton Beach Sound Shield 950 blender to try out and review. The 950 has five-speed increments for multipurpose blending. Preprogrammed options include Ice Crush, Puree and Smoothie. The Smoothie function worked beautifully for my Turmeric Smoothie this morning. This blender has a sound shield making it quieter that the typical blender we are accustomed to. Hamilton Beach claims that the Sound Shield 950 is 55% quieter than a traditional blender. I did find it somewhat quieter than other blenders I have used. The sound was definitely softer because of the shield surrounding the multi blend jar. Stainless steel blades crush ice and the 950 watt peak power motor provides the power behind the Sound Shield 950 blender.
Hamilton Beach sent me my Sound Shield 950 to review and will send one lucky Swirls follower their own Hamilton Beach Sound Shield 950 too! Simply leave a comment below or on any Swirls' social media platforms featuring the Turmeric Smoothie and you could be randomly selected as the lucky winner of the Hamilton Beach Sound Shield 950 Giveaway! Good luck! #Hamiltonbeach
Disclosure: I received the Sound Shield 950 from Hamilton Beach for purposes of reviewing. All opinions are my own. This giveaway is sponsored by Hamilton Beach and I am a Brand Ambassador for Hamilton Beach.
Turmeric Smoothie
1 mango, peeled, pitted and chopped
1 banana, peeled
1 cup coconut water
1/2 cup ice cubes
2 Tbs. 100% pure maple syrup
1/2 tsp. ground turmeric
1/2 tsp. ground ginger
Combine all ingredients in blender until smooth.
Makes 2 1/4 cups.