Our Green Tea Kale Smoothie is bursting with the nutrition and goodness of baby kale, apple, banana and green tea. An easy recipe to add into your morning routine, this green tea smoothie is a fabulously delicious way to jump start your day.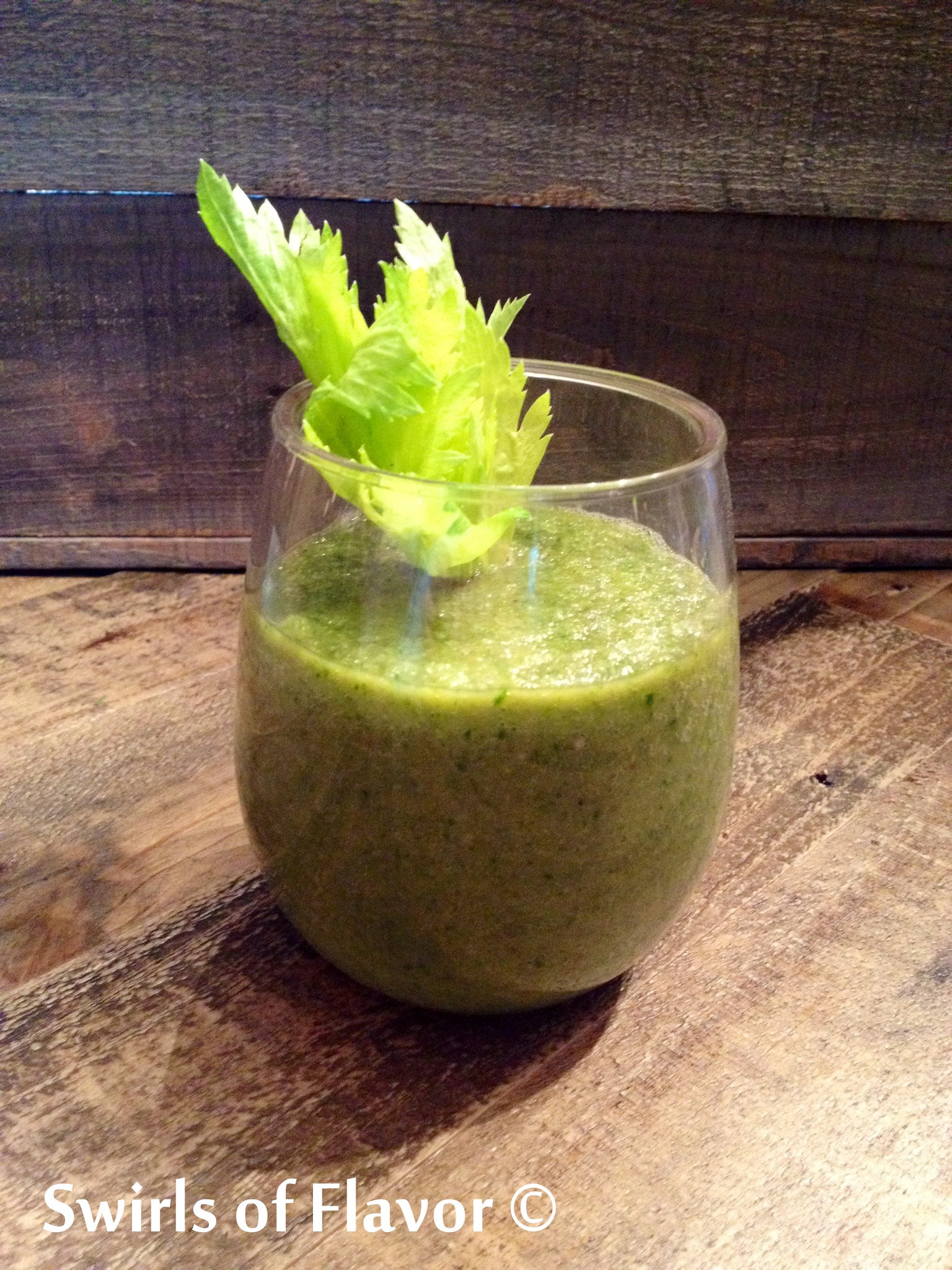 Kale Smoothie
Ok folks, the holidays are over and now it's back to the business of healthy eating. And I'm going to help you out with that. Whirl up our recipe for a kale smoothie and your day will be off to a fantastic start!
First Published: February 3, 2014... Last Updated: January 13, 2020
Brimming with kale, apple, banana and green tea, this breakfast smoothie has all the right ingredients for your optimum health!
Kale, my new go-to favorite green leaf, as you might have already noticed, is the hot new super food. Combine that with healthy fruit and the antioxidant powers of green tea and you're all set with a kale smoothie recipe you'll want every morning!
Cheers to a delicious and nutritious smoothie, a healthy new year and a healthy new you!
Recipe variations
As an Amazon Associate I earn from qualifying purchases.
You can always add to a smoothie recipe and make it even more nutritious Here are some suggestions:
Kale FAQ's
Is it safe to eat raw kale?
Yes, kale is safe to eat raw. Fully mature kale leaves can be tough and chewy so you might want to chop them up when adding them to a salad. Baby kale is very tender and makes a delicious addition to salads, on sandwiches and in smoothies.
Is kale healthy for you?
Yes, kale is a healthy leafy green vegetable that contains:
antioxidants
calcium
fiber
iron
Vitamin C
Vitamin K
What is the best way to eat kale?
Kale can be eaten raw or cooked. You can add kale to many recipes including soups, dips and salads. You can also bake the fully mature leaves and serve them as chips.
Recipes made with kale

Here at Swirls we have a selection of recipes made with kale that you won't want to miss. Here are a few of them:
Ingredients you will need to make this recipe
baby kale leaves
Granny Smith apple
Banana
brewed green tea
Easy Smoothie Recipes
Change things up with different smoothies and smoothie bowls and jump start your day with nutrition and flavor!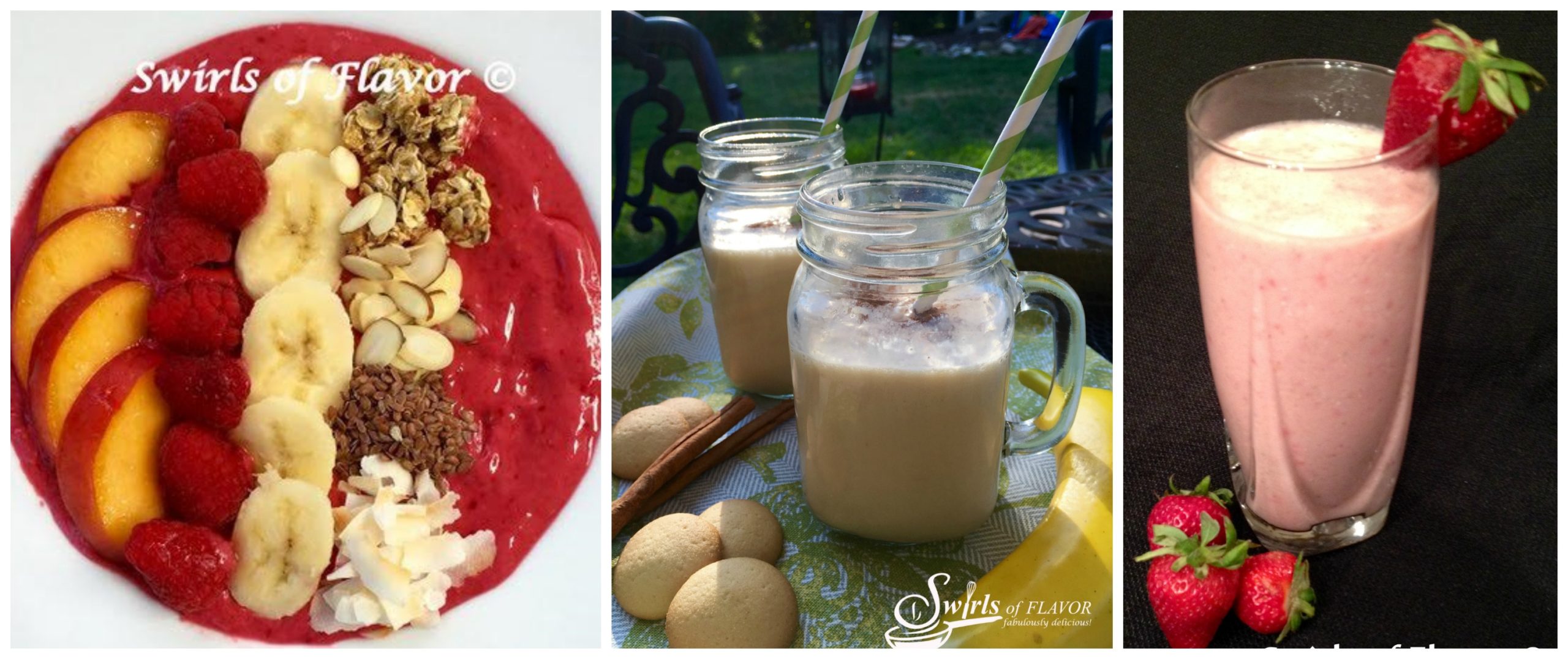 Start your day with a Raspberry Nectarine Fruit Smoothie Bowl topped with the goodness of flax seeds, sliced almonds, toasted coconut, granola and luscious fresh fruits! A base of Greek yogurt and almond milk give every spoonful of our nectarine smoothie a delicious creaminess.
Sometimes I like my dessert in the morning and that's when I whip up a Banana Creme Pie Smoothie! It's nutritious, with a coconut water and Greek yogurt base, so you don't have to feel so guilty and it's oh so fabulously delicious. Just like sipping a slice of Banana Crème Pie!
Start your day with a Strawberry Oatmeal Smoothie. Combine oats, berries, Greek yogurt and coconut water together for a nutritious smoothie that will keep you satisfied all morning.
Whirl up chia seeds, almond milk and Greek yogurt in your blender with the ever-popular flavor combination of peanut butter and chocolate and you'll have a delicious and nutritious Chocolate Peanut Butter Smoothie. An easy on-the-go breakfast in just minutes.
Tropical Turmeric Smoothie Bowl combines turmeric, greens, chia seeds and tropical fruits for a healthy delicious smoothie bowl that's right on trend. Blend in kale, the most popular super greens, along with protein-rich chia seeds, and you're off to a fabulously nutritious, healthy and delicious start to your day!
Golden in color and bursting with fresh fruit flavors, this Turmeric Smoothie gets you started on the right foot in the morning. Turmeric and ginger combine to provide anti inflammatory and antioxidant benefits. A quick and easy recipe to whirl up in the blender, this healing turmeric smoothie will kick start your day.
Green Tea Kale Smoothie
Brimming with kale, apple, banana and green tea, Green Tea Kale Smoothie has all the right ingredients for your optimum health!
Instructions
In blender combine kale, apple, banana, green tea and vanilla.

Puree until blended and smooth.
Nutrition
Calories:
137
kcal
|
Carbohydrates:
32
g
|
Protein:
4
g
|
Fat:
1
g
|
Saturated Fat:
1
g
|
Sodium:
31
mg
|
Potassium:
681
mg
|
Fiber:
4
g
|
Sugar:
17
g
|
Vitamin A:
6780
IU
|
Vitamin C:
90
mg
|
Calcium:
106
mg
|
Iron:
1
mg