Our Chicken and Sweet Potatoes recipe roasts everything together on one sheet pan. Chicken thighs, Brussel sprouts and sweet potatoes combine in a balsamic honey sauce with just a hint of heat.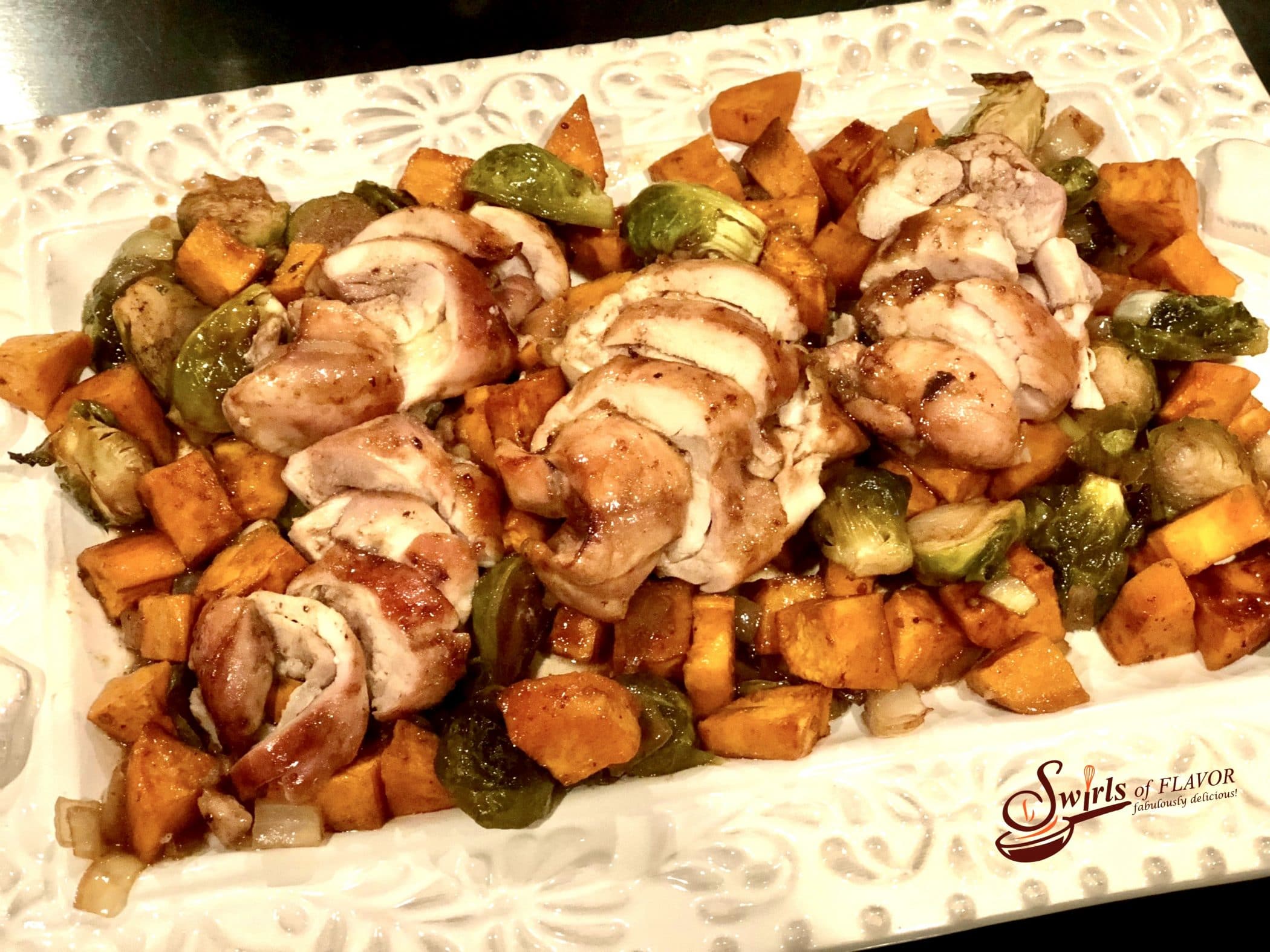 Chicken and Sweet Potatoes
When your day is crazy busy you'll want to keep dinner easy. That calls for making a sheet pan dinner.
Chicken and Sweet Potatoes along with Brussels sprouts will fit the bill!
The chicken, vegetable and starch all cook together in the oven while you sip on your favorite beverage. I like that!
Your balanced dinner will roast together in a balsamic honey sauce with just a hint of heat.
So go ahead and roast up your chicken and potatoes recipe, add a side salad recipe, and another glass of wine (of course!), and you're all set to enjoy a fabulous dining experience!
Trust me, it doesn't get any easier when just one sheet pan in the oven is all it takes to have your chicken and potatoes recipe on the table.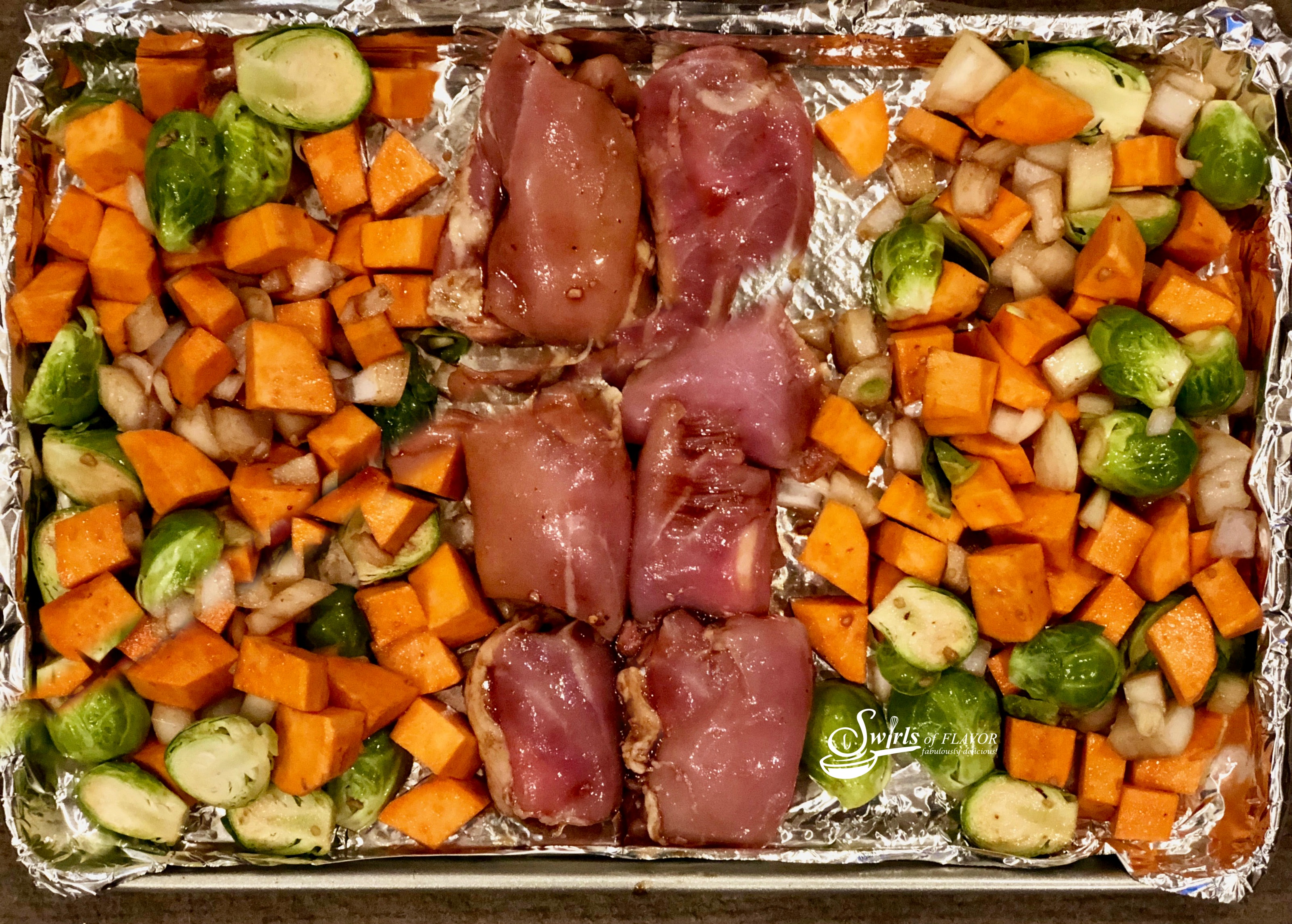 As an Amazon Associate I earn from qualifying purchases.
Sheet pan dinners are all the rage now. Have you checked them out yet on Pinterest? Yep, there's sheet pan chicken, sheet pan fish, sheet pan fajitas and even sheet pan breakfasts.
Sheet Pan Pancakes are one of my favorite ways to make my mornings easy and delicious!
Swirls of Flavor Recipe Tips
Delicious with boneless skinless chicken breasts too
Substitute Yukon gold potatoes for the sweet potatoes
Make it double potato and combine sweet potatoes and white potatoes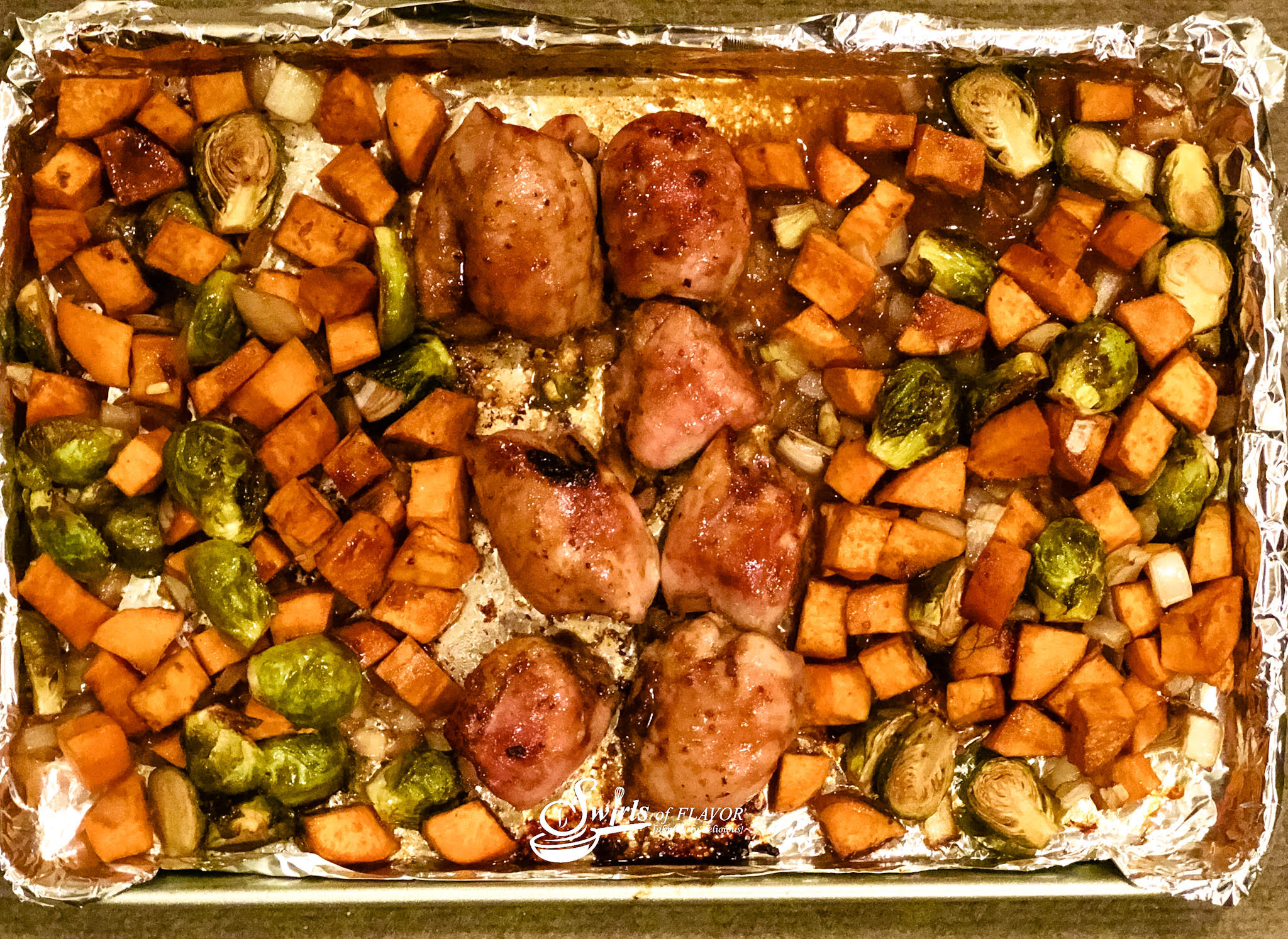 Ingredients you will need to make this recipe
Balsamic vinegar – base flavor of the marinade
Honey – adds a touch of sweetness
olive oil – gives body to the marinade
Dijon mustard – helps to emulsify everything together
garlic – adds a savory note
kosher salt – makes the flavors pop
red pepper flakes – a hint of heat
boneless skinless chicken thighs – juicy flavorful cut of chicken
sweet potatoes – nutritious addition
Brussels sprouts – trendy cruciferous vegetable
Onion – gives the recipe a depth of flavor

Related Recipes
Looking for more one skillet recipes or sheet pan recipes? We've got them for you here at Swirls! You're going to fall in love with the ease of one pot cooking!
One Pot Spaghetti and Meatballs is an easy recipe that cooks pasta and homemade meatballs together in a delicious tomato sauce. Ground beef meatballs simmer in a quick homemade sauce and then uncooked spaghetti is added. Skillet spaghetti and meatballs finishes cooking together in one pot for a saucy pasta dinner!
Dinner isn't the only thing you can make in a sheet pan. Breakfast was never easier than with Sheet Pan Banana Bread Pancakes, pancakes that bake in the oven while you're getting ready for your day!
Sheet Pan Jalapeno Lime Chicken Dinner combines spicy jalapeno, fresh ginger and zesty lime with chicken, green beans and tri-colored potatoes for a fabulously delicious dinner that's quick and easy for any weeknight.
Change up your Taco Tuesday this week with our One Pot Taco Beef and Rice. A taco skillet recipe that's quick, easy and delicious will soon become a family favorite taco alternative. With all the flavors of a taco, you can eat this easy taco rice recipe in a bowl or in taco shells.
Sheet Pan Chicken and Sweet Potatoes
Our Chicken and Sweet Potatoes recipe roasts everything together on one sheet pan. Chicken thighs, Brussel sprouts and sweet potatoescombine in a balsamic honey sauce with just a hint of heat.
Instructions
Preheat oven to 425F. Line a large baking sheet with foil.

In small bowl whisk vinegar, honey, olive oil, Dijon, garlic, kosher salt and red pepper flakes until blended.

Place chicken in another bowl and add 3 Tbs. balsamic mixture, tossing until chicken is coated; let stand.

In another bowl combine sweet potatoes, Brussel sprouts and onion and toss with remaining balsamic mixture until evenly coated.

Arrange chicken in center of baking sheet. Arrange potato mixture on either side of chicken.

Roast 40 minutes or until chicken is cooked through and potatoes and vegetables are tender.

Transfer to serving platter and drizzle any pan juices over chicken, potatoes and vegetables
Notes
Makes 4 servings.
Swirls of Flavor Recipe Tips
Delicious with boneless skinless chicken breasts too
Substitute Yukon gold potatoes for the sweet potatoes
Make it double potato and combine sweet potatoes and white potatoes
Nutrition
Calories:
426
kcal
|
Carbohydrates:
47
g
|
Protein:
30
g
|
Fat:
13
g
|
Saturated Fat:
2
g
|
Cholesterol:
135
mg
|
Sodium:
586
mg
|
Potassium:
817
mg
|
Fiber:
4
g
|
Sugar:
26
g
|
Vitamin A:
16213
IU
|
Vitamin C:
6
mg
|
Calcium:
60
mg
|
Iron:
2
mg
First Published: February 6, 2018... Last Updated: April 12, 2021