This post contains affiliate links. (Disclosure agreement)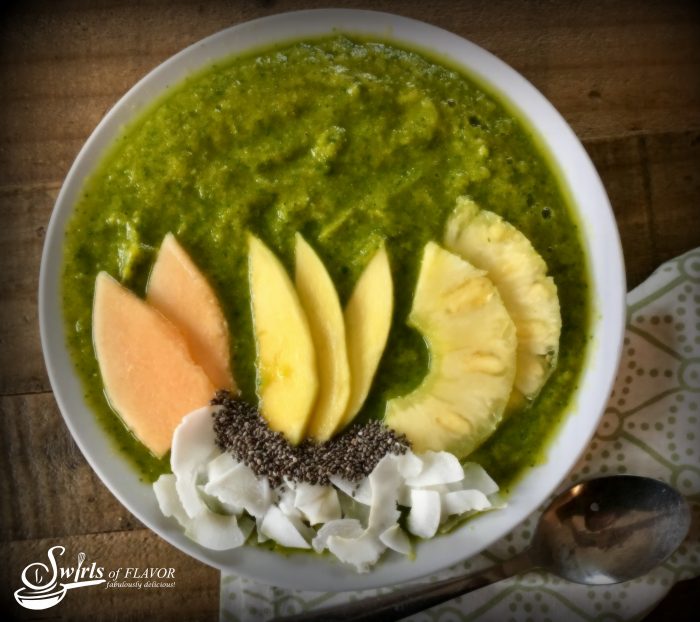 Looking for a new smoothie bowl that's bursting with health benefits? Because we all know that smoothies in a glass are so yesterday! Tropical Turmeric Smoothie Bowl combines turmeric, greens, chia seeds and tropical fruits for a healthy delicious smoothie bowl that's right on trend! Turmeric, the powerful spice that gives curry it's deep golden hue, has been used for thousands of years in India as a medicinal herb and spice in cooking. Turmeric has taken center stage as the hottest holistic health ingredient around these days. Blend in kale, the most popular super greens, along with protein-rich chia seeds, and you're off to a fabulously nutritious, healthy and delicious start to your day!
Tropical Turmeric Smoothie Bowl
2 cups greens, such as baby kale, arugula or spinach
1 cup chopped pineapple
1 cup chopped ripe mango
1 cup chopped ripe cantaloupe
1 Tbs. chopped fresh ginger
1 Tbs. honey, or more if desired
1 tsp. ground turmeric
pineapple, mango and cantaloupe slices for toppings
2 Tbs. shaved coconut
1 Tbs. chia seeds
1. Combine greens, chopped pineapple, chopped mango, chopped cantaloupe, ginger, honey and turmeric in blender and puree until smooth.
2. Transfer to serving dish and top with sliced fruit, shaved coconut and chia seeds.
Makes 2 cups + toppings.