Once you try Oven Roasted Turmeric Sweet Potato Fries I guarantee you will never go back to greasy carb-filled white potato fries again!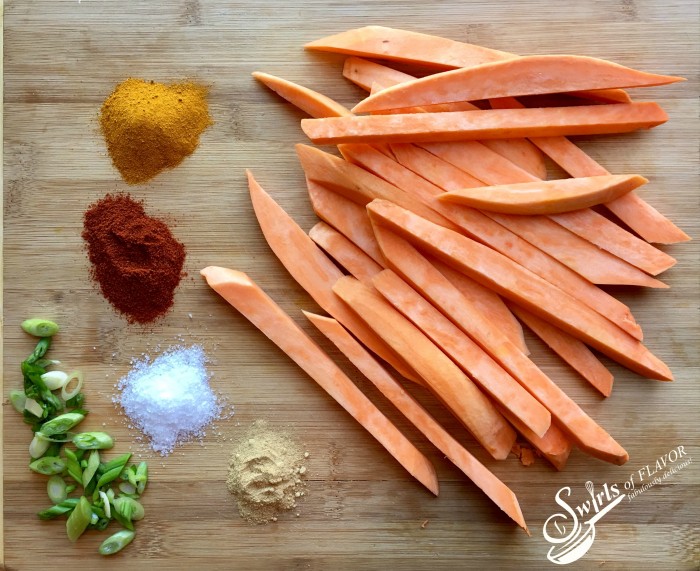 Turmeric, the spice that gives curry it's beautiful color, has been used in India as a medicinal herb and spice for thousands of years. Bursting with medicinal qualities, this spice has become a trending ingredient in recipes recently. Benefits of turmeric include:
proven anti-inflammatory
lowers risk of heart disease
contains antioxidant properties
can help treat symptoms of arthritis
may help prevent cancer and might possibly become a treatment for cancer in the future
alleviates symptoms of depression
acts as an anti-aging supplement
helps with age-related chronic diseases
And then there's my friend, the reliable, delicious, nutritious sweet potato, and all of it's benefits, which include:
provides Vitamin B6
contains Vitamin C
helps build healthy bones by providing Vitamin D
source of Iron that supports the immune system
contains the anti-stress and relaxation mineral magnesium
provides potassium which regulates nerve signals and your heartbeat
does not cause spikes in blood sugar levels
Ok, now combine these two superfoods, turmeric and the sweet potato, throw in a couple more seasonings, roast them in the oven instead of deep frying, and man oh man will you ever love these Oven Roasted Turmeric Sweet Potato Fries! And best of all you don't have to feel guilty eating them!
Oven Roasted Turmeric Sweet Potato Fries
2 tsp. cornstarch
2 Tbs. olive oil
1 Tbs. turmeric
1 tsp. ground ginger
1/2 tsp. paprika
1/2 tsp. kosher salt
1 1/4 lbs. sweet potatoes, peeled and cut into French fry wedges (see photo above)
1 scallion, sliced on diagonal
1. Preheat oven to 425F. Line a baking sheet with foil and top with a wire rack.
2. Toss potatoes with cornstarch until evenly coated.
3. Combine olive oil, turmeric, ginger, paprika and kosher salt. Toss olive oil mixture with sweet potatoes until evenly coated.
4. Arrange sweet potatoes in single layer on wire rack on baking sheet and roast 25-30 minutes or until cooked through.
5. Sprinkle with scallions.
Makes 4 servings.