Oven Roasted Turmeric Sweet Potato Fries is a side dish recipe that combine two super foods, turmeric and sweet potato. Baked sweet potato wedges cook in the oven for a healthy french fries recipe. Sweet Potato Fries are tossed with ginger, turmeric and paprika for a delicious flavor combination!
Sweet Potato Fries Recipe
Once you try our Turmeric Sweet Potatoes I guarantee you will never go back to greasy carb-filled white potato fries again! Turmeric Roasted Sweet Potatoes combine two super foods, turmeric and sweet potato, and are flavored with ginger, turmeric and paprika, a delicious combination! Even better, our turmeric fries roast in the oven so you won't feel guilty eating these tasty sweet potato fries!
As an Amazon Associate I earn from qualifying purchases.
Are you doing Whole30? You can make our oven baked sweet potato fries Whole30 by simply substituting arrowroot flour for the cornstarch!
First Published: March 6, 2017… Last Updated: August13, 2019
Sweet Potato FAQ's
How to cut sweet potato fries
Peel the sweet potato and then cut lengthwise into 1/2-inch thick pieces. Cut each piece lengthwise into 1/2-inch thick sticks.
What are the health benefits of turmeric?
Turmeric, the spice that gives curry it's beautiful color, has been used in India as a medicinal herb and spice for thousands of years. Bursting with medicinal qualities, this spice has become a trending ingredient in recipes recently. The health benefits of turmeric include:
proven anti-inflammatory
lowers risk of heart disease
contains antioxidant properties
can help treat symptoms of arthritis
may help prevent cancer and might possibly become a treatment for cancer in the future
alleviates symptoms of depression
acts as an anti-aging supplement
helps with age-related chronic diseases

Are sweet potatoes healthy?
And then there's my friend, the reliable, delicious, nutritious sweet potato, and all of it's benefits, which include:
provides Vitamin B6
contains Vitamin C
helps build healthy bones by providing Vitamin D
source of Iron that supports the immune system
contains the anti-stress and relaxation mineral magnesium
provides potassium which regulates nerve signals and your heartbeat
does not cause spikes in blood sugar levels
Ok, now combine these two superfoods, turmeric and the sweet potato, throw in a couple more seasonings, roast them in the oven instead of deep frying, and man oh man will you ever love these Oven Roasted Turmeric Sweet Potato Fries! And best of all you don't have to feel guilty eating them!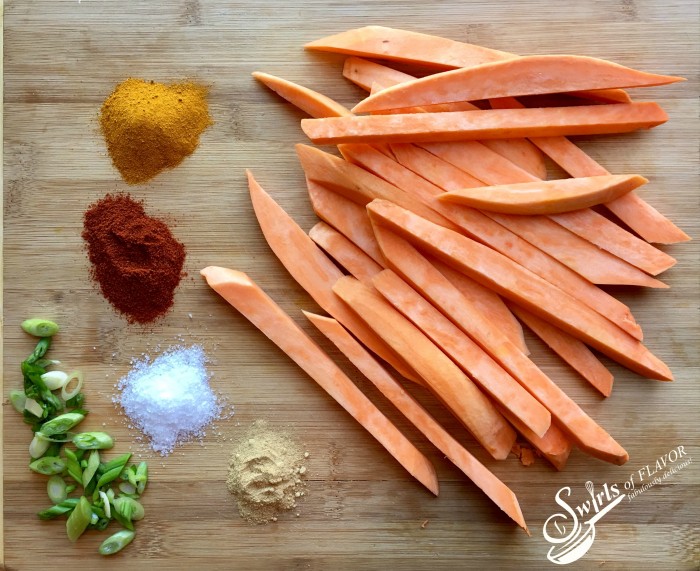 Ingredients you will need to make this recipe
cornstarch
olive oil
turmeric
ground ginger
paprika
kosher salt
sweet potatoes
scallion
If you're in search of ideas for potato recipes, then you'll definitely want to check out our Potato Recipe Round Up! Look no further than our Thanksgiving Potato Recipes Round Up that's bursting with thirty seven delicious white and sweet potato recipes that will compliment any holiday dinner. Choose from mashed potatoes, baked potatoes, creamy potatoes, crumb topped potatoes, instant pot potatoes, slow cooker potatoes and even French fries. Your holiday potato recipe is waiting for you!
Recipes With Turmeric
Need more turmeric in your life? I'm thinking we all do and it's so easy when you make these recipes that are all made so beautiful with the addition of turmeric.
Indian Butter Chicken combines warm spices with the simple ingredients of onion, butter, tomato and garlic creating tender chicken in a creamy tomato sauce. An easy chicken dinner that makes an impressive meal for entertaining too!
Turmeric Cilantro Vinaigrette combines the flavors of the powerful and amazing turmeric along with cilantro and ginger making it a fabulous vinaigrette that's perfect on salads, chicken, fish, vegetables and pasta.
Start your day with a nutritious Turmeric Smoothie. Golden in color and bursting with fresh fruit flavors, this smoothie gets you started on the right foot. Turmeric and ginger combine to provide anti inflammatory and antioxidant benefits along with sweet and tangy mango with over twenty vitamins and minerals.
Love potatoes and want another Whole30 recipe? Spiced Sweet Potatoes are decadent and creamy with a hint of spice and turmeric. The perfect side dish for any meal!
Oven Roasted Turmeric Sweet Potato Fries
Oven Roasted Turmeric Sweet Potato Fries combine two super foods and roast in the oven so you won't feel guilty eating these fabulously delicious fries!
Keyword:
baked sweet potato fries, turmeric sweet potato fries
Ingredients
2

tsp.

cornstarch

(See recipe notes below to make it Whole30)

2

Tbs.

olive oil

1

Tbs.

turmeric

1

tsp.

ground ginger

1/2

tsp.

paprika

1/2

tsp.

kosher salt

1 1/4

lbs.

sweet potatoes,

peeled and cut into French fry wedges (see photo above)

1

scallion,

sliced on diagonal
Instructions
Preheat oven to 425F. Line a baking sheet with foil and top with a wire rack.

Toss potatoes with cornstarch until evenly coated.

Combine olive oil, turmeric, ginger, paprika and kosher salt. Toss olive oil mixture with sweet potatoes until evenly coated.

Arrange sweet potatoes in single layer on wire rack on baking sheet and roast 25-30 minutes or until cooked through.

Sprinkle with scallions.
Recipe Notes
Makes 4 servings.
Make It Whole30: Make it Whole30 by substituting arrowroot flour for the cornstarch.
Nutrition Facts
Oven Roasted Turmeric Sweet Potato Fries
Amount Per Serving
Calories 205
Calories from Fat 63
% Daily Value*
Fat 7g11%
Sodium 319mg14%
Potassium 538mg15%
Carbohydrates 33g11%
Protein 3g6%
Vitamin A 20159IU403%
Vitamin C 5mg6%
Calcium 46mg5%
Iron 2mg11%
* Percent Daily Values are based on a 2000 calorie diet.
This recipe is part of Meal Plan Monday and The Weekend Potluck