A Parmesan and panko breadcrumb mixture flavors our Finger Steaks and a homemade 3-ingredient creamy Pesto Dipping Sauce makes every bite delicious.
Finger Steaks
Move over chicken fingers, there's a new kid in town! Finger Steaks have arrived in the northeast and I'm so happy they're here! #beeftogether #fingersteaks
This post for Parmesan Finger Steaks is sponsored by the New York Beef Council. All opinions are my own.
The finger steak is a signature food of Idaho and is now making it's way to the east coast.
Strips of beef are breaded and fried up into a crispy coating surrounding tender beef. You can even forgo the frying and make air fryer finger steaks!
Add a dipping sauce and you're going to love these bites of deliciousness as much as I do.
I put an Italian spin on my steak fingers recipe with a Parmesan panko coating flavored with dried Italian seasoning.
Continuing with my Italian theme, the dipping sauce combines pesto, your choice of either homemade or store bought, sour cream and milk. And if you wish, add in a hint of horseradish for an added kick and now we're talking.
And you know that kids will flip over steak fingers dipped in barbecue sauce or Ranch dressing.
Trust me, the dipping sauce is mandatory and adds to the deliciousness of the finger steaks!
Beef is an important part of a healthy diet and my steak fingers recipe is an easy, delicious and fun way to include it in your menu rotation. #beefitswhatsfordinner
Be sure to check out the many delicious beef recipes here at Swirls!
Finger Steak FAQ's
How to make steak fingers
Scroll down for the full recipe in the recipe card below.
Slice cubed steaks about 1" wide.
In a bowl combine panko, Parmesan, Italian seasoning, garlic powder, kosher salt and pepper.
Dip beef into beaten eggs, then in breadcrumb mixture.
Heat oil in a large skillet over medium-high heat.
Cook finger steaks, in batches, until breadcrumb coating is golden.
Drain on paper towels.
Serve steak fingers with Pesto Dipping Sauce or your favorite sauce.
Dipping Sauces to Serve with Finger Steaks
Other sauces, in addition to our Pesto Dipping Sauce, will also taste delicious with our steak fingers including:
Horseradish Cream Dipping Sauce
Fry Sauce
Ranch Dipping Sauce
Worcestershire Sauce
Barbecue Sauce
Cocktail Sauce
Ketchup
Marinara Sauce
Swirls of Flavor Recipe Tips
Substitute plain Greek yogurt for the sour cream
For a kick of flavor add horseradish to the dipping sauce
Make recipe with boneless sirloin
Make air fryer steak fingers
Serve finger steaks as an appetizer (8 servings)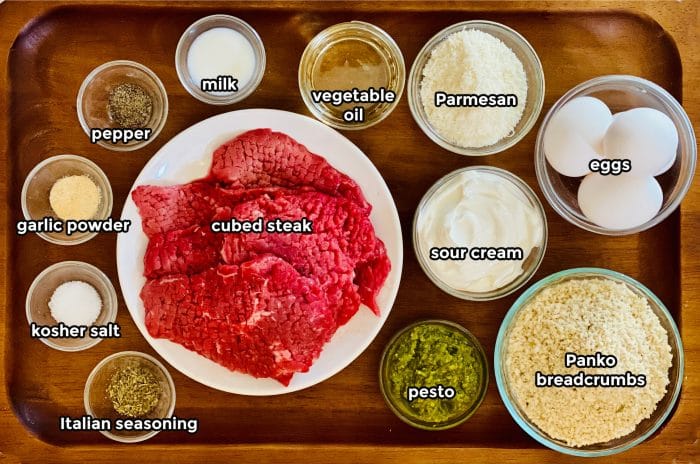 Ingredients you will need to make this recipe
sour cream – base for a creamy dipping sauce
pesto – adds fresh herb flavor
milk – gives a creamy texture to the sauce
cubed steak – cut of beef typically used to make finger steaks
panko breadcrumbs – provides a crispy coating
grated Parmesan cheese – adds salty cheese notes to the breading
dried Italian seasoning – gives an Italian flavor
garlic powder – savory note
kosher salt – makes the flavors pop
pepper – slightly spicy and aromatic
eggs – helps the breading to adhere to the beef
vegetable oil – for deep frying
I make commissions for purchases made through links in this post.
Related Recipes