Bursting with the fresh flavors of cucumber, garlic, lemon and dill, our Tzatziki Sauce recipe is delicious on chicken, beef, vegetables and even served as a dip or salad dressing.
Tzatziki Sauce
Tzatziki Sauce is an easy recipe for the classic Greek cucumber sauce.
Refreshing and creamy, our easy tzatziki sauce will be a hit when served on grilled chicken, beef or seafood. Dollop on cooked vegetables or toss with lettuce to add a bright flavor to any side dish.
Serve as a tzatziki dip with your favorite vegetable dippers, crackers and/or pita chips for a delicious party dip.
The fresh flavor of cucumber combines with citrus lemon, flavorful garlic and the warm buttery grassy herb notes of dill. Stir all of that deliciousness into plain Greek yogurt and plan to wake up your tastebuds today!
A homemade tzatziki is so easy to make and uses fresh summer ingredients that are readily available at the farmers market and in your grocery store's produce section.
Trust me when I tell you that these flavors combined will literally wake up your tastebuds!
I love topping homemade turkey burgers with this sauce too!
Our chicken gyro recipe is a classic way to use this tasty cucumber sauce.
The uses are endless for this versatile tzatziki recipe.
How to make tzatziki sauce
Combine yogurt, cucumber, red onion, dill, garlic, lemon juice, kosher salt and pepper.
Stir until blended.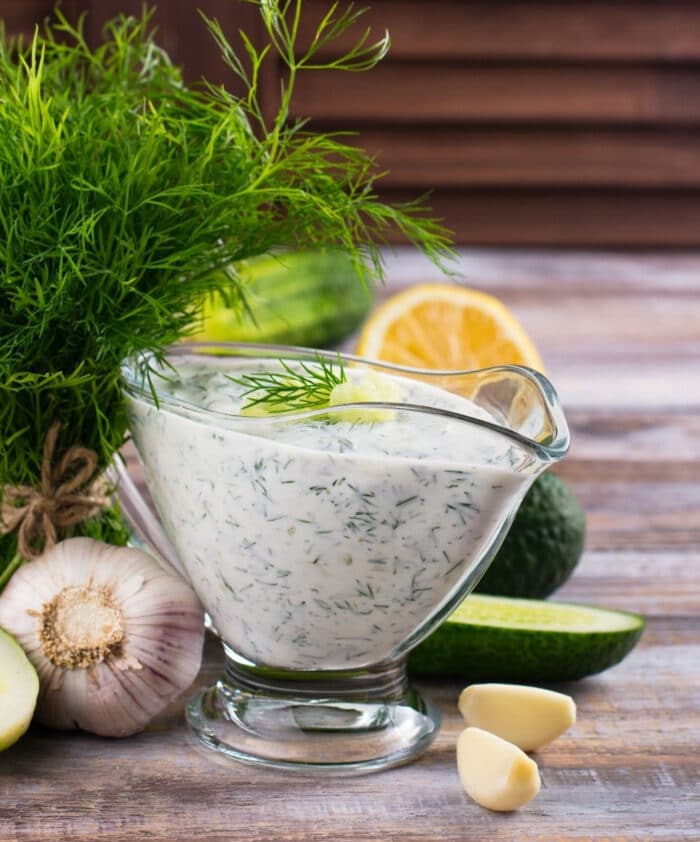 Tzatziki Sauce FAQ's
How do you make tzatziki sauce from scratch?
To make tzatziki sauce from scratch simply combine Greek yogurt, cucumber, red onion, dill, garlic, lemon juice, kosher salt and pepper and stir until blended.
How do you store tzatziki sauce?
Tzatziki sauce should be stored in a sealed container in the refrigerator.
How long will homemade tzatziki last?
This homemade sauce will stay fresh for about 4 days in the refrigerator.
What can I put tzatziki sauce on?
Tzatziki sauce is delicious on chicken, beef, pork and even seafood.
It is commonly served with grilled meats
A popular way to serve this sauce is on a gyro as a gryo sauce.
What does tzatziki sauce taste like?
This Greek cucumber sauce is creamy with a slight tartness from the yogurt. A fresh cucumber flavor with garlic, lemon and herb notes fill this sauce with refreshing flavor.
Swirls of Flavor Recipe Tips
For a smoother sauce, grate the cucumber instead of finely mincing it
Add chopped fresh mint for extra herb flavor
Substitute sour cream for the Greek yogurt
Use garlic powder in place of fresh garlic
Add a bit of olive oil and use as a tzatziki salad dressing
Reduce garlic to one clove, if desired
Ingredients you will need to make this recipe
Cucumber – gives a fresh flavor to the sauce
Red onion – adds a sweet mild onion taste
Garlic – delicious savory note
Greek yogurt – the creamy base, with slight tart notes, for this cucumber sauce
Lemon juice – adds citrus flavor
Fresh dill – sweet grassy herb
Kosher salt
Pepper
Related Recipes
Did you use this recipe as a creamy salad dressing? then you'll definitely want to check out my Ultimate Guide To Making Homemade Salad Dressings!
I make commissions for purchases made through links in this post.