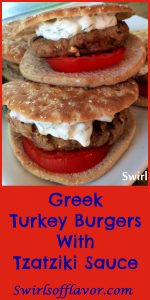 When it's long into the summer and I've grilled a lot of burgers, I begin to search for new burger flavors. Today I'm grilling up turkey burgers, inspired by the cuisine of Greece, with feta cheese, oregano….and a pinch of crushed red pepper flakes for just the right amount of kick.
And a Greek turkey burger wouldn't be Greek without Tzatziki sauce, now would it? Tzatziki sauce, made with cucumbers, yogurt, red onion and seasonings, is the perfect topper for these burgers and also fabulously delicious as a dip!
Greek Turkey Burgers with Tzatziki Sauce
Tzarziki Sauce:
1 (6 oz.) container plain Greek yogurt
1/2 cup chopped cucumber
2 Tbs. chopped red onion
2 Tbs. chopped dill
1 1/2 tsp. lemon juice
1/2 tsp. kosher salt
1/4 tsp. cracked black pepper
Greek Turkey Burgers:
1 1/2 lbs. ground turkey
1/2 cup seasoned bread crumbs
1/2 cup crumbled feta cheese
1 tsp. dried oregano
1/2 tsp. kosher salt
1/8 tsp. crushed red pepper flakes
6 Sandwich Thins multigrain rolls
6 tomato slices
1. Tzatziki Sauce: in bowl combine yogurt, cucumber, onion, dill, lemon juice, kosher salt and cracked black pepper. Refrigerate.
2. Greek Turkey Burgers: Preheat grill for direct heat grilling. In bowl combine ground turkey, breadcrumbs, feta, oregano, kosher salt and red pepper flakes. Shape into 6 patties.
3. Grill, turning once, until burger is cooked through and registers 165F on a meat thermometer.
4. Serve on rolls with tomato and topped with tzatziki sauce. Serve any additional tzatziki sauce on the side.
Makes 6 burgers and 1 cup sauce.