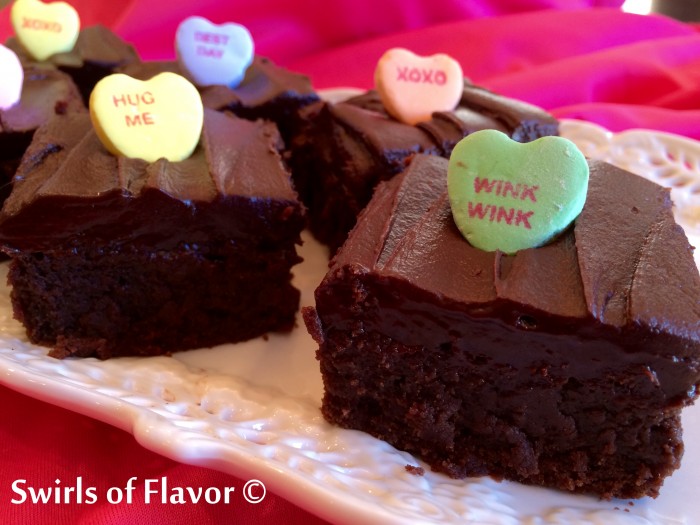 Show those you love just how much you love them by baking Espresso Brownies with Kahlua Ganache! Kahlua is a coffee-flavored rum-based liqueur and espresso has an intense coffee flavor. So can you imagine rich, fudgy, decadent, intense brownies topped with a silky Kahlua chocolate cream topping? Holy Moly…..now that's a lotta love! Valentine's Day is that special day when you let your loved ones know how much you care. My thought is that you should let them know every day! Of course, I'm not suggesting that you bake brownies every day…..but saying "I love you" every day will let the special people in your life know just how precious they are to you always! Maybe you want to personalize your dessert? Personalized Conversation Heart Cupcakes are the perfect way to do that! No time to bake? Then No-Bake Vanilla Cake Pops are for sure what you'll be making! And it's always good to know the Top Ten Foods For Love! Happy Valentine's Day!
Espresso Brownies with Kahlua Ganache
Brownies:
4 ounces unsweetened chocolate, chopped
1 cup (2 sticks) butter
1 2/3 cups sugar
3 Tbs. instant espresso granules
4 eggs
1 tsp. vanilla extract
1 cup flour
1/4 tsp. salt
Kahlua Ganache:
2 cups semi-sweet chocolate chips (1-12 oz. pkg.)
1/2 cup heavy cream
2 Tbs. Kahlua
1 Tbs. butter, at room temperature
15 large conversation hearts candy
1. Preheat oven to 350F. Line a 7-inch x 11-inch baking pan with foil leaving a 2-inch overhang.
2. Brownies: Melt unsweetened chocolate and butter over medium heat in a medium saucepot, stirring occasionally.
3. Remove from heat and stir in sugar and espresso granules until blended and smooth.
4. Add eggs, one at a time, and vanilla, stirring after each addition.
5. Stir in flour and salt until blended and smooth.
6. Transfer to prepared baking pan and bake 30 minutes or until toothpick inserted in center comes out with moist crumbs. Cool in pan 15 minutes. Using foil overhang, transfer brownies to wire rack and cool completely.
7. Kahlua Ganache: While brownies are cooling, place chocolate chips in a heat-resistant bowl. Microwave heavy cream and Kahlua until hot. Pour over chocolate chips and let stand 5 minutes or until chips begin to melt. Stir until smooth. Add butter and stir until blended. Refrigerate 30 minutes or until spreadable.
8. Top brownies with Kahlua Ganache. Cut into 15 squares and top with conversation hearts.
Makes 15 brownies.