This post contains affiliate links. (Disclosure policy)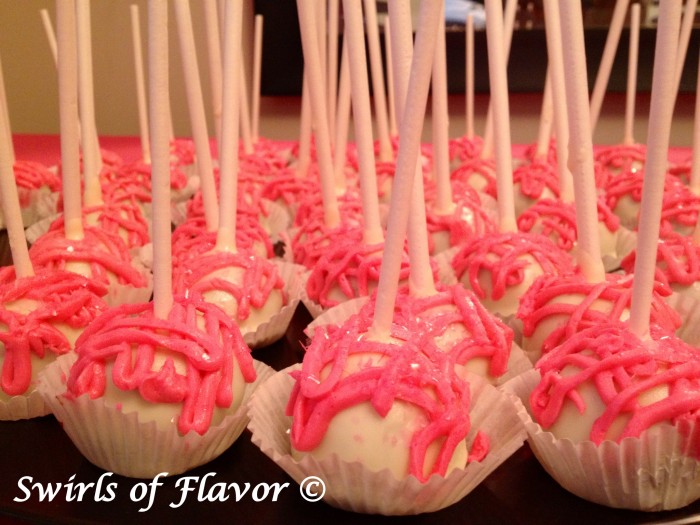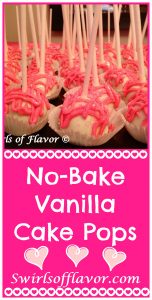 Perfect for a Valentine's Day get together or sweet dessert for the family, No-Bake Vanilla Cake Pops will satisfy your sweet tooth on this day of love. And you don't even have to bake the cake! Just purchase store bought pound cake, canned frosting and white chocolate chips! Pink candy color and white cake sparkles and mini liners are the perfect finishing touch! No-Bake Vanilla Cake Pops are a great way to make a last minute sweet treat. When you have a little time to bake Valentine Heart Brownies, Espresso Brownies With Kahlua Ganache and Nutella Pie Crust Hearts are sure to please. And if you're crunched for time, top store bought cupcakes with Personalized Conversation Hearts! Happy Valentine's Day to you and your loved ones!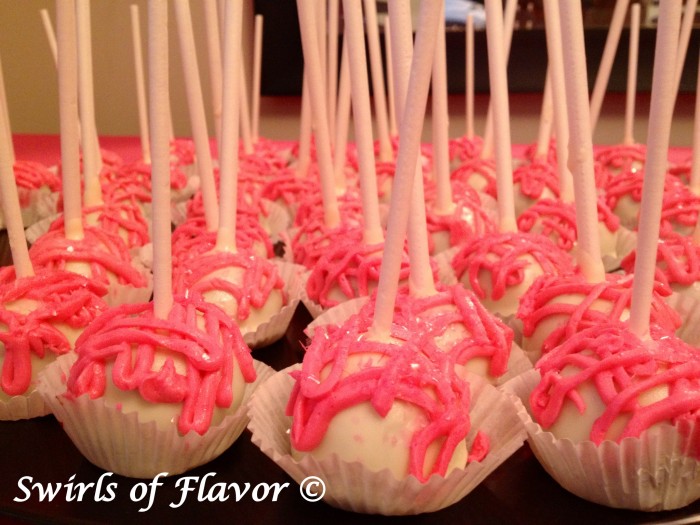 No-Bake Vanilla Cake Pops
2016-02-12 18:07:44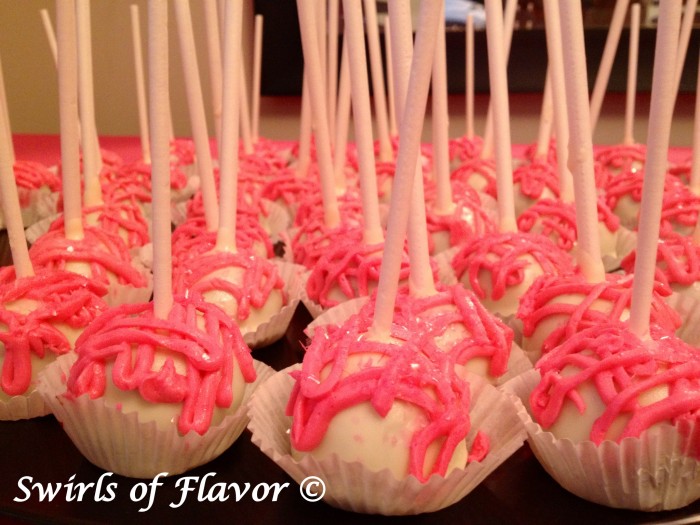 Nutrition Facts
Amount Per Serving
* Percent Daily Values are based on a 2,000 calorie diet. Your Daily Values may be higher or lower depending on your calorie needs.
Ingredients
1 (11.5 oz.) package butter pound cake, cut in chunks, Entenmann's
2/3 cup creamy white frosting, from 1 (16 oz.) can
32 lollipop sticks
3 cups (18 ounces) white chocolate chips
pink candy color
white cake sparkles
Instructions
Line a baking sheet with parchment paper or wax paper.
With mixer on medium-low speed combine pound cake and frosting until blended.
Shape mixture into 32 balls, each about 1 Tablespoonful. Arrange on prepared baking sheet and insert lollipop sticks.
Freeze until chilled and firm, about 30 minutes.
In microwave-safe dish microwave white chocolate chips in 30 second intervals until melted and smooth, stirring after each interval.
Transfer 1/4 cup melted mixture to a small bowl and tint with pink candy color; reserve.
Dip cake pops into remaining melted chips* to coat, shaking off any excess.
Return cake pops to prepared baking sheet.
Drizzle with reserved pink mixture and sprinkle with cake sparkles.
Notes
* You may need to return melted mixture to microwave occasionally during the dipping process if it begins to thicken up. Just microwave at additional 30 second intervals.
Swirls of Flavor https://swirlsofflavor.com/