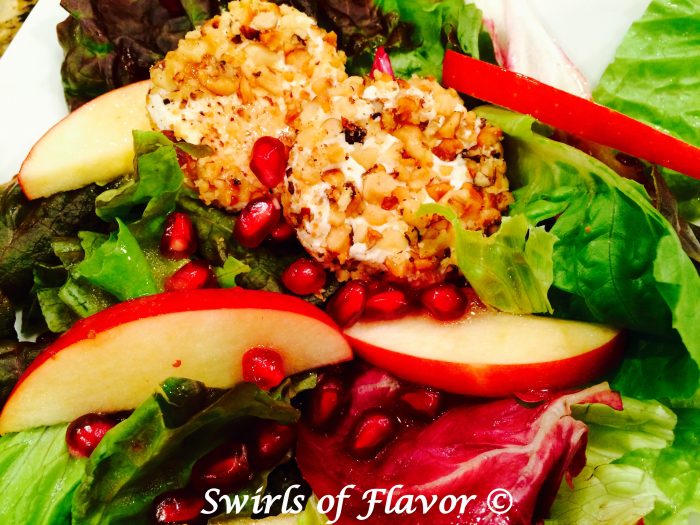 The holidays are a time to serve those extra special recipes. Walnut-Crusted Goat Cheese elevates this salad to a new level of elegance and your guests will certainly be impressed! And it only takes a minute to roll the slices of goat cheese in toasted walnuts….so easy….so fancy! The greens are lightly tossed in a perfectly balanced Pomegranate Vinaigrette and topped with apple slices, pomegranate arils and the goat cheese rounds. Pomegranate arils are the fiber-rich seeds of the pomegranate fruit. Pomegranates can be purchased in the produce section of your grocery store or, if you prefer, you can buy them already seeded. Rich in anti-oxidants, fiber, protein, Vitamins C and K and potassium, the pomegranate is definitely a super fruit. It also has three times the anti-oxidant level as red wine and green tea along with anti-inflammatory properties. And pomegranates may reduce your risk of heart disease, improve cholesterol levels and lower your blood pressure! So Pomegranate Apple Mixed Greens With Walnut-Crusted Goat Cheese is truly a gift of nutrition and deliciousness this holiday season!
Pomegranate Apple Mixed Greens With Walnut-Crusted Goat Cheese
2015-12-14 18:01:54
Serves 8
Nutrition Facts
Amount Per Serving
* Percent Daily Values are based on a 2,000 calorie diet. Your Daily Values may be higher or lower depending on your calorie needs.
WALNUT-CRUSTED GOAT CHEESE
3/4 cup toasted chopped walnuts, finely chopped
8 ounces chilled goat cheese, cut in 16 rounds
POMEGRANATE VINAIGRETTE
1/2 cup olive oil
1/4 cup red wine vinegar
2 Tbs. pomegranate juice
2 Tbs. honey
1 Tbs. Dijon mustard
1/2 tsp. kosher salt
SALAD
8 cups assorted mixed greens, such as radicchio, Bibb lettuce and red leaf lettuce
2 Gala apples, seeded and sliced, 2 cups
1 cup pomegranate arils
Instructions
WALNUT-CRUSTED GOAT CHEESE: Roll goat cheese in finely chopped toasted walnuts and gently press to adhere. Refrigerate until ready to serve*.
POMEGRANATE VINAIGRETTE: Whisk olive oil, vinegar, pomegranate juice, honey, Dijon and kosher salt until blended.
SALAD: Toss mixed greens with some of the vinaigrette to lightly coat greens. Top with sliced apples, pomegranate arils and goat cheese. Serve remaining vinaigrette on the side.
Notes
*Walnut-Crusted Goat Cheese can be made a day ahead and refrigerated until ready to serve your salad.
Swirls of Flavor https://swirlsofflavor.com/