Make your own homemade Hot Honey with our easy recipe. Peppers simmer with honey for the perfect combination of sweet with a kick of heat.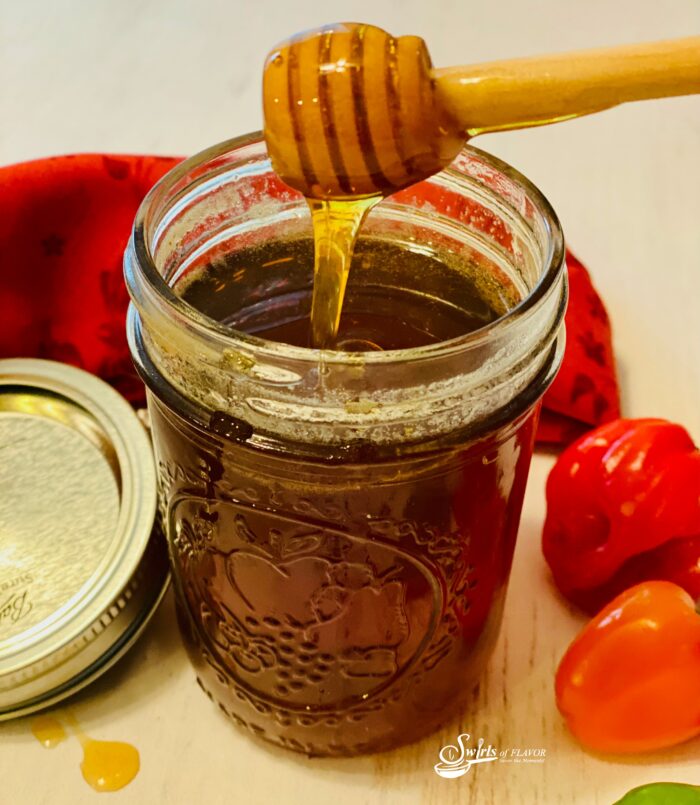 Hot Honey
Have you heard about the new honey craze? Let me tell you about it. Hot honey combines the spice of peppers with the sweetness of honey by simmering them together.
I make commissions for purchases made through links in this post.
Now you can just go out and buy hot honey but that's no fun, especially when it's so easy to make your own. And it literally takes just minutes to make a homemade hot honey.
By choosing peppers with different heat levels you can personalize your hot honey and make it as spicy as you want. Add as many or as little as you want to control the heat.
For our Hot Honey recipe, I used a combination of peppers including crushed red pepper flakes, for a kick of flavor.
You can use just jalapenos, jalapenos with red pepper flakes, or an assortment of peppers and flakes as I did.
You can even add a touch of sriracha sauce and make it a honey sriracha sauce and drizzle on your favorite foods, such as chicken wings, biscuits and fried chicken. The choice is yours.
Love that extra kick of heat? Be sure to use the seeds in your spicy honey too!
So fill your honey jar with this trendy pepper infused honey. You'll be so happy you did!
All About Honey
Honey is a fascinating food. Learn All About Honey in our article and be sure to follow the National Honey Board at:
National Honey Board Facebook page
National Honey Board pinterest
How to make hot honey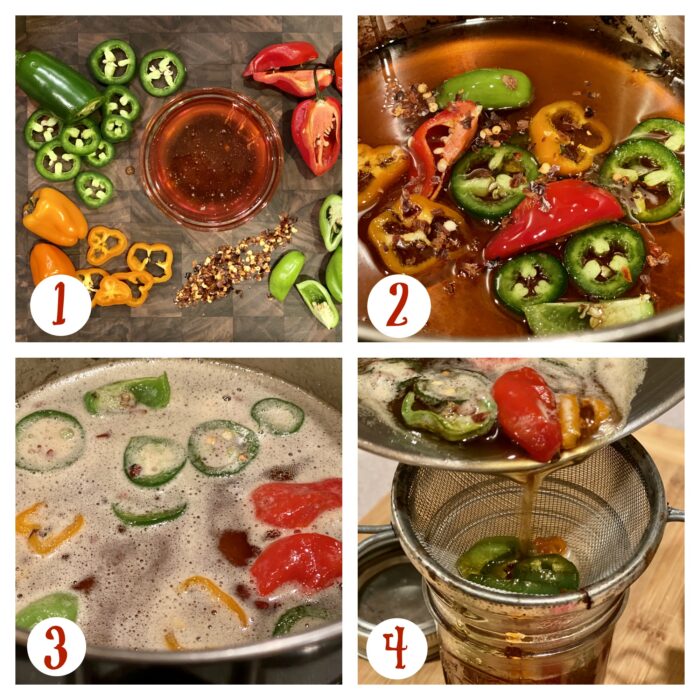 Chop peppers
Combine peppers, red pepper flakes and honey in a small saucepot
Simmer for 5 minutes
Strain and cool
Swirls of Flavor Recipe Tips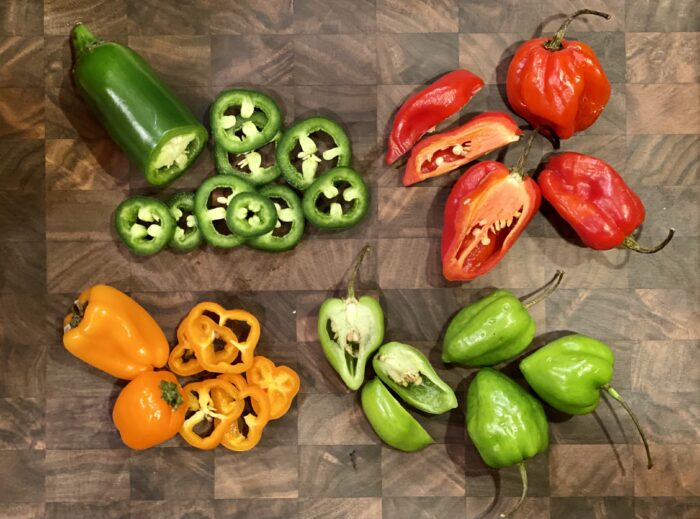 Use just one type of pepper or a combination of peppers
Add the seeds for an extra kick of heat
Cool and then strain for extra heat
How to use hot honey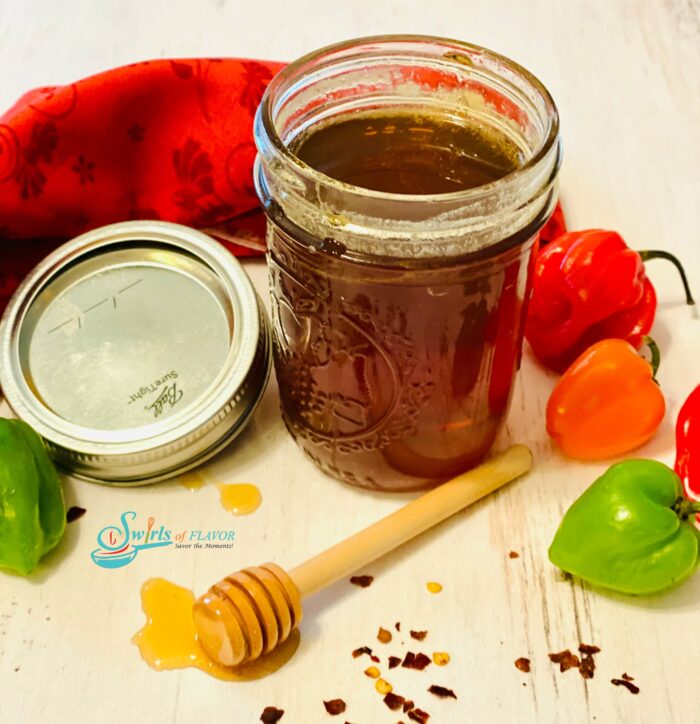 Drizzle over fried chicken
Use as a hot honey wing sauce and toss with chicken wings
Add to your cup of tea
Drizzle over biscuits
Drizzle over pizza, especially pepperoni pizza!
Use as the sweetener and flavoring in a vinaigrette
Ingredients you will need to make this spicy honey sauce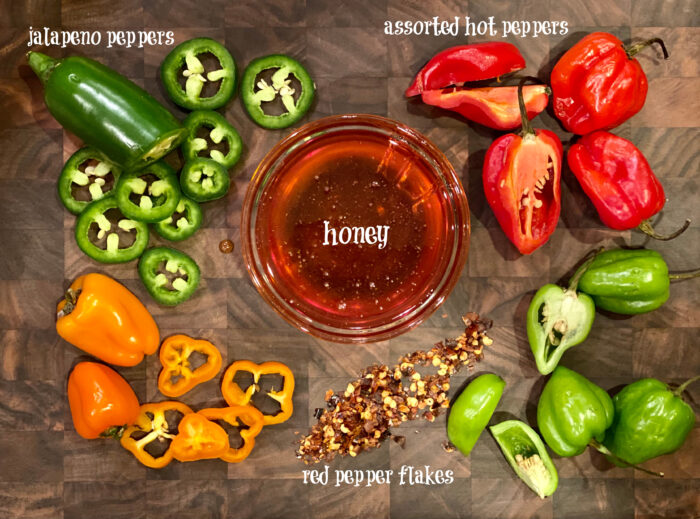 Honey
Peppers
Red pepper flakes
Recipes With Honey
Love honey? Then you'll love these recipes too!
Honey Orange Vitamin C Drink
When it's time to boost your immunity, warm up a mug of our Honey Orange Vitamin C Drink. Bursting with the amazing apple cider vinegar, raw honey, citrus and 1000 mg of Vitamin C, our drink will warm your body and your soul, and boost your Vitamin C level too!
Check out this recipe
Orange Honey Balsamic Vinaigrette
Orange Honey Balsamic Vinaigrette is an easy homemade vinaigrette that combines the perfect balance of sweetness with the crisp edginess of citrus notes.
Check out this recipe
Gingered Cinnamon Honey Glazed Carrots
Gingered Cinnamon Honey Glazed Carrots is an easy recipe for a weeknight dinner or entertaining. Carrots are simmered in honey with a hint of cinnamon and crystallized ginger for a side dish you'll want to make over and over again!
Check out this recipe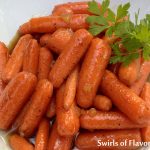 Honey Mustard Vinaigrette
Honey Mustard Vinaigrette is an easy to make homemade salad dressing with just a few simple ingredients, honey, mustard, olive oil, apple cider vinegar, garlic and salt! This easy recipe is not just for salad but as a dipping sauce for vegetables, a marinade for chicken or fish or even as a dressing for your favorite pasta salad.
Check out this recipe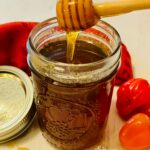 Print
Hot Honey
Make your own Hot Honey at home with our easy recipe. Peppers simmer with honey for the perfect combination of sweet with a kick of heat.
Instructions
Combine honey, peppers and red pepper flakes in saucepot.

Bring mixture to a simmer over medium heat. Simmer 5 minutes.

Strain and cool.

Cover and refrigerate.
Notes
Makes 1 cup/16 servings
1 Tablespoon per serving
Swirls of Flavor Recipe Tips
Use just one type of pepper or a combination of peppers
Add the seeds for an extra kick of heat
Cool and then strain for extra heat
How to use hot honey
Drizzle over fried chicken
Toss chicken wings in hot honey
Add to your cup of tea
Drizzle over biscuits
Drizzle over pizza, especially pepperoni pizza!
Use as the sweetener and flavoring in a vinaigrette
Nutrition
Calories:
65
kcal
|
Carbohydrates:
18
g
|
Protein:
1
g
|
Fat:
1
g
|
Saturated Fat:
1
g
|
Sodium:
3
mg
|
Potassium:
13
mg
|
Fiber:
1
g
|
Sugar:
17
g
|
Vitamin A:
37
IU
|
Vitamin C:
1
mg
|
Calcium:
1
mg
|
Iron:
1
mg
First Published: January 5, 2021... Last Updated: February 28, 2022 for better readability and user experience