In search of one more side dish for your weekend barbecue? Look no further, here it is! While leisurely browsing in the grocery store, yes, that's what us foodies do, I was excited to discover Melissa's Dutch Yellow PeeWee Potatoes* in the produce section. PeeWees are a petite sweet creamy textured potato and will become a favorite for sure. And everyone loves potatoes, especially when they're petite and yummy, and everyone loves buffalo and ranch flavors. Put them all together and you've got a Kickin' Good Buffalo Ranch Potato Salad! Stir in a little celery and scallion for crunch, and pickled jalapenos….oh la la that gives it a kick….and some grape tomatoes for a little relief of freshness to calm down the heat….and you're good to go! Kick up your feet and enjoy your barbecue!
Kickin' Good Buffalo Ranch Potato Salad
1 1/2 lbs. Dutch Yellow PeeWee Potatoes*, halved crosswise, 5 cups
1 cup red and/or yellow grape tomatoes, halved lengthwise
2 scallions, sliced on diagonal, 1/2 cup
2 stalks celery, chopped, 1 cup
1/4 cup pickled jalapenos, drained, chopped, from 1 jar (12 oz.)
1/2 tsp. kosher salt
1/3 cup Buffalo Ranch salad dressing
additional jalapeno slices, optional garnish
1. Place potatoes in pot of cold water. Bring to boil over medium-high heat. Boil 15 minutes or until potatoes are tender. Drain; run under cold water until potatoes are cool.
2. In bowl combine potatoes, tomatoes, scallions, celery, jalapenos and salt.
3. Stir in Buffalo Ranch salad dressing, toss until evenly coated.
4. Chill at least 1 hour.
5. Stir before serving, adding additional salad dressing, if necessary. Garnish with additional jalapeno slices, if desired.
Makes 7 cups. Recipe can be doubled to feed a crowd!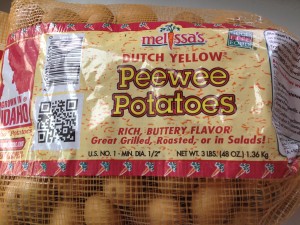 *Look for these petite potatoes by Melissa's Produce in your local grocery store! They are available in 1.5 lb. and 3 lb. bags. Click on the link below to learn more about PeeWees at Melissa's Produce: http://www.melissas.com/Products/Products/Peewee-Dutch-Yellow-Potatoes.aspx