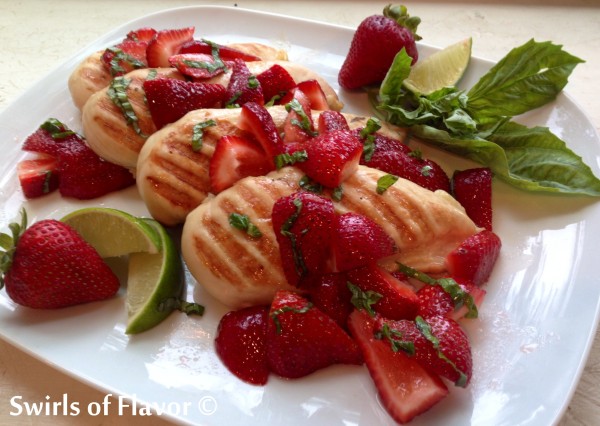 Who doesn't love the refreshing lime flavor of the must-have summertime Margarita cocktail, the sweet juiciness of strawberries and the fragrant aroma of fresh basil? Combine all those great flavors with grilled chicken and you'll have a party in your mouth.....and a fabulously delicious dinner! Swirling with flavor, this recipe is one you will be making over and over again!
Strawberry Basil Margarita Chicken
1/2 cup tequila*
6 Tbs. agave
1/4 cup lime juice
1/4 cup orange juice
1 Tbs. oil
2 tsp. lime zest
1 tsp. kosher salt
4 boneless skinless chicken breasts
2 cups trimmed and quartered strawberries, about 6 medium strawberries
2 Tbs. thinly sliced fresh basil
1. In bowl combine tequila, agave, lime juice, orange juice, oil, lime zest and kosher salt. Reserve 3 Tbs. tequila mixture.
2. Pour remaining tequila mixture in ziplock plastic food storage bag. Pierce chicken breasts several times with fork. Add chicken to marinade; seal. Marinate 20-30 minutes in refrigerator.
3. Meanwhile, preheat grill for direct heat grilling.
4. Remove chicken breasts from marinade, discarding marinade.
5. Grill chicken until juices run clear and meat thermometer reads 165F.
6. Meanwhile, combine strawberries, basil and reserved 3 Tbs. tequila mixture.
7. Arrange chicken on serving platter. Top with strawberry basil mixture.
Makes 4 servings.
*Prefer not to use alcohol in your recipe? Not a problem, just substitute additional orange juice, or pineapple juice, for the tequila!