One Pot Chili Mac and Cheese is an easy dinner recipe that combines two all time comfort food favorites, mac and cheese and chili. This one pot recipe is filled with cheesy saucy goodness, and yes, it's made in just one pot! Kids, and grownups, will love when this tasty chili mac and cheese recipe is on the menu!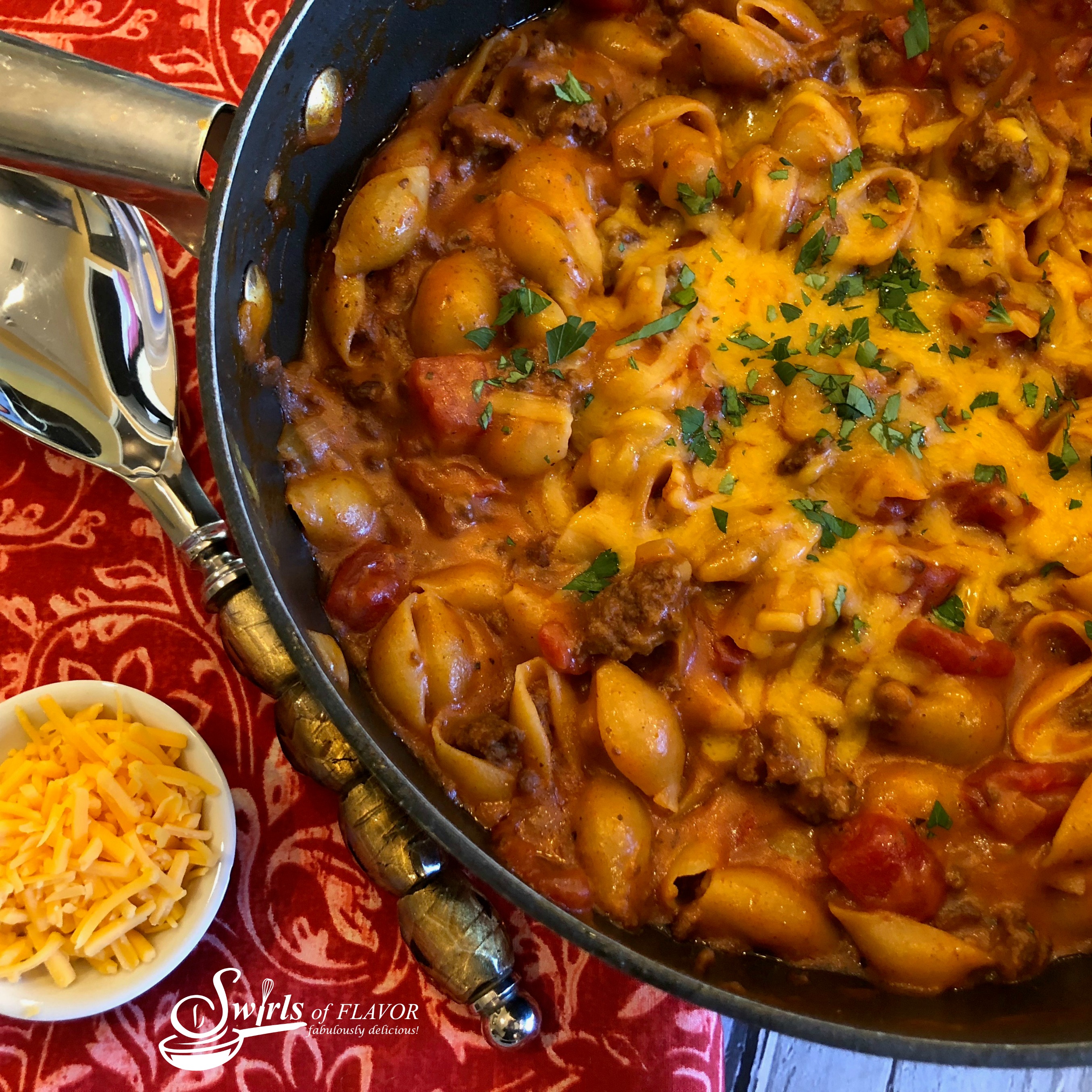 One Pot Chili Mac and Cheese
When days are crazy busy and you still have to get dinner on the table, it's time for a one pot recipe! I just love cooking everything in one skillet, including the pasta!
One Pot Chili Mac and Cheese is filled with cheesy saucy goodness and, yep you read that right, it's all made in just one pot!
Brown up the ground beef for chili, add the uncooked pasta along with diced tomatoes and broth to the same skillet and let it cook for just minutes.
Don't forget to stir in cheese at the end for the saucy cheesy goodness! And don't forget to call me when you make this because I'll come right over!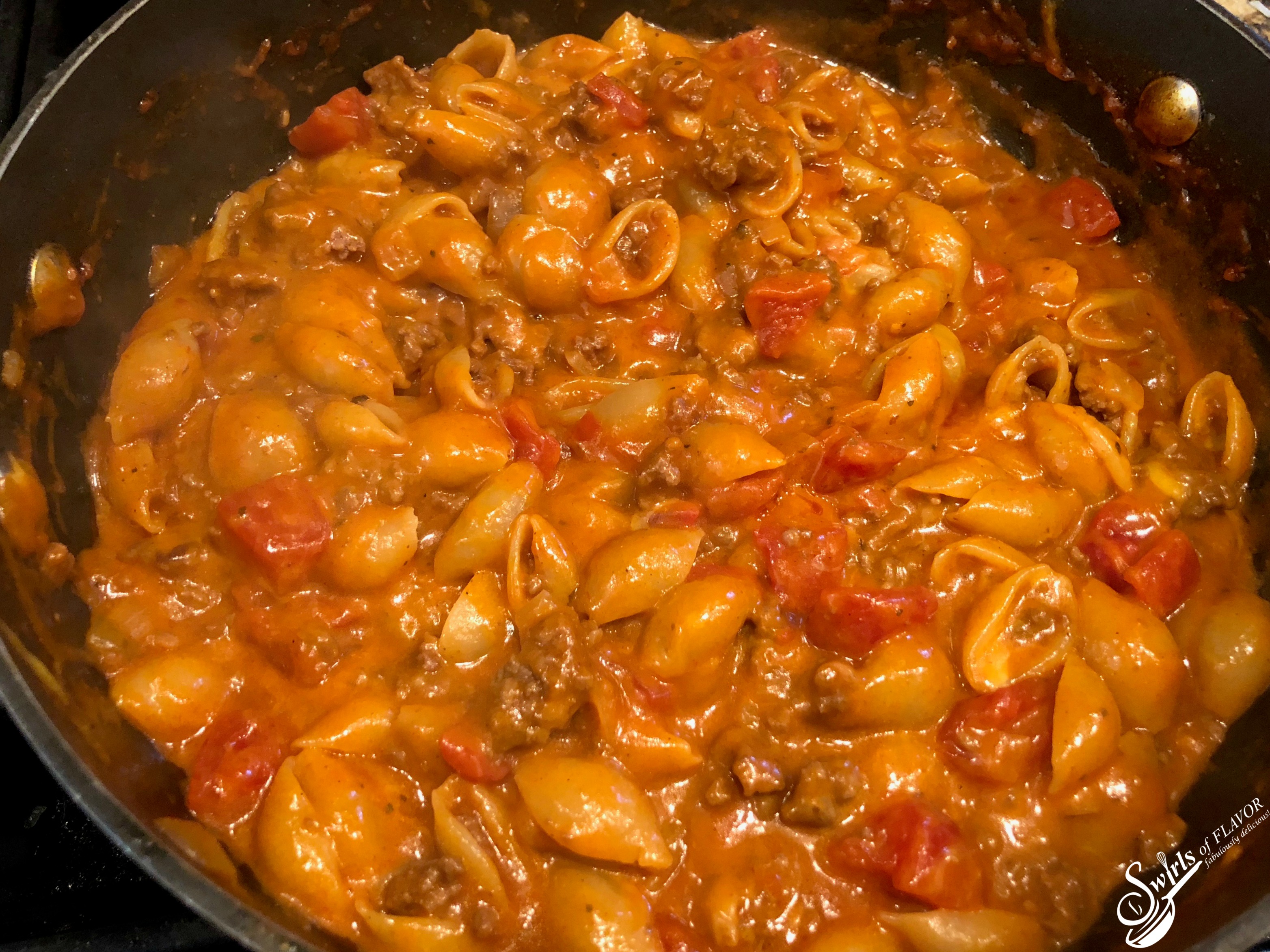 My grandchildren loved this recipe. My sweet granddaughter Brenda was eating a bowlful and told her mom Sydney "Mmmmmm this is delicious. GG should be a chef" to which Sydney replied "She already is".
Brenda's response? "Well I meant if she wasn't already then she should be!" Five year olds say the cutest things.
Our easy chili mac skillet recipe will have your family saying you should be a chef too! One pot chili bursting with sauce, cheese and lots of pasta will have everyone thinking you should change careers pronto!
This recipe is featured on the Honest Cooking website.
I make commissions for purchases made through links in this post.
Explore the Best-Selling Meal Plans! Check out the freshly prepared, restaurant quality gourmet meals from Home Bistro that will be delivered right to your very own home. Sometimes you just need to treat yourself because you deserve it!
And you'll definitely want to check out the Swirls of Flavor Amazon Storefront for lots of kitchen recommendations!
Swirls of Flavor Recipe Tips
Make with ground turkey or ground chicken
Add more chili powder for added heat
Serve with your favorite toppings, such as sour cream, sliced scallion and sliced jalapeno
Garnish with cilantro in place of the parsley
Ingredients you will need to make this recipe
ground beef
onion
chili powder
ground cumin
paprika
kosher salt
chicken or beef broth
shell pasta
diced tomatoes
tomato sauce
cheddar cheese
parsley
Looking to cook up a ground beef chili recipe where the rice cooks together with the chili in the same pot? Then you'll want to give our One Pot Chili with Rice recipe a try too!
One Pot Recipes
Check out my favorite deep sided skillet for One Pot recipes and be sure to add these One Pot recipes to your lineup. Everything cooks up to perfection in just one pot and dinner is on the table before you know it. Add a salad and you're all set!
One Pot Mexicali Bowtie Pasta is seasoned with salsa, chili powder and cumin, giving it a Mexican flair. Top it with melty cheese and fresh scallion and all you'll need is cornbread and a salad and you're all set for a Mexican fiesta!
One Pot Creamy Tomato Basil Pasta is an easy recipe that will soon be a family favorite. Our one pot pasta recipe makes it's own velvety tomato sauce and gets it's creaminess from a secret ingredient! Just stir the ingredients together in one pot, bring to a boil and cook until the pasta is al dente. Stir in arugula, basil and the secret ingredient, cream cheese, and serve!
One Pot Fettuccine Bolognese is an easy recipe brimming with beef, carrots, celery and onions and forms a sauce with diced tomatoes, tomato sauce, red wine and seasonings as it cooks with the pasta in the same pot. Perfect pasta and sauce recipe for a busy weeknight dinner and great to serve when entertaining too!
And then there's one of my favorite go-to recipes, One Pot Penne Pomodoro, a pasta that's flavored in a light buttery tomato broth with garlic, onion and lots of tomatoes. As the penne cooks it forms it's own sauce, all in one pot! It doesn't get better or easier than one pot recipes folks!
I've upgraded mac and cheese from the blue box and made it better and super easy for you with One Pot Mac 'N Cheese with the pasta, cheesy sauce and breadcrumb topping all cooked together in the same skillet!
One Pot Pepperoni Pizza Pasta is an easy recipe for pasta that cooks together with pepperoni slices, pizza sauce and diced tomatoes with a cheesy mozzarella topping! All the flavors of pepperoni pizza in a bowl of pasta with just 5 ingredients + water!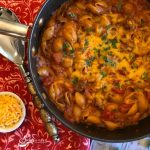 Print
One Pot Chili Mac and Cheese
One Pot Chili Mac and Cheese is an easy dinner recipe kids will love and it's filled with cheesy saucy goodness and made in just one pot!
As an Amazon Associate I earn from qualifying purchases.
I earn a commission from Instacart from qualifying purchases.
Instructions
Cook ground beef, onion, chili powder, cumin, paprika and salt in large skillet with deep side until beef is browned.

Add broth, pasta, diced tomatoes with their juices and tomato sauce and bring to a boil. Cook 12 minutes or until pasta is al dente.

Reduce heat to medium and add 1 1/2 cups cheese, stirring until cheese is melted and a sauce has formed.

Top with remaining 1/2 cup cheese and chopped parsley.
Nutrition
Calories:
756
kcal
|
Carbohydrates:
47
g
|
Protein:
43
g
|
Fat:
43
g
|
Saturated Fat:
21
g
|
Cholesterol:
140
mg
|
Sodium:
1265
mg
|
Potassium:
659
mg
|
Fiber:
3
g
|
Sugar:
3
g
|
Vitamin A:
1298
IU
|
Vitamin C:
4
mg
|
Calcium:
471
mg
|
Iron:
5
mg
First Published: March 22, 2018... Last Updated: October 13, 2020