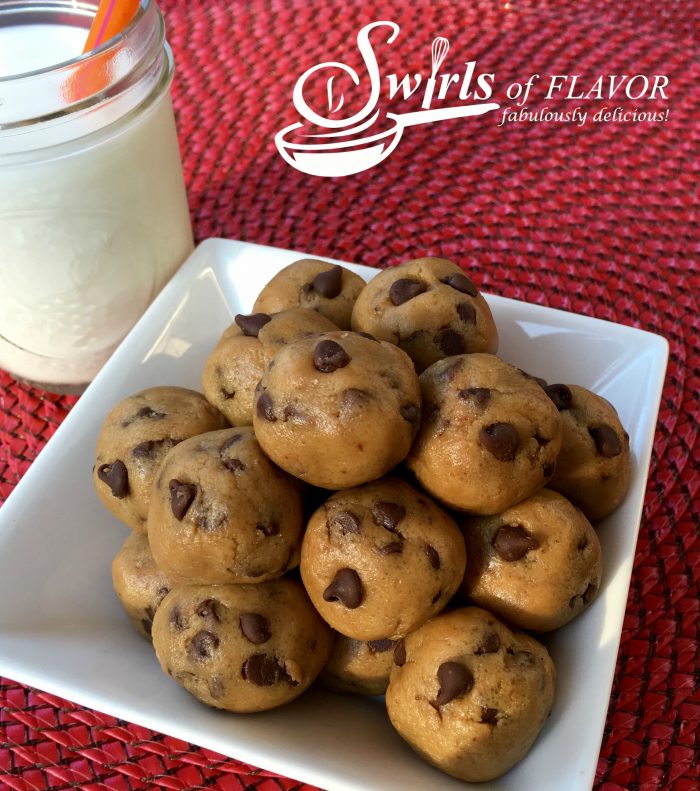 Yes, it's September already but it feels like the dog days of summer are still here. It's hot and humid and the grandkids are asking for chocolate chip cookies! There is no way I am turning on my oven but there is also no way I am disappointing my little loves. The solution? No-Bake Chocolate Chip Cookie Bites, of course! And the kids can help too! Just stir together a few basic ingredients and voila! The kitchen stays cool, the grandkids have cookies and I get to see happy smiling little faces and that makes me so very happy too!
Stir up a bowl of love in your kitchen today!

No-Bake Chocolate Chip Cookie Bites
6 Tbs. butter, at room temperature
1/4 cup packed dark brown sugar
1/4 cup granulated sugar
1 tsp. vanilla extract
1 cup flour
1/8 tsp. salt
1/2 cup Hershey mini chocolate chips
Hershey hot fudge topping, optional
In bowl combine butter, brown sugar, granulated sugar and vanilla stirring until sugar has dissolved and mixture is blended and smooth. If you feel like getting out your mixer you can beat the mixture to guarantee the sugars dissolve.
Sir in flour and salt until a dough forms.
Stir in mini chips.
Shape into 1-inch round balls OR on lightly floured surface roll out to 1/2-inch thick. Using 1-inch cookie cutter, cut out cookie bites, rerolling as necessary.
Drizzle with hot fudge topping, if desired
Makes about 24 cookie bites.