Mulled Apple Cider is a delicious way to kick off the season. Apple cider infuses with cinnamon sticks, fresh ginger and clementines in your slow cooker for a flavorful beverage bursting with fall flavors. Just add Bourbon and slices of clementine and lime for an easy spiked apple cider that will surely become a fall favorite!
Mulled Apple Cider Recipe
Apple cider, extracted from the pulp of pureed apples, is an unfiltered, unsweetened and nonalcoholic drink that is delicious on it's own. Once the cider has been slow cooked and infused with our warm fall flavors, you'll take the flavor up a notch when you add bourbon and fresh slices of clementine and lime.
As an Amazon Associate I earn from qualifying purchases.
Our Mulled Apple Cider recipe transforms cider in the slow cooker into a delicious drink for the holidays and an ideal way to warm you up on a chilly evening. Sipping on a mug of spiked mulled cider will be the perfect way to kick off any get together. Trust me, your guests will love being greeted with this hot toddy.
First Published: November 20, 2017… Last Updated: August 2, 2019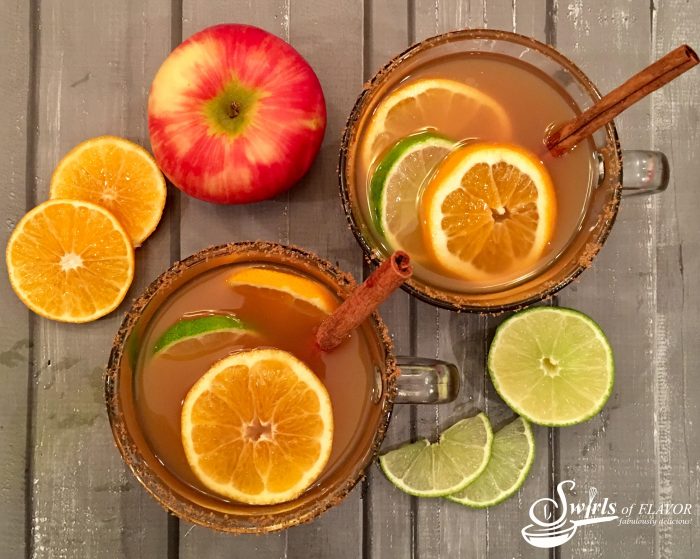 Apple Cider FAQ's
What is the difference between apple cider and mulled apple cider?
Typically you drink apple cider cold with nothing added to it. You drink mulled apple cider warm or hot after it has been warmed with spices and possibly fruit. Many times alcohol is added to a mulled apple cider.
Can you reheat mulled cider?
Yes, you can reheat mulled cider. You can make your mulled cider, strain it and then cool it. When you are ready to serve, just return the mulled cider to your slow cooker or a saucepot and gently reheat but do not bring to a boil.
How do you heat up apple cider?
Heat apple cider over medium heat until the cider is hot. Do not boil the apple cider. Then you can serve your warm apple cider with a cinnamon stick or orange slices.
Ingredients you will need to make this recipe
apple cider
clementines
cinnamon sticks
fresh ginger
Bourbon
clementine slices
lime slices

Best Apple Recipes

Our Apple Cider Moscow Mule is a twist on the classic Moscow Mule cocktail replacing the lime juice with seasonal apple cider and garnishing with an orange slice and a cinnamon stick stirrer!
Greens are lightly tossed in a perfectly balanced Pomegranate Vinaigrette and topped with apple slices, pomegranate arils and the goat cheese rounds, making Pomegranate Apple Mixed Greens With Walnut-Crusted Goat Cheese the perfect fall salad and oh so fancy.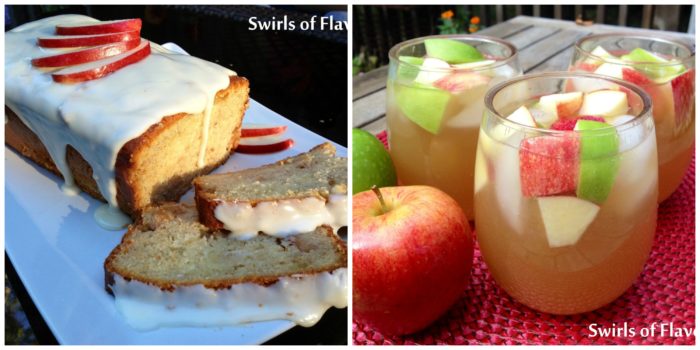 Studded with chopped apples that have been tossed in cinnamon sugar, Cinnamon Honey Apple Loaf Cake is sweetened with honey and also topped with a sugar honey glaze.
Apple Cider Sangria is an easy recipe that adds a fall spin to your sangria! Apple cider, applejack brandy and a sweet white wine combine with a hint of vanilla to create your new favorite autumn cocktail!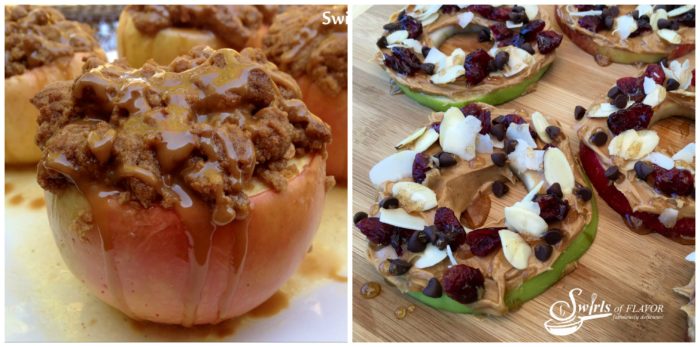 Caramel Crumb Baked Apples is an easy baked apples recipe. Apples with a cashew cherry filling and a cinnamon crumb topping are baked to perfection and drizzled with caramel sauce.
Peanut Butter Honey Apple Slices are an easy and healthy recipe for an after school snack. Apple slices are topped with creamy peanut butter, candy-like dried cranberries, crunchy sliced almonds and flecks of coconut and a cinnamon honey drizzle!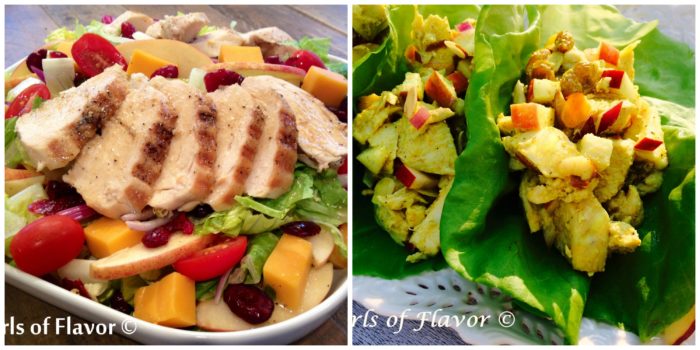 Apple Cheddar Chicken Salad with Maple Balsamic Vinaigrette will wow your taste buds with it's combination of flavors. Sweet apples. sharp cheddar cheese, pops of sweet cranberries are lightly tossed in a homemade Maple Balsamic Vinaigrette with chicken and romaine lettuce leaves for a hearty dinner salad.
You don't even need to cook to make our Curried Chicken Lettuce Wraps. Just toss cooked chicken with chopped apple and sliced almonds for a bit of crunch, raisins for bursts of sweetness, and red onion for just the right amount of savory with a creamy mayonnaise flavored with curry powder and fresh lime. Wrap it all up in lettuce leaves for a delicious chicken lettuce wrap.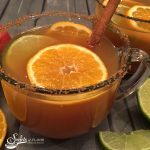 Mulled Apple Cider
Apple cider infuses with cinnamon sticks, fresh ginger and clementines in your slow cooker for our Mulled Apple Cider that's bursting with fall flavors. Add Bourbon for an easy spiked apple cider.
Ingredients
8

cups

apple cider

2

clementines,

quartered

2

slices

fresh ginger,

each about 1/2-inch thick

1

cup

Bourbon

clementine slices

lime slices
Instructions
Heat apple cider, clementine quarters, cinnamon sticks and fresh ginger in slow cooker on low for 3 hours until hot and seasoned.

Strain to remove clementines, cinnamon and ginger.

Return apple cider to slow cooker and add bourbon, clementine slices and lime slices.
Recipe Notes
Makes 8 cups.