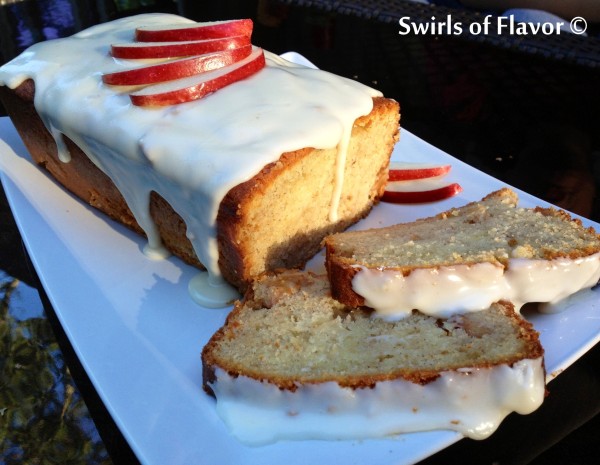 The evenings are getting cool and the mornings are crisp, a sure sign that fall is on it's way. Since September is National Honey Month, and also the start of apple season, I'm sure you'll agree that the timing is just right for baking up a Cinnamon Honey Apple Loaf Cake! Studded with chopped apples that have been tossed in cinnamon sugar, this cake is sweetened with honey and also topped with a sugar honey glaze. A cup of tea and a slice of fabulously delicious Cinnamon Honey Apple Loaf Cake and you'll be all set to snuggle in on a cool autumn evening.
Cinnamon Honey Apple Loaf Cake
1 Gala apple, peeled, cored and chopped, 1 1/4 cups
2/3 cup granulated sugar, divided
1 tsp. ground cinnamon
2 cups flour
1 tsp. baking powder
1/2 tsp. salt
1/4 tsp. baking soda
10 Tbs. butter, at room temperature
2 eggs
1 tsp. vanilla extract
1 container (6 oz.) apple-flavored or vanilla Greek yogurt
1/4 cup + 1 Tbs. honey, divided
1 cup confectioners' sugar
fresh apple slices, optional garnish
1. Preheat oven to 350F. Coat 8 1/2″ x 4 1/2″ loaf pan with non-stick cooking spray.
2. In small bowl combine chopped apple, 1 Tbs. granulated sugar and cinnamon; reserve.
3. In another bowl combine flour, baking powder, salt and baking soda; reserve.
4. With mixer on medium-high beat butter and remaining granulated sugar until light and fluffy, scraping sides of bowl occasionally, about 3 minutes.
5. Add eggs and vanilla; beat until blended, about 1 minute.
6. Reduce mixer speed to medium. Alternately add reserved flour mixture and Greek yogurt. Add 1/4 cup honey and beat until a thick smooth batter forms, 2-3 minutes.
7. Fold in reserved apple mixture until combined.
8. Transfer batter to prepared loaf pan. Bake 55-65 minutes or until toothpick inserted in center of cake comes out clean.
9. Cool 20 minutes in pan on wire rack. Remove from pan; cool completely on wire rack.
10. In small bowl combine confectioners' sugar, 1 Tbs. warm water and remaining 1 Tbs. honey, stirring until smooth and blended.
11. Drizzle glaze over top of cake. Garnish with fresh apple slices, if desired.
Makes 12 slices.