Caramel Crumb Baked Apples is an easy baked apples recipe. Apples with a cashew cherry filling and a cinnamon crumb topping are baked to perfection and drizzled with caramel sauce.
Caramel Crumb Baked Apples Recipe
I'm lovin' apple season! And I'm lovin' the aroma of baked cinnamon apples that's filling my kitchen right now. I cannot wait to bite into the crunch and saltiness of cashews and the sweet tartness of the cherries in the cinnamon brown sugar filling. Oh and did I mention that our cooked apple recipe is not just stuffed but also topped with a buttery crumb? And the crowning glory, get ready for this folks, is a caramel drizzle, of course!
First Published: October 3, 2013... Last Updated: July 12, 2019
Fruity sweetness, salty crunch and cinnamon crumbs in every bite, makes our caramel stuffed baked apples the perfect autumn dessert. Easy to make yet beautiful and impressive enough for company.
Ingredients you will need to make this recipe
baking apples
lightly salted cashews
dried cherries
brown sugar
ground cinnamon
butter
flour
caramel sauce

Apple FAQ's
What can I make with all my apples?
When you have lots of apples you can make:
applesauce
apple turnovers
apple muffins
apple salsa
Other things you can do when you have lots of apples are:
add to sandwiches
add to pancakes
add to oatmeal
slice and sprinkle with cinnamon sugar
What are the best apples for baking?
The 5 best apples for baking, according to thekitchn.com are:
Granny Smith
Jonathan or Jonagold
Cortland
Braeburn
Honeycrisp
Check out thekitchen.com's The 5 Best Apples For Baking for more information on these apples.
Best Apple Recipes
Our Apple Cider Moscow Mule is a twist on the classic Moscow Mule cocktail replacing the lime juice with seasonal apple cider and garnishing with an orange slice and a cinnamon stick stirrer!
Apple Cider Sangria is an easy recipe that adds a fall spin to your sangria! Apple cider, applejack brandy and a sweet white wine combine with a hint of vanilla to create your new favorite autumn cocktail!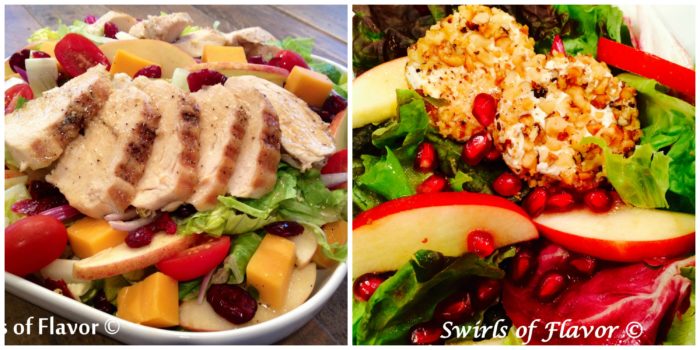 Apple Cheddar Chicken Salad with Maple Balsamic Vinaigrette will wow your taste buds with it's combination of flavors. Sweet apples. sharp cheddar cheese, pops of sweet cranberries are lightly tossed in a homemade Maple Balsamic Vinaigrette with chicken and romaine lettuce leaves for a hearty dinner salad.
Greens are lightly tossed in a perfectly balanced Pomegranate Vinaigrette and topped with apple slices, pomegranate arils and the goat cheese rounds, making Pomegranate Apple Mixed Greens With Walnut-Crusted Goat Cheese the perfect fall salad and oh so fancy.
Studded with chopped apples that have been tossed in cinnamon sugar, Cinnamon Honey Apple Loaf Cake is sweetened with honey and also topped with a sugar honey glaze.
Just in time for apple season, Peanut Butter Honey Apple Slices are an easy healthy snack that the entire family will love. Slices of juicy sweet apples topped with creamy peanut butter, candy-like dried cranberries, crunchy sliced almonds, flecks of tropical coconut and bits of chocolate are drizzled with a cinnamon flecked honey.
As an Amazon Associate I earn from qualifying purchases.
Caramel Crumb Baked Apples
Caramel Crumb Baked Apples, with cashews and cherries and a cinnamon crumb topping, are baked to perfection and drizzled with caramel sauce!
As an Amazon Associate I earn from qualifying purchases.
Ingredients
Apples:
4

large baking apples,

such as Rome, Beauty, Jonagold or Golden Delicious

1/4

cup

lightly salted cashews,

chopped

1/4

cup

dried cherries,

chopped

1

Tbs.

packed brown sugar

1/2

tsp.

ground cinnamon

1

Tbs.

butter
I earn a commission from Instacart from qualifying purchases.
Instructions
Apples:
Cut off top 1/5th of apple. Finely chop apple tops to equal 1/2 cup chopped apple; reserve.

Core apples to within 1/2″ of edges making about a 1/4 cup cavity in center of each apple; discard cores.

In bowl combine reserved chopped apple, cashews, cherries, 1 Tbs. brown sugar and 1/2 tsp. cinnamon. Fill centers of apples, dividing mixture evenly.
Crumb Topping:
In another bowl, combine flour, 1/2 cup brown sugar and 1 tsp. cinnamon until blended. Stir in melted butter until moist crumbs form. Top apples with crumbs.

Arrange apples in prepared pan. Bake 45 minutes or until apples are tender and crumbs are golden.

Drizzle with caramel sauce.
Nutrition
Calories:
452
kcal
|
Carbohydrates:
99
g
|
Protein:
7
g
|
Fat:
5
g
|
Saturated Fat:
1
g
|
Cholesterol:
3
mg
|
Sodium:
140
mg
|
Potassium:
350
mg
|
Fiber:
7
g
|
Sugar:
54
g
|
Vitamin A:
411
IU
|
Vitamin C:
8
mg
|
Calcium:
101
mg
|
Iron:
3
mg