This post contains affiliate links. (Disclosure policy)
Have you been apple picking lately? Have lots of apples and wondering how you could possibly eat all of them? Then it's time to make an apple pie, of course! And don't make just any apple pie this weekend. Make Cheddar Apple Pie with a pretty lattice top that will impress! Give it a twist with cheddar cheese in the crust because apple and cheddar cheese taste fabulous together! One of my favorite snacks are apple slices and cheddar so it makes total sense to put them together in my pie, agree?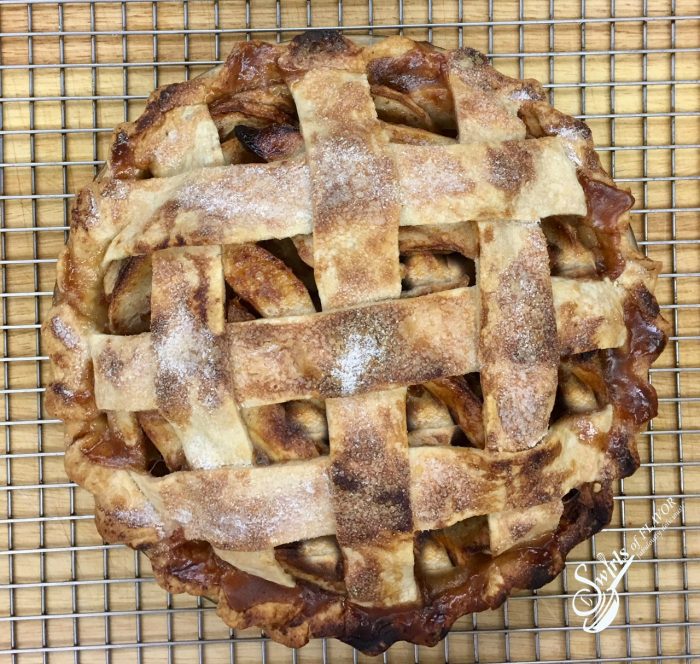 A cinnamon apple filling with specks of cheddar cheese baked into the crust....now that's divine indeed! Some apples are best for eating and some are best for baking. Granny Smiths are my personal go-to apple for baking but Jonagold, Honeycrisp, Gala, Winesap and Braeburn will do the trick too! And if you have so many apples you don't know what to do, after you make your Cheddar Apple Pie you can make some Cherry Crumb Bakes Apples, an Oatmeal Cookie Apple Crisp or even make a lip-smackin' Roasted Cinnamon Apples 'N Chicken dinner!
So if you already have a bushel of apples or are heading out this weekend to go apple picking, either way you'll be all set with this Cheddar Apple Pie recipe. Be sure to place your baking sheet in the oven so it can heat up along with the oven. Then when you place your pie plate on the heated baking sheet the bottom crust will begin baking right away! Start baking and making delicious memories!
Cheddar Apple Pie
CRUST:
2 1/2 cups all purpose flour
3/4 cup finely shredded sharp cheddar cheese
1/2 tsp. salt
1 cup butter, chilled and diced
4-5 Tbs. cold water
1 Tbs. milk
1 Tbs. granulated sugar
PIE FILLING:
1/4 cup firmly packed brown sugar
1/4 cup granulated sugar
1/4 cup flour
2 tsps. ground cinnamon
3 lbs. Granny Smith apples, peeled, cored and sliced, about 8 cups
1.CRUST: In bowl combine 2 1/2 cups flour, cheddar cheese and salt. Using pastry cutter or two knives, cut butter into flour mixture until mixture is the size of peas. Add cold water until a dough forms. Shape into two disks, one slightly larger than the other, wrap in plastic wrap and refrigerate until chilled, about 1 hour.
2. Preheat oven to 425°. Place a baking sheet on middle oven rack to preheat.
3. Unwrap larger disk of dough and roll on lightly floured surface to form a 12-in. circle. Press into a 9-in. pie plate; set aside. Unwrap remaining pie dough and roll on lightly floured surface to form 10-in. circle. Cut into 1-inch wide strips and set aside.
4. PIE FILLING: In large bowl combine brown sugar, granulated sugar, 1/4 cup flour and cinnamon. Add apples, tossing until apples are evenly coated. Transfer apple mixture into pie crust.
5. TOP CRUST: Top with pie dough strips in lattice style and seal edges. Brush with milk and sprinkle with 1 Tbsp. granulated sugar.
6. Arrange pie on heated baking sheet and bake 10 minutes. Reduce oven temperature to 375° and bake 1 hour or until juices are bubbling. Cool on wire rack.
Makes 12 servings.