Apples, brown sugar, cinnamon and dried cranberries combine for a seasonal dessert. Top with a packaged cookie mix and sliced almonds for a delicious Oatmeal Apple Crisp dessert.
Apple Crisp With Oats
Feel like having an oatmeal cookie? Feel like having an apple crisp?
Now you can have both with every bite of this warm sweet Oatmeal Cookie Apple Crisp!
Apple slices and juicy dried cranberries are sweetened and spiced with sugars and cinnamon that create a fabulously delicious syrupy sauce. All these flavors bake under the crisp and buttery oatmeal cookie topping.
Stir in almonds that toast while baking in the oven and finish it off with a sprinkle of confectioners' sugar and it doesn't get much better than this.
Well, it could get better than this, maybe if you top it with whipped cream or ice cream, oh yes, that would be the best apple crisp you've ever tasted!
Swirls of Flavor Recipe Tips
Make with your favorite baking apple
Combine Gala apples and Granny Smith apples
Dark brown sugar will give you more depth of flavor
Substitute golden raisins for the dried cranberries
Substitute your favorite nut, chopped, for the almonds
Apple Crisp FAQ's
Is apple crisp and apple crumble the same thing?
An apple crisp has a topping of brown sugar, butter and flour. An apple crumble is a mixture of chopped apples, brown sugar and oats all tossed together.
What is the best type of apple to use for apple crisp?
When baking apples in an apple crisp recipe select apples that stay crisp and firm, such as Rome, Gala and Granny Smith apples.
Should I refrigerate an apple crisp?
Refrigerating an apple crisp will extend its freshness and will also prevent bacteria from forming.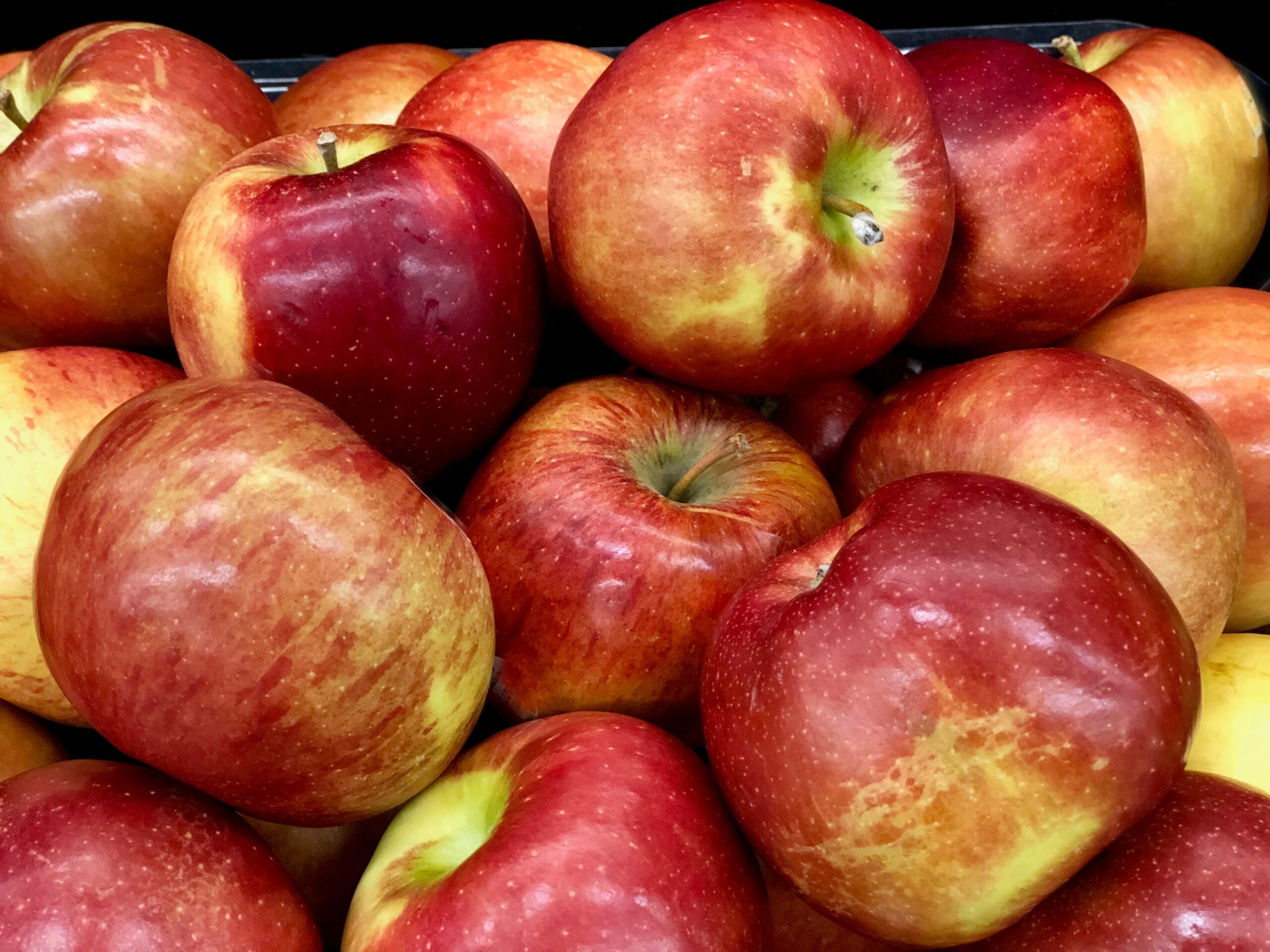 Ingredients you will need to make this recipe
Gala apples
dried cranberries
brown sugar
granulated sugar
ground cinnamon
oatmeal cookie mix, such as Betty Crocker
sliced almonds
butter
confectioners' sugar
Related Recipes

Fruits and nuts combine to make our Apple Pecan Chicken Salad a delicious and satisfying main dish salad. Drizzle with a homemade Honey Mustard Dressing and you'll pack a punch of flavor in every forkful.
Mulled Apple Cider is a delicious way to kick off the chilly autumn season. Apple cider infuses with cinnamon sticks, fresh ginger and clementines in your slow cooker for a flavorful beverage bursting with fall flavors. Just add Bourbon and slices of clementine and lime and this hot toddy will surely become a fall favorite!
Apple Cheddar Chicken Salad with Maple Balsamic Vinaigrette will wow your taste buds with it's combination of flavors. Sweet apples. sharp cheddar cheese, pops of sweet cranberries are lightly tossed in a homemade Maple Balsamic Vinaigrette with chicken and romaine lettuce leaves for a hearty dinner salad.
Our Apple Cider Moscow Mule is a twist on the classic Moscow Mule cocktail replacing the lime juice with seasonal apple cider and garnishing with an orange slice and a cinnamon stick stirrer!




Oatmeal Apple Crisp
Apples, brown sugar, cinnamon and dried cranberries combine for a seasonal dessert. Top with a packaged cookie mix and sliced almonds for a delicious Oatmeal Apple Crisp dessert.
As an Amazon Associate I earn from qualifying purchases.
I earn a commission from Instacart from qualifying purchases.
Instructions
In prepared dish combine apples, cranberries, brown sugar, granulated sugar and cinnamon until blended.

In bowl combine cookie mix, almonds and butter until moist crumbs form. Arrange crumbs on top of apple mixture.

Bake 45 minutes or until mixture is bubbly and crumbs are golden. Let stand 15 minutes.

Sprinkle with confectioners' sugar. Serve with whipped cream or ice cream, if you dare!
Nutrition
Calories:
291
kcal
|
Carbohydrates:
56
g
|
Protein:
4
g
|
Fat:
8
g
|
Saturated Fat:
1
g
|
Cholesterol:
2
mg
|
Sodium:
21
mg
|
Potassium:
319
mg
|
Fiber:
7
g
|
Sugar:
45
g
|
Vitamin A:
117
IU
|
Vitamin C:
8
mg
|
Calcium:
83
mg
|
Iron:
1
mg
First Published: October 8, 2013... Last Updated: August 29, 2020