All About Bourbon
It is only fitting that on Kentucky Derby Day I write about Bourbon, the base for the Derby's signature Mint Julep cocktail and the original American liquor. I learned a lot about the All-American bourbon on a thoroughly enjoyable evening at the historic Ho-Ho-Kus Inn & Tavern in Ho-Ho-Kus, New Jersey. (www.hohokusinn.com)
Rob Lipkin, Wine Director and General Manager at the Inn, shared his endless and amazing knowledge of all things bourbon with myself and several members of the New York Women's Culinary Alliance. We bellied up to the bar and drank in his knowledge….literally! Yes, we delighted in sipping many samples of bourbon….all in the name of research, of course!
So, did you know that only whiskey that is produced in the United States can be called bourbon? It must be made from a grain mixture that is at least 51% corn (can we count it as a vegetable serving?) and must always be aged in new charred barrels. The deep caramel color of bourbon comes from the barrel in which it is aged. There is no minimum aging period but typically almost all bourbons today are aged at least four years.
I'm thinking that it's no coincidence that the Kentucky Derby's signature cocktail is bourbon based since bourbon originally was only produced in Kentucky. Makes perfect sense to me! Now however, it isproduced throughout the US. One of my favorite bourbons that we tasted is produced in Garnerville, a town in upstate New York. It's called Hudson Baby Bourbon and comes in this adorable little bottle. I especially liked the smoothness of this bourbon and it became my favorite of the evening.
Here's a little bourbon trivia that Rob shared with us. Did you know that NASCAR got it's start from cars running on moonshine whiskey that were racing to get away from the police? Who knew? Now you do!
Bourbon that has been produced in the United States, made from a grain mixture that is at least 51% corn, aged in new charred oak barrels, is distilled to no more than 160 proof (80% alcohol by volume), and bottled at 80 proof or more (40% alcohol by volume) and has been aged for a minimum of two years and has no added coloring, flavoring or other spirits may be called Straight bourbon.
Among the bourbons we sipped on were Bland's which has it's signature cork with a horse on top of it, Booker's which is 120 proof, Basil Hayden, a bourbon with a more refined and subtle taste, Knob Hill and Maker's Mark, two of the more well known bourbons (to me anyway) and Bullet Bourbon which is 90 proof.
An especially delicious bourbon, Angel's Envy is finished in port wine barrels which gives this bourbon flavors of ripe cherry, raisin, toffee, cinnamon and vanilla. Lincoln Henderson, the owner of Angel's Envy, prides himself on personally sampling every batch of this fine bourbon. It's a tough job but I guess someone's got to do it! According to Henderson there's a story behind the name. "As bourbon ages in the barrels, it's drawn into the charred white oak during summer months and it recedes back into the virgin barrels during winter months. For each year of maturation, 5% of the barrel's bourbon is lost to evaporation. For generations, this precious lost bourbon has been called the Angel's Share. After tasting his creation, Lincoln Henderson reckoned that the angels might have wanted a bigger cut. Thus, Angel's Envy was born." Definitely a heavenly creation.
Feeling like puffing on a cigar this evening? Make it a Maker's Mark cigar! These cigars are made by dipping them in bourbon so that with every puff you take you get a taste of bourbon. What an idea!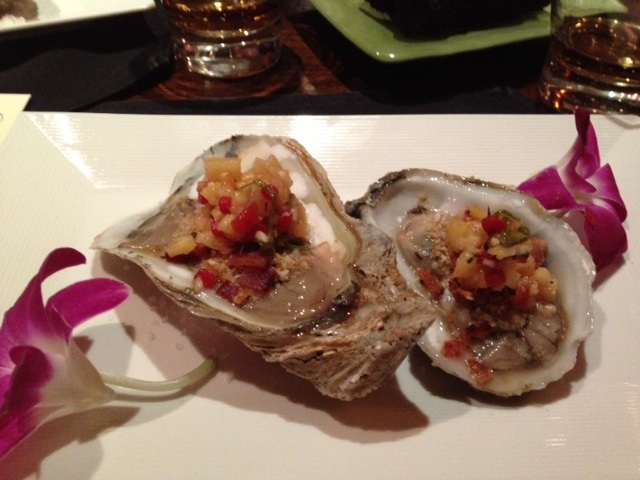 Along with tasting many a bourbon we were served four absolutely delicious courses of food. We began the evening with Blue Point Oysters with Smoked Bacon & Pineapple Salsa.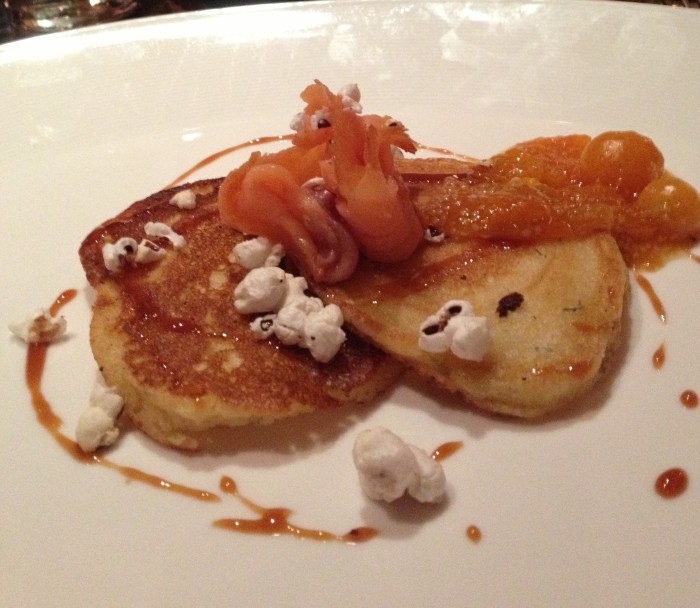 After a few more sips of bourbon we then ventured on to the next course of Caramel Blinis with Smoked Salmon, Gooseberry Sauce & Popcorn Crunchies.
The main entree was melt-in-your-mouth Braised Shortribs with Pattypan Squash & Demiglace Glaze.
Toffee Ice Cream with Walnuts & Dates drizzled in a Chocolate Espresso Sauce finished off the evening.
Needless to say it was a night of fine dining and fine bourbon! Cheers!
This post contains affiliate links. (Disclosure Policy)
Recipes Made With Bourbon
Are you loving Bourbon now Like I am? Then you need to try these fabulously delicious recipes made with Bourbon! Bourbon Peach Glazed Chicken Breasts combine a Bourbon-infused peach glaze with a hint of spices for fabulous flavor. Pomegranate Lime Mint Julep Punch and Pomegranate Bourbon Punch are great choices for your next Happy Hour! But always save room for dessert! Bourbon Peach Cheesecake Mousse In A Jar is our Award-Winning dessert. Just saute peaches in Bourbon, butter and brown sugar and layer them with a sweet and creamy cheesecake mousse and serve them in mason jars, in true southern style! Y'all will think you went straight to heaven with each and every spoonful