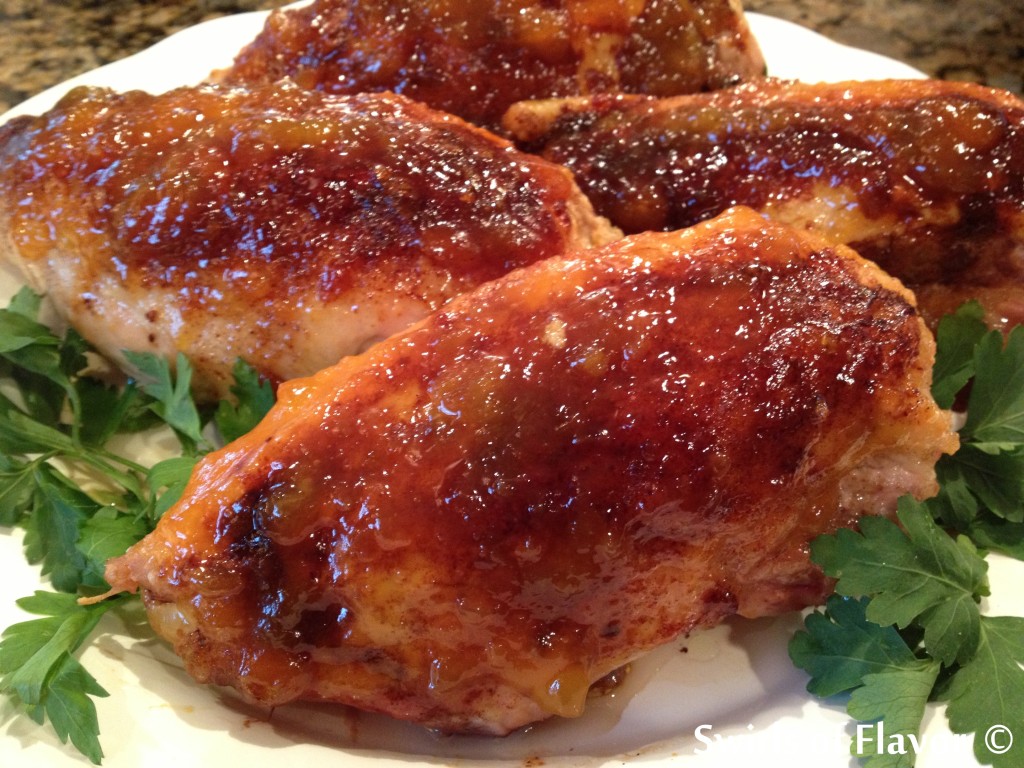 What better way to celebrate Kentucky Derby weekend than with the flavors of Bourbon and peach? Actually you can celebrate any weekend with this delicious dish! With every bite of the Bourbon-infused glaze and seasoning spices you'll be transported to a beautiful warm sunny southern place, with or without horses and fancy hats! The spices and glaze are also fabulously delicious on pork and beef too! I tip my pretty hat to the Kentucky Derby and over a century steeped in tradition and the hope of a Triple Crown winner!
Bourbon Peach Glazed Chicken Breasts
1/2 cup peach preserves
1/4 cup Bourbon
1 Tbs. apple cider vinegar
4 bone-in chicken breasts, about 3 lbs.
1 tsp. paprika
1/2 tsp. kosher salt
1/4 tsp. ground cinnamon
1/4 tsp. garlic powder
1/8 tsp. cayenne
1. Preheat oven to 425F. Line roasting pan with foil leaving 2-inch overhang, for easy clean up.
2. In blender puree peach preserves, Bourbon and vinegar until smooth.
3. In small saucepot over medium-high heat cook peach mixture until reduced and thickened, about 5 minutes, stirring occasionally. Remove from heat and reserve.
4. Arrange chicken in prepared pan. Sprinkle with paprika, salt, cinnamon, garlic powder and cayenne.
5. Roast 45 minutes or until meat thermometer reads 165F, brushing with reserved glaze several times during last 20 minutes of cook time.
Serves 4.