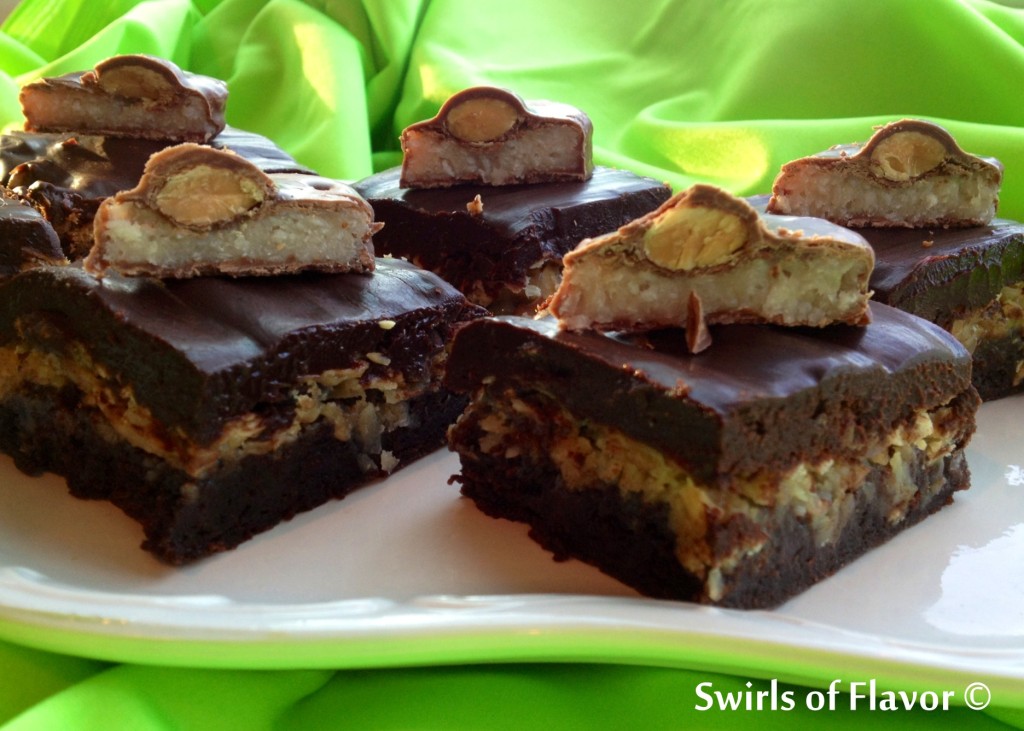 Every once in awhile I crave that decadent treat that makes me feel guilty when I'm eating it! Here it is! Chewy Candy Bar Brownies have a dense moist brownie base topped with a layer of sweetness filled with toasted almonds, chocolate and coconut. Top that with a thick creamy layer of ganache….chocolate and heavy cream….and yes, bring on the guilt! But it's worth every single fabulously delicious bite!
Chewy Candy Bar Brownies
1 pkg. (19.5 oz.) 13×9 Family Size chocolate fudge brownie mix, such as Pillsbury
2 eggs
1/2 cup + 1 Tbs. oil, preferably canola, divided
1/4 cup water
1 can (14 oz.) sweetened condensed milk
1 cup sliced almonds, toasted
1 cup shredded coconut
1 pkg. (12 oz.) semi-sweet chocolate chips, divided
3/4 cup heavy cream
10 Almond Joy miniatures, halved on diagonal
1. Preheat oven to 350F. Line 9″ x 13″ baking pan with foil leaving 2-inch overhang. Coat with cooking spray.
2. Prepare brownie mix according to package directions with 2 eggs, 1/2 cup oil and 1/4 cup water. Transfer to prepared pan.
3. Bake 25 minutes or until just beginning to set. Remove from oven.
4. Top with sweetened condensed milk, almonds, coconut and 1/2 cup chocolate chips.
5. Return to oven. Bake additional 25 minutes or until golden.
6. Cool completely in pan on wire rack.
7. In microwave safe bowl microwave heavy cream until hot, about 1 minute.
8. Pour hot cream over remaining 1 1/2 cups chocolate chips and remaining 1 Tbs. oil. Let stand until chips are melted. Stir until smooth. Let cool until thickened, about 30 minutes.
9. Using foil overhang, lift brownie bars out of pan. Top with cooled chocolate mixture and candy bar halves. Refrigerate 1 hour or until set.
10. Cut into 20 brownie bars and indulge!
Makes 20 brownie bars.