Welcome to Week 34 of the Swirls of Flavor Weekly Meal Plans!
This week's recipes include Baked Caprese Chicken, Lemon Dill Greek Pasta, Bruschetta Chicken, S'mores Ice Cream, Strawberry Jam Without Pectin and more!
As with all meal plans, Weekly Meal Plan 34 is filled with five weekday meals, a dessert of the week, weekend brunch recipe, a drink recipe and Sunday supper meal.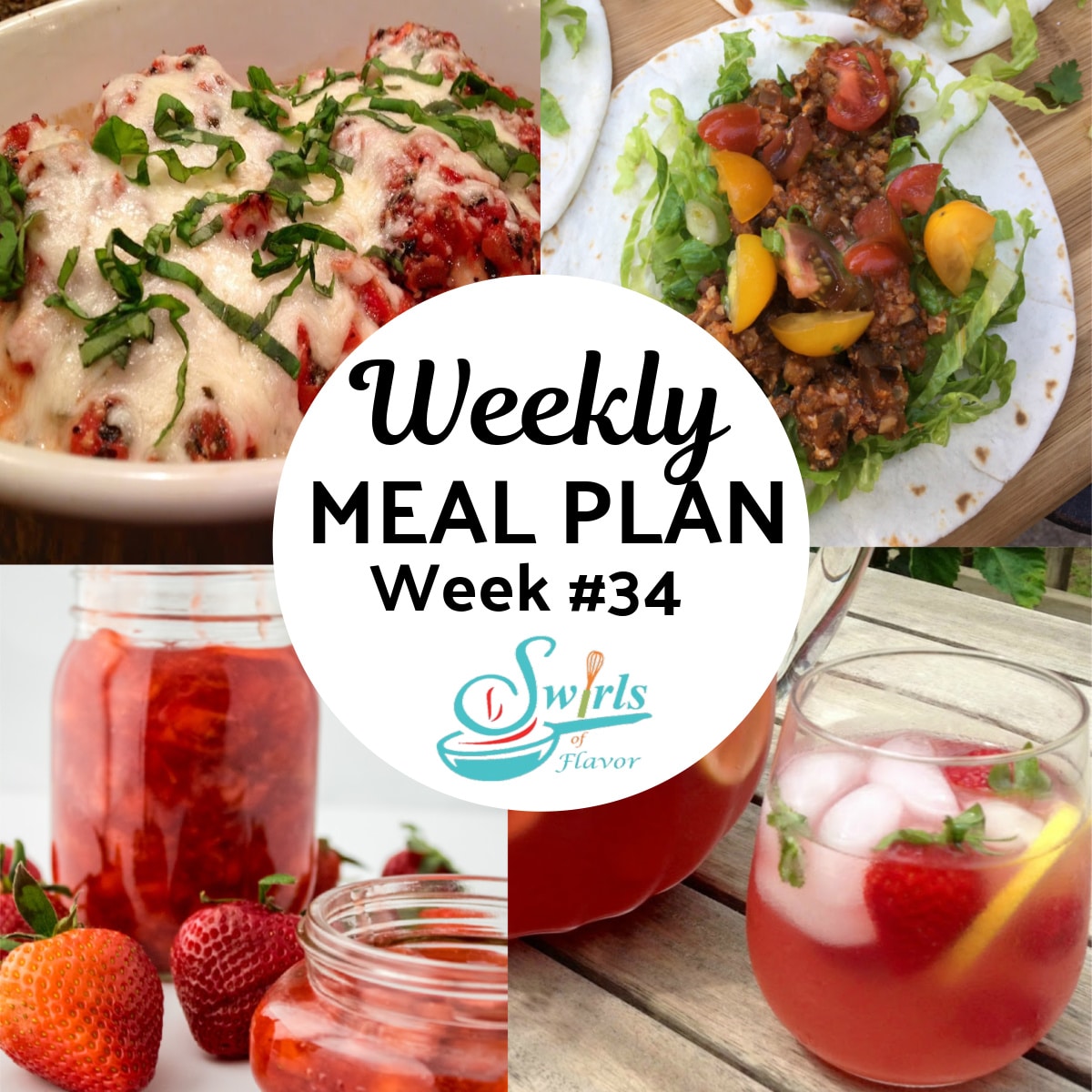 Weekly Meal Plan 34
If you are new here to my meal plans, welcome! Here's a quick overview of our Meal Plan format.
Each meal plan is filled with recipe suggestions for five easy weekday meals, a dessert of the week along with a brunch recipe, Sunday supper and a beverage too!
These meal plans are here to help you get through the week with as much or as little help as you need.
So now that you know, here's the routine.
You can make one recipe, two recipes, or make all of the recipes in the weekly meal plan!
So, however many recipes you decide to make, I'm happy that you're here!
Be sure to scroll down for delicious photos of this week's Meal Plan recipes.
I may say that it's time to turn on your oven, but I'm not letting go of summer just yet. Baked Caprese Chicken is an easy dinner recipe that's a taste of summer in every bite.
Cauliflower Tacos are a meatless way to have Taco Tuesday and still be plant-based and oh so delicious. It's a win-win taco dinner in my book!
Grab a basket of fresh strawberries at the farmers market because you're going to want to make some Homemade Strawberry Jam Without Pectin. Delicious on toast, sandwiches and even waffles!
Casseroles make dinner time easy, especially when you can assemble it ahead like our White Castle Cheeseburger Casserole and just pop it in the oven when you're ready. True comfort food!
And that's not all! Scroll down for even more meal plan suggestions.
And don't forget the printable Swirls of Flavor Grocery List and fill in the ingredients you need to shop for.
As an Amazon Associate I earn from qualifying purchases.
Stop by the Swirls of Flavor Amazon Storefront for GG's personal kitchen recommendations!
Follow along on Facebook, Instagram, Pinterest and Twitter for all my latest recipes.
August 21
August 22
August 23
August 24
August 25
Dessert of the Week
Brunch Recipe
Sunday Supper
Drink
Printable Swirls of Flavor Grocery List