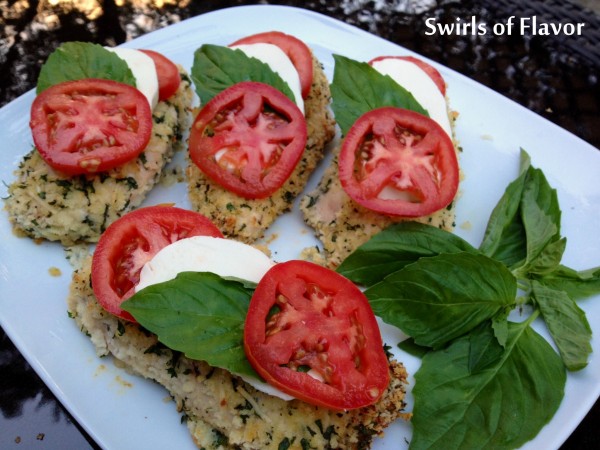 I'm sure you know by now that I am in love with anything Caprese! After all, who doesn't love the Isle of Capri and the renowned Insalata Caprese that originates from there? Ok, I will admit that now that summer has come to an end I'm ready to turn on my oven.......but not quite ready to completely let go of summer just yet. So I'm using up the bumper crop of my plum tomatoes for a fabulously delicious Baked Panko-Crusted Chicken Caprese. Warm, perfectly seasoned, baked chicken topped with the flavors of fresh mozzarella, garden fresh plum tomatoes and fresh basil leaves.....the perfect transition from summer into fall!
Baked Panko-Crusted Chicken Caprese
2 eggs
1 cup seasoned Panko breadcrumbs
1/4 cup shredded Parmesan
2 Tbs. chopped parsley
1/2 tsp. dried basil
1/4 tsp. garlic powder
4 boneless skinless chicken breasts
4 slices fresh mozzarella
2 plum tomatoes, sliced
4 basil leaves
1. Preheat oven to 400F. Spray baking sheet with non-stick cooking spray.
2. In one bowl lightly beat eggs. In another bowl combine Panko breadcrumbs, Parmesan, parsley, dried basil and garlic powder.
3. Dip chicken in eggs, then in breadcrumb mixture, evenly coating all sides.
4. Arrange chicken on prepared baking sheet. Spray tops of chicken with non-stick cooking spray. Bake chicken 30 minutes or until crumb coating is golden, chicken juices run clear and meat thermometer reads 165F.
5. Arrange chicken on serving platter. Top with mozzarella, tomato slices and fresh basil leaves.
Makes 4 servings.