Welcome to Week 18 of the Swirls of Flavor Weekly Meal Plans!
This week's recipes include Sriracha Chicken Noodle Bowls, Oven Roasted Tomato Sauce, a Walking Taco Bar, Caribbean Rum Cocktail and more!
As with all meal plans, Weekly Meal Plan 18 is filled with five weekday meals, a dessert of the week, weekend brunch recipe, a drink recipe and Sunday supper meal.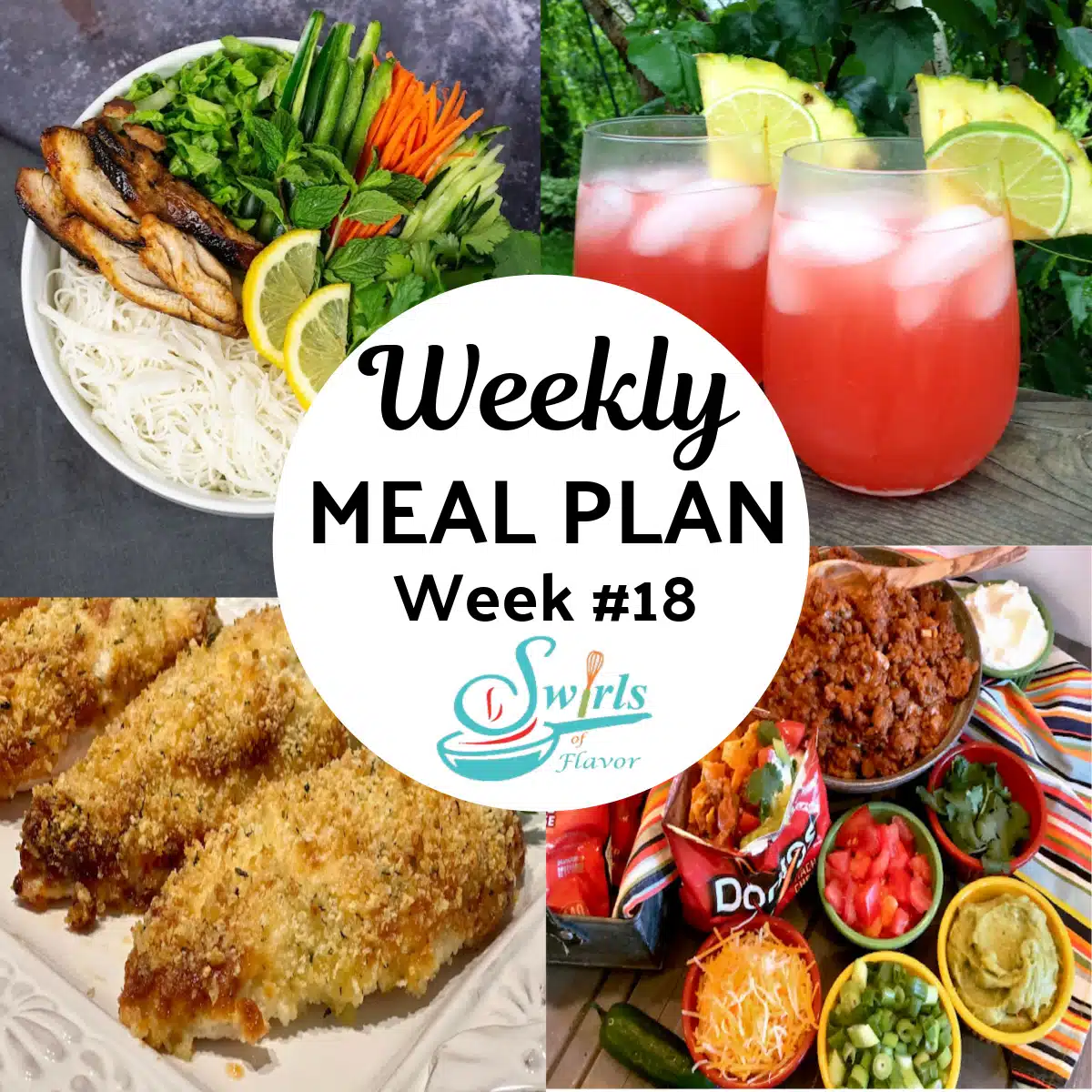 Weekly Meal Plan 18
If you are new here to my meal plans, welcome! Here's a quick overview of our Meal Plan format.
Each meal plan is filled with recipe suggestions for five easy weekday meals, a dessert of the week along with a brunch recipe, Sunday supper and a beverage too!
These meal plans are here to help you get through the week with as much or as little help as you need.
So now that you know, here's the routine. You can make one recipe, two recipes, or make all of the recipes in the weekly meal plan!
So, however many recipes you decide to make, I'm happy that you're here!
A flavorful noodle bowl recipe starts the week. Delicious for dinner and leftovers make a great lunch!
Buffalo Chicken Pizza is the best of two favorite foods. Cheesy and saucy with a hint of heat!
Cheers to May arriving and, hopefully, warm weather. Caribbean Rum Cocktails will put you in a tropical frame of mind.
Everyone with a sweet tooth loves cookie dough and now you can eat it safely with our No Bake Chocolate Chip Cookie Dough recipe. I love to drizzle chocolate sauce over each cookie dough bite!
And dinner doesn't get easier than four ingredients and just 20 minutes in the oven. Parmesan Crusted Chicken dresses up for Sundays with fresh herbs. Creamy corn is the ideal side dish.
A Walking Taco Bar is such a fun way to celebrate Cinco de Mayo. Be sure to check out all the Cinco de Mayo recipes here at Swirls!
Scroll down for more meal plan suggestions and don't forget the printable Swirls of Flavor Grocery List and fill in the ingredients you need to shop for.
As an Amazon Associate I earn from qualifying purchases.
Stop by the Swirls of Flavor Amazon Storefront for GG's personal kitchen recommendations!
May 1
May 2
May 3
May 4
May 5
Dessert of the Week
Brunch Recipe
Sunday Supper
Drink of the Week
Printable Swirls of Flavor Grocery List