Welcome to Week 17 of the Swirls of Flavor Weekly Meal Plans!
This week's recipes include Chicken Gyros, Turkey Burgers, Pasta With Black Beans and Corn, Belmont Jewel Punch and more!
As with all meal plans, Weekly Meal Plan 17 is filled with five weekday meals, a dessert of the week, weekend brunch recipe, a drink recipe and Sunday supper meal.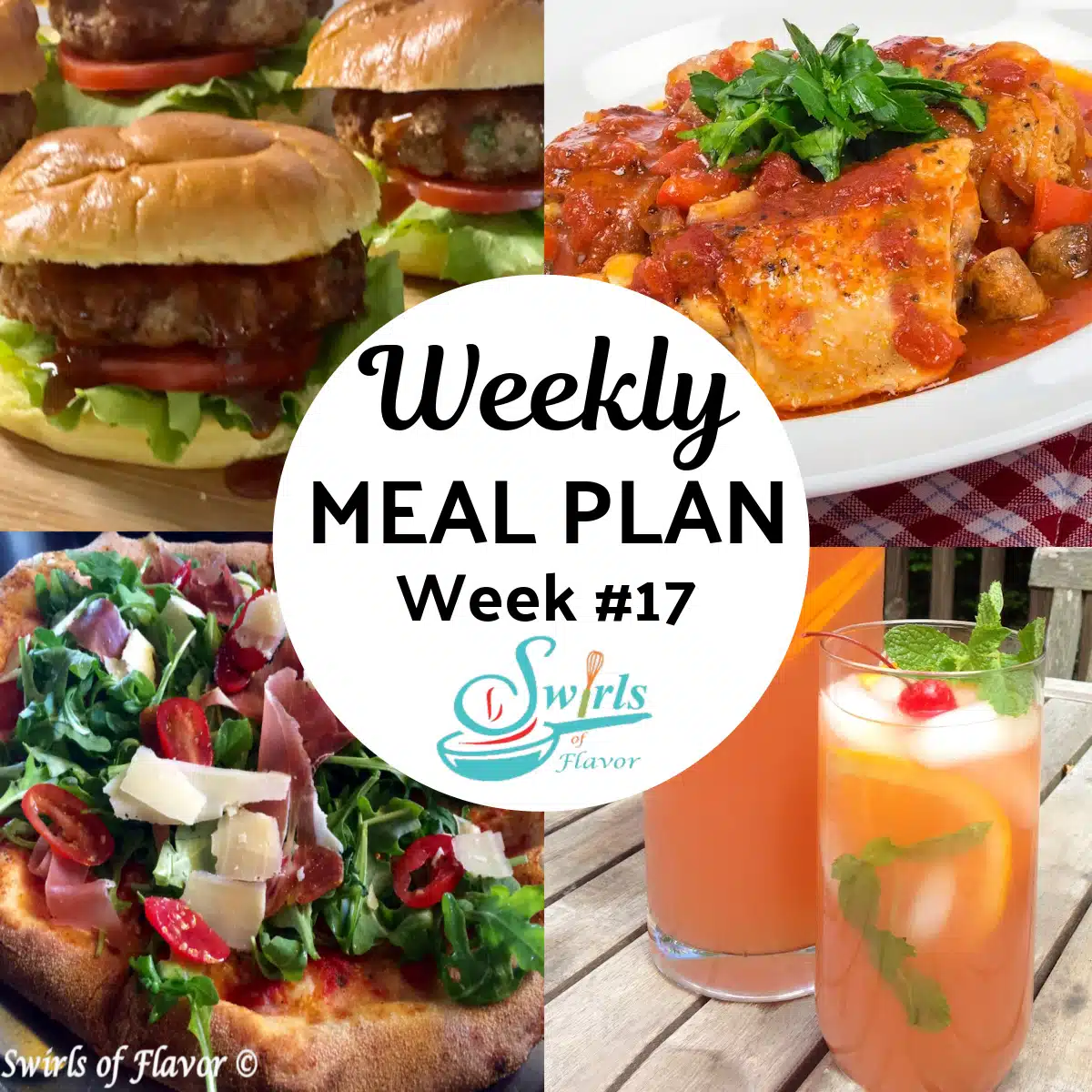 Weekly Meal Plan 17
If you are new here to my meal plans, welcome! Here's a quick overview of our Meal Plan format.
Each meal plan is filled with recipe suggestions for five easy weekday meals, a dessert of the week along with a brunch recipe, Sunday supper and a beverage too!
These meal plans are here to help you get through the week with as much or as little help as you need.
So now that you know, here's the routine. You can make one recipe, two recipes, or make all of the recipes in the weekly meal plan!
So, however many recipes you decide to make, I'm happy that you're here!
Let's start week off easy with a recipe that cooks in one pot, pasta included. Mexican Pasta with Black Beans and Corn. Definitely a delicious way to kick off the week.
This week's recipes also include Chicken Salad in a Jar that can be served as dinner or as a grab-and-go lunch and Strawberry Cheesecake Cookies that are a take on the popular Crumbl cookies.
Air Fryer Turkey Burgers cook in just minutes and are especially delicious when paired with a simple Tomato and Onion Salad.
Chicken Gyros are topped with homemade Tzatziki Sauce making every bite drool-worthy.
Grill or bake an Arugula Salad Pizza that's topped with a lightly tossed salad, prosciutto and tomatoes for Friday night deliciousness.
This week's Sunday supper, Dutch Oven Chicken Cacciatore, is a personal family favorite of ours. Serve with pasta or rice to catch the delicious tomato sauce.
Scroll down for more meal plan suggestions and don't forget the printable Swirls of Flavor Grocery List and fill in the ingredients you need to shop for.
As an Amazon Associate I earn from qualifying purchases.
Stop by the Swirls of Flavor Amazon Storefront for GG's personal kitchen recommendations!
April 24
April 25
April 26
April 27
April 28
Dessert of the Week
Brunch Recipe
Sunday Supper
Drink of the Week
Printable Swirls of Flavor Grocery List