Pumpkin Spice Creamer is a quick and easy homemade creamer for your coffee that's sure to warm you right up! Infused with the flavors of pumpkin spice, coconut sugar and a hint of vanilla, our pumpkin spice coffee creamer will make every sip taste better!
Pumpkin Spice Coffee Creamer Recipe
The arrival of Pumpkin Spice signals the change of seasons, cozy nights and crisp sunny days. Those of you who know me well know that I usually don't ever want my summers to end but then along comes Pumpkin Spice and, yes, all is right with the world!
First Published: September 21, 2017... Last Updated: November 18, 2019
And now there's no need to buy that specialty coffee creamer that's heavily laden with sugars and preservatives. So you'll want to be sure to give our coffee creamer a try. It's a quick and easy homemade Pumpkin Spice Creamer for coffee, or your beverage of choice, that's sure to warm you right up! Take a deep breath and savor the comforting aroma of Pumpkin Spice.
Ok, so what do donuts, marshmallows, coffee, granola, bagels, M&M's, chips, tea, ale, cookies, cereal, ice cream, yogurt, and even Bailey's Irish Cream, all have in common?
As an Amazon Associate I earn from qualifying purchases.
Cinnamon, ginger, nutmeg, cloves. Yep, you guessed it! They all come in Pumpkin Spice flavor now! And the list goes on and on....chips, nuts, cookie butter, lattes, pop tarts, Oreo cookies, pumpkin sauce, caramel candy, coffee creamer and even pumpkin Spam....want me to keep going? Oh trust me, I can, because there seems to be a never ending list of Pumpkin Spice food choices and that list keeps on getting longer every year. Pumpkin spice food items are at every turn in the grocery store this year!
I'm beginning to think that Pumpkin Spice is the new comfort food of the season. People can't get enough of it and it makes you feel so good!
Since it's not always easy to find this warm fragrant mix of spices in the grocery store, you can make your own Homemade Pumpkin Pie Spice recipe for just pennies.
And Delish even has a Pumpkin Spice Recipes Round Up that I recommend you check out!
Ingredients you will need to make this recipe
Pumpkin Spice FAQ's
When does Pumpkin Spice season begin?
This year, 2019, pumpkin spice season began earlier than ever. Starbucks rolled out it's pumpkin spice drinks during the last week in August. I'm still on the beach in august while others are sipping on their pumpkin spice lattes. (insert shaking my head here!)
When does Pumpkin Spice season end?
Typically pumpkin spice drinks are available through November and sometimes up until Christmas. This may change from year to year. As we have seen the start date for the season creep up earlier and earlier, we may also see the season stay and linger longer and longer due to it's high popularity if pumpkin spice. Time will tell!
How do you make homemade pumpkin spice?
I have seen several combinations of spices making up a homemade pumpkin spice blend. My personal favorite homemade pumpkin spice mix has just four basic fragrant spices:
Cinnamon
Ginger
Nutmeg
Cloves
Recipes With Pumpkin Spice
Are you head over heels about pumpkin spice? Me too! that's why I created more pumpkin spice recipes, just for you, to add to your lineup!
Chocolate Chunk Pumpkin Bread is an easy recipe for a flavorful quick bread. Pumpkin spice and pumpkin puree combine to make a moist pumpkin bread that's bursting with the warm seasonal flavor of pumpkin spice and studded with chunks of chocolate.
Everyone loves pumpkin spice and now you can have the perfect blend of warm fall spices in a creamy buttery frosting! Pumpkin Pie Spice Buttercream Frosting will be the crowning glory on your next cupcake, cake, cookie or muffin!
Salted Caramel Pumpkin Spice Cheesecake Bars is an impressive and easy dessert recipe. Every bite of creamy pumpkin cheesecake is kissed by the warm holiday flavor of pumpkin pie spice and elevated to a level of bliss with a buttery cinnamon graham crust!
Glazed Pumpkin Spice Muffins combine pumpkin puree and pumpkin pie spice for moist muffins bursting with warm seasonal spices topped with a sweet sugar glaze. An easy recipe made with just a few basic ingredients will make this Pumpkin Spice Muffins recipe your new go-to favorite recipe.
Cheesecake Pumpkin Pie is a cheesecake within a pie so you can have your cheesecake and eat your pie too! A creamy vanilla cheesecake layer is surrounded by a flaky pie crust and smothered by a spiced pumpkin pie layer.
When National Pancake Day meets Pumpkin Spice season, Pumpkin Spice Pancakes, an easy homemade pancakes recipe seasoned with pumpkin puree and pumpkin pie spice, is born! Delicious for breakfast or as for breakfast for dinner, Pumpkin Spice Pancakes are lightened with seltzer!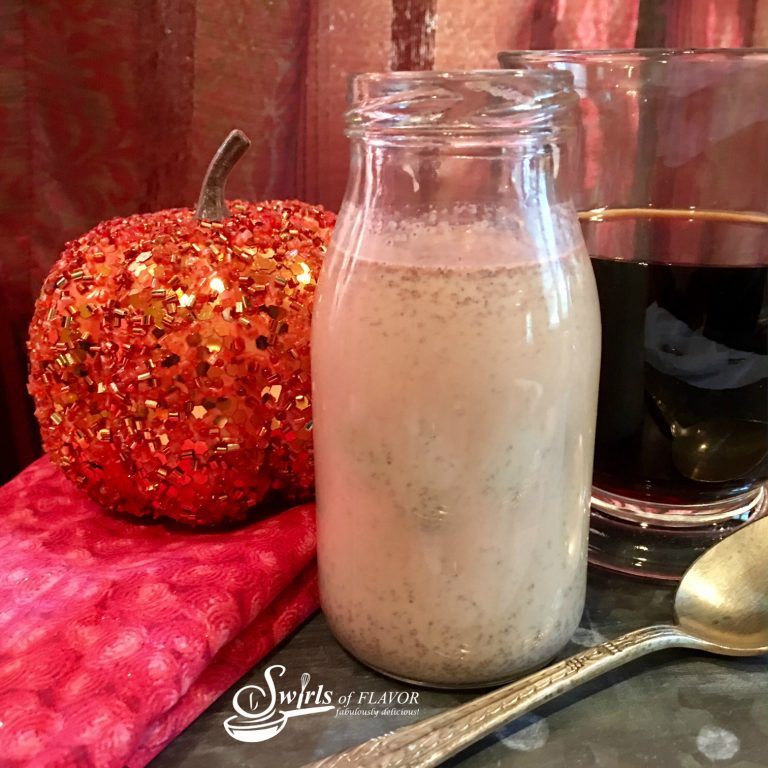 Pumpkin Spice Creamer
Pumpkin Spice Creamer is a quick and easy homemade creamer
for your coffee or beverage of choice that's sure to warm you right
up! Infused with the flavors of pumpkin spice, coconut sugar and a hint of
vanilla, our homemade pumpkin coffee creamer will be a welcome addition to your
warm drinks.
Keyword:
pumpkin spice creamer
Instructions
Combine half and half, coconut sugar and Pumpkin Pie Spice in small sauce pot. Simmer over medium-low heat until sugar has dissolved, about 5 minutes, whisking occasionally until blended.

Remove from heat and stir in vanilla. Refrigerate until chilled.

Shake before adding to coffee, tea, latte or milk.
Recipe Notes
Makes about 1 1/4 cups.
Nutrition Facts
Pumpkin Spice Creamer
Amount Per Serving
Calories 24
Calories from Fat 9
% Daily Value*
Fat 1g2%
Cholesterol 4mg1%
Sodium 9mg0%
Potassium 18mg1%
Carbohydrates 2g1%
Protein 1g2%
Vitamin A 43IU1%
Vitamin C 1mg1%
Calcium 15mg2%
Iron 1mg6%
* Percent Daily Values are based on a 2000 calorie diet.