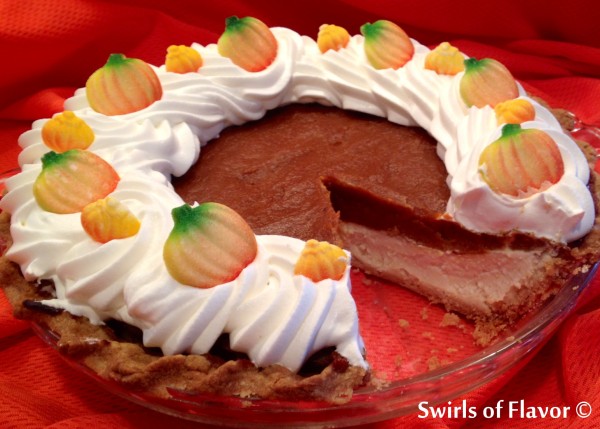 Cheesecake? Pumpkin pie? Hmmmm…….can't decide which dessert to make this Thanksgiving? Not to worry! Cheesecake Pumpkin Pie is a cheesecake within a pie so you can have your cheesecake and eat your pie too! And best of all you can do it all in one bite! A creamy vanilla cheesecake layer is surrounded by a flaky pie crust and smothered by a spiced pumpkin pie layer. Everyone will be thankful that you baked up this dessert!!
Cheesecake Pumpkin Pie
Half of 1 pkg. (11 oz.) pie crust mix
Cheesecake layer:
2 pkgs. (8 oz. each) cream cheese, at room temperature
1 egg
1/2 cup sugar
2 tsp. vanilla extract
Pumpkin Pie layer:
1 can (16 oz.) 100% pure pumpkin puree
2 eggs
1/2 cup sugar
2 tsp. pumpkin pie spice
1/4 tsp. salt
Whipped topping and sugar pumpkins for garnish
1. Preheat oven to 375F. Place a baking sheet on middle rack in oven.
2. Prepare pie crust mix according to package directions to make one pie crust. On lightly floured surface roll dough into 11-inch circle. Fit into 9-inch pie dish. Flute edges and refrigerate.
3. Cheesecake layer: With mixer on medium-high beat cream cheese, 1 egg, 1/2 cup sugar and vanilla until light and fluffy, 3-4 minutes, scraping sides of bowl occasionally. Spread evenly over bottom of prepared pie crust. Place pie dish directly on heated baking sheet in oven, this helps bottom of crust to bake. Bake 20 minutes until layer is just set.
4. Pumpkin Pie layer: With mixer on medium beat pumpkin puree, 2 eggs, 1/2 cup sugar, pumpkin pie spice and salt until blended and smooth, 2-3 minutes. Carefully spread over cheesecake layer. Return to the oven, directly on the heated baking sheet and bake additional 40 minutes until puffed and crust is golden.
5. Cool on wire rack. Refrigerate 4 hours-overnight.
6. Garnish with whipped topping and sugar pumpkins.
Makes 12 servings.