As the Super Bowl game begins to wind down and the appetizers have been consumed it will be time to bring out the dessert! And everyone always saves room for dessert! Watch the crowds swarm over this Chocolate Chunk Cannoli Dip! They'll love scooping up the creamy cannoli filling with cookies, biscotti, shortbread and waffle cone pieces! With just a hint of cinnamon and vanilla and chunks of chocolate, this sweet dip is to die for! Traditionally a cannoli is Sicilian but today it's all-American!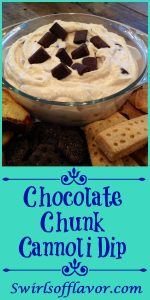 Chocolate Chunk Cannoli Dip
1 pkg. (8 oz.) cream cheese, at room temperature
1 cup confectioners' sugar
1 container (15 oz.) ricotta cheese
2 tsp. vanilla extract
1/4 tsp. ground cinnamon
1 cup chocolate chunks
Suggested Dippers: shortbread fingers, Oreo thin crisps, waffle cones, biscotti bites*
1. With mixer on medium beat cream cheese and confectioners' sugar until fluffy and blended.
2. Add ricotta cheese, vanilla and cinnamon. Increase mixer speed to medium-high and beat until smooth and combined.
3. Stir in chocolate chunks.
4. Transfer to serving dish. Serve with suggested dippers or other cookies.
Makes 4 cups.
* I used Royal Edinburgh shortbread fingers, Nabisco Oreo thin crisps, Nonni's biscotti bites and waffle bowls.