The youngest of my four sons has had more than his fair share of medical issues since he was a little baby. Over the years he has had nine surgeries, Code Blues, life threatening situations and a life-saving kidney transplant. As a seventeen year old high school senior, Bryan received the call that would change his life forever and give him the gift of life. There was a kidney for him that was a match! We packed a suitcase and headed off to the hospital. On our way we called his three older brothers and his dad to let them all know. We also said a prayer for the donor and his family. Our joy was their sorrow and our hearts and prayers went out to them. As we waited in the emergency room for the kidney to arrive, one by one Bryan's brothers and dad all arrived too, and we surrounded him at his bedside with love, and prayers for the donor and his family. The transplant was a success! The day Bryan was discharged from the hospital we arrived home and there soon was a knock on the door. It was my co-worker and friend Richie with food in hand…..enough to feed our large family and more, along with wine, of course! Richie wanted us to have a delicious family dinner together to celebrate Bryan's gift of life. As we ate Richie's delicious Chicken Oreganata, we celebrated the precious gift of life, the generous gift of food, the gift of a loving family and the gift of good friends.
Several years later we were honored to met the Walkers, Bryan's donor family, at the NJ Sharing Network 1st Annual Walk in 2011. We meet every year and walk and/or run together in memory of Bobby and to raise awareness for organ donation. They truly are our extended family.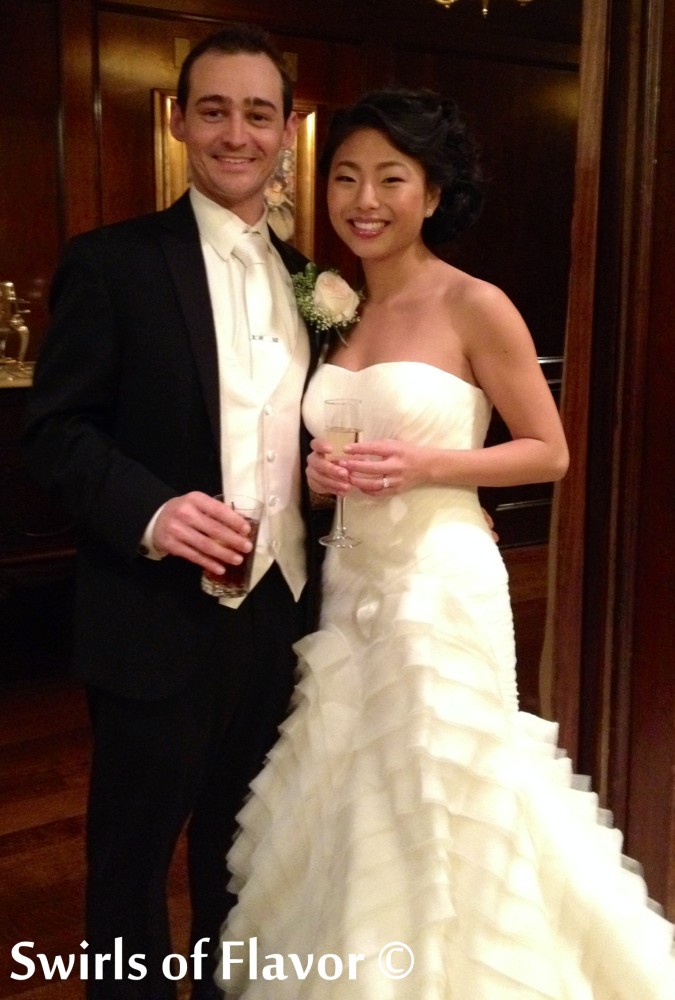 Eight years after his transplant Bryan is healthy, happy and an amazing young man. And one week ago today he married Leigh, the love of his life.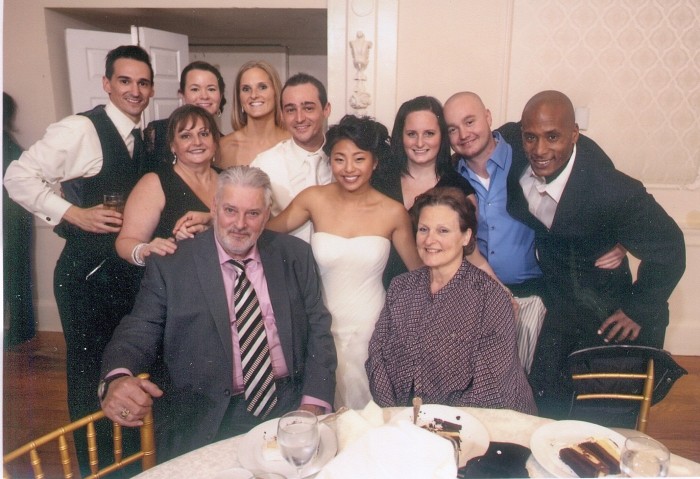 We celebrated this happy time with family, friends and our extended family, his donor family, to whom we are eternally grateful for the gift of life.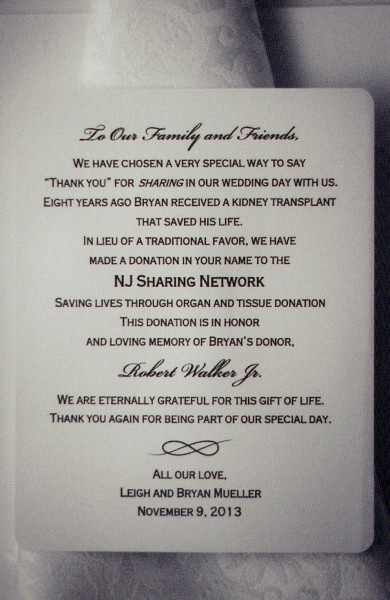 Bryan's donor, Robert Walker Jr., was a true presence throughout the day. Bryan and Leigh honored Bobby at their wedding by making a donation in his honor and memory to the NJ Sharing Network.
Please consider being an organ donor. It truly changes lives.
Baked Chicken & Vegetables Oreganata
4 bone-in chicken thighs
2 tsp. dried oregano, divided
1 lb. baby red-skinned potatoes, quartered, 3 cups
8 ounces baby carrots, 2 cups
1 onion, chopped, 1 cup
4 Tbs. butter, melted
2 cloves garlic, minced
2 Tbs. lemon juice
1 Tbs. lemon zest
1/2 tsp. kosher salt
1/4 tsp. pepper
flat leaf parsley leaves
1. Preheat oven to 400F.
2. Season chicken thighs with 1 tsp. oregano. In large non-stick skillet over medium-high heat cook chicken, skin side down, until browned, 7-8 minutes. Remove chicken, discarding fat drippings.
3. In roasting pan or baking dish toss potatoes, carrots and onions. Top with chicken, skin side up.
4. Combine butter, garlic, lemon juice, lemon zest, kosher salt, pepper and remaining 1 tsp. oregano. Pour over chicken and vegetables.
5. Bake 45 minutes or until chicken juices run clear or meat thermometer reads 165F.
6. Garnish with flat leaf parsley leaves.
Makes 4 servings*.
*Recipe can be doubled or tripled to feed a crowd! You may need additional baking time for chicken juices to run clear and meat thermometer to reach 165F.