This post contains affiliate links. (Disclosure policy)
Love those Shamrock Shakes at your local hamburger place? It's time to elevate them to party heights for St. Patrick's Day! Add Irish Whiskey to your shake and serve in green sugar and sparkle gel rimmed shot glasses! Vanilla ice cream flavored with mint, spiked with Irish Whiskey and tinted green, Shamrock Shake Shooters are sure to be the hit of your Saint Patrick's Day! Kids will love these little shooters too, without the Irish whiskey of course! Everyone will want to be Irish and toast to Saint Patrick with a Shamrock Shake Shooter today!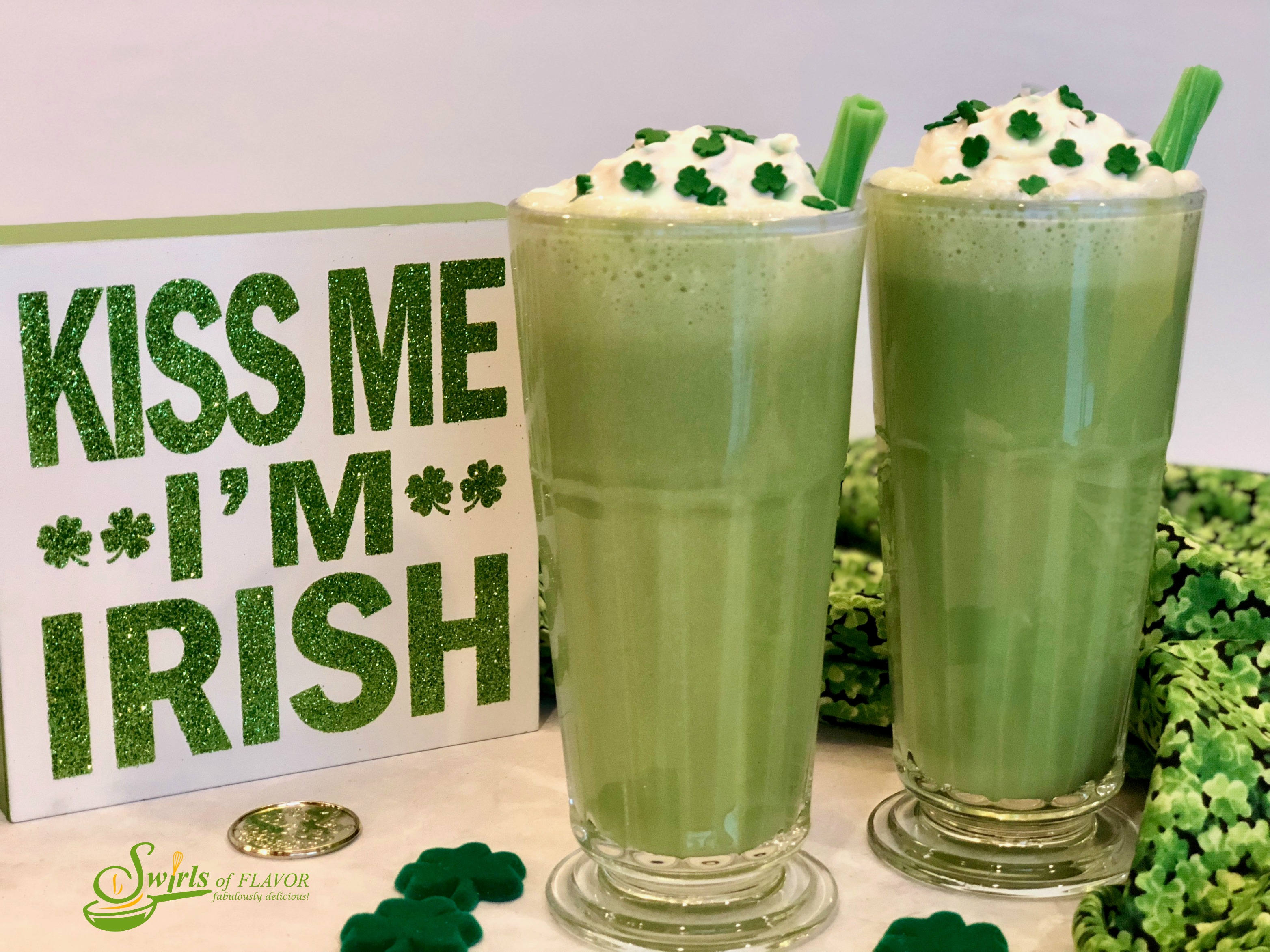 Prefer a large shake all for yourself? Not a problem, this recipe will make two full size shakes. Don't forget the whipped cream, green licorice straws and shamrock sprinkles!
Round out those Shamrock Shake Shooters with a meal any Irishman would be happy to serve! Slow Cooker Corned Beef & Guinness Reduction, Colcannon With Kale And Leeks, Roasted Cabbage Wedges With Bacon and, of course, Irish Soda Bread! But wait, you'll need dessert too! Bailey's Irish Cream Pudding 'N Cake Parfaits, a sweet ending to a celebration of all things Irish!
Shamrock Shake Shooters
green sparkle gel or corn syrup
green sugar
1 1/2 cups vanilla ice cream
1/2 cup milk
1/4 cup Irish whiskey, optional
1/8 tsp. mint extract
10 drops liquid green food coloring
For Shakes:
green licorice "straws"
whipped topping
green shamrock sprinkles
Dip rims of shot glasses in green sparkle gel then in green sugar.
Combine ice cream, milk Irish whiskey, mint extract and food coloring in blender and puree until smooth and blended.
Pour into prepared shot glasses.
For Shakes: Divide shakes between two glasses. Add green licorice straws and top with whipped topping and sprinkles.
Makes 8 shooters or 2 shakes