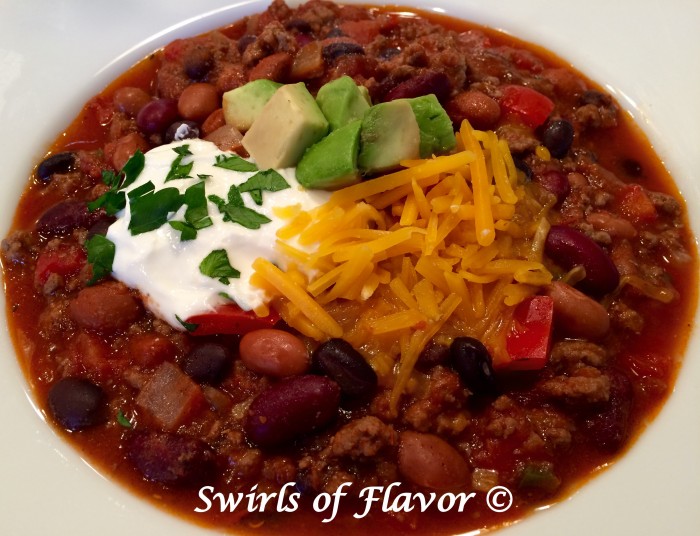 The temperature is dipping down below zero here in Jersey. My chilly bones are telling me it's time to cook up Triple Bean Chili. A hint of jalapeno, warm spices and a trio of beans lend themselves to a mouth-watering chili that's packed with flavor and nutrition. I'm definitely going to cozy up to a piping hot bowl of Triple Bean Chili and say a prayer that this deep freeze is over soon!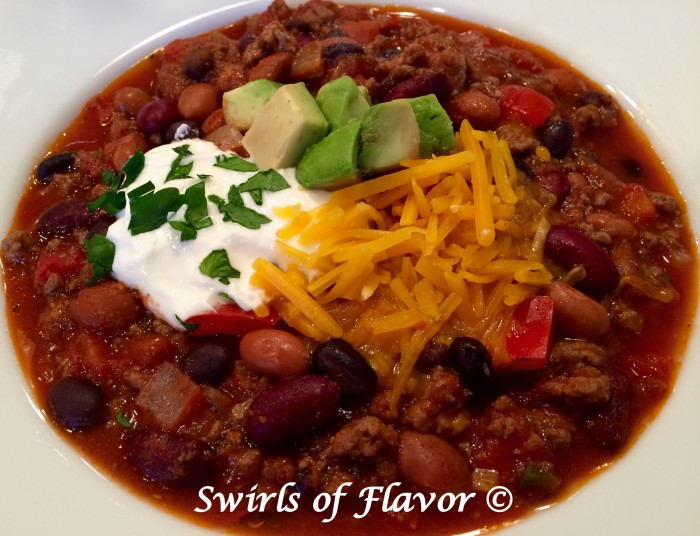 Triple Bean Chili
2016-02-13 12:33:45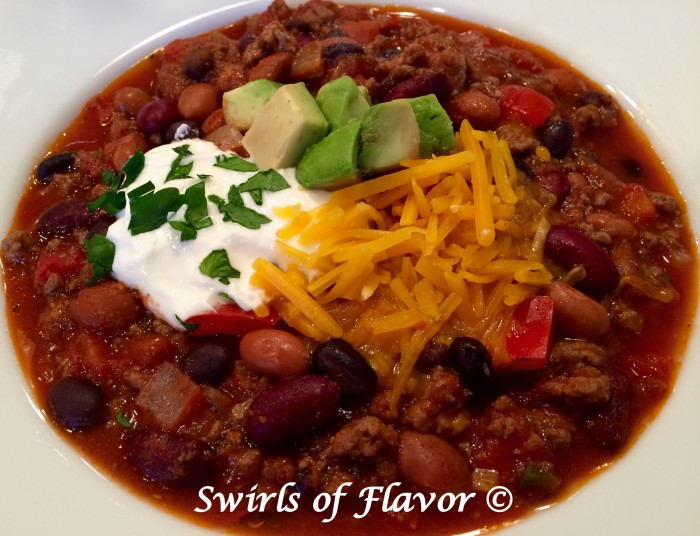 Serves 8
Nutrition Facts
Amount Per Serving
* Percent Daily Values are based on a 2,000 calorie diet. Your Daily Values may be higher or lower depending on your calorie needs.
Ingredients
1 1/2 lbs. ground beef
1 onion, chopped, 1 cup
1 red bell pepper, chopped, 1 cup
1 jalapeno, seeded and minced, 2 Tbs.
1 Tbs. chili powder
1 1/2 tsp. kosher salt
1 tsp. ground cumin
1 tsp. garlic powder
1 can (15 ounces) black beans, drained and rinsed
1 can (15 ounces) red kidney beans, drained and rinsed
1 can (15 ounces) pinto beans, drained and rinsed
1 can (28 ounces) crushed tomatoes
1 can (10 ounces) Ro-Tel diced tomatoes & green chilies
Suggested Garnishes
chopped avocado
chopped cilantro
shredded cheddar cheese
sour cream
Instructions
In large pot cook ground beef, onion, red bell pepper, jalapeno, chili powder, kosher salt, cumin and garlic powder over medium-high heat until ground beef is browned, stirring occasionally.
Add black beans, red kidney beans and pinto beans.
Stir in crushed tomatoes and Ro-Tel diced jalapenos & green chilies and bring to a boil.
Reduce heat to medium-low and simmer 30 minutes, stirring occasionally.
Serve chili with shredded cheese, chopped avocado, chopped cilantro and sour cream.
Notes
Makes 10 cups.
Swirls of Flavor https://swirlsofflavor.com/