In the mood for jalapeno poppers but don't have the time or patience to stuff all those little jalapeno peppers? Not a problem! In no time at all you can whip up this Jalapeno Popper Dip that has all the flavors of poppers without the fuss! Bake it in a hollowed out bread bowl and use the bread cubes as dippers or in a baking dish and serve with tortilla chips. Either way, you're going to love the ease of this recipe…..and the poppin' flavor!
Jalapeno Popper Dip
2 (8 oz. each) pkgs. cream cheese, at room temperature
½ cup light mayonnaise
½ cup shredded Monterrey Jack cheese
1 (4.25 oz.) can chopped green chiles
¼ cup pickled sliced jalapenos, chopped
1 tsp. chile powder
½ tsp. ground cumin
½ cup shredded cheddar cheese
1.5 lb. loaf unsliced round or oval crusty bread, if desired
1 plum tomato, chopped
1 fresh jalapeno, sliced and seeded
1. Preheat oven to 350F. If serving in bread bowl, hollow out center of bread to within 1″ of edges; cut bread pieces into cubes. On baking sheet, bake bread bowl and bread cubes until lightly toasted, about 15 minutes.
2. Combine cream cheese and mayonnaise until smooth and blended. Stir in Monterrey Jack cheese, green chiles, pickled jalapenos, chili powder and cumin.
3. Transfer to 4-cup baking dish or prepared bread bowl. Top with shredded cheddar cheese.
4. Bake 30 minutes or until cheese is melted and mixture is heated through.
5. Garnish with chopped tomato and fresh jalapeno slices. Serve with prepared bread cubes or tortilla chips.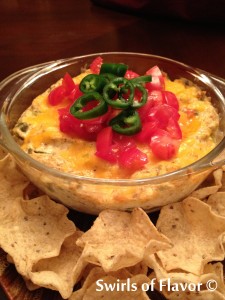 No time to bake a bread bowl? Just serve in a baking dish with tortilla scoops! So easy and still poppin' with flavor!