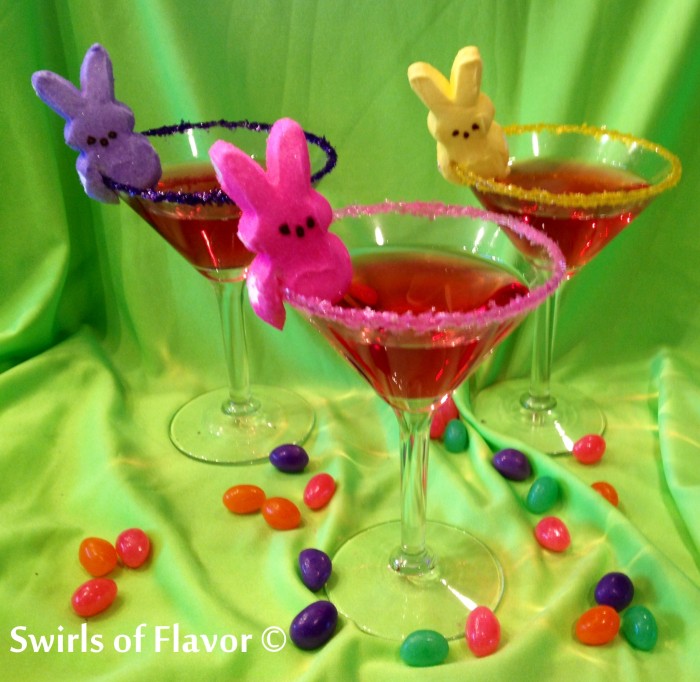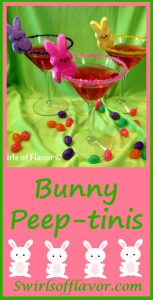 You know spring has arrived and Easter is quickly approaching once Peeps, those colorful sugary marshmallow confections, begin to appear. Kids go crazy for Peeps and now adults will, too! Bunny Peep-tinis will certainly please the grown-ups at your holiday gathering this year. Flavored with vanilla and strawberry, they offer the perfect flavor combination for spring and Easter holiday celebrations!
Serve your Bunny Peep-tinis with a fabulous holiday menu of Panko Crusted Beef Rib Roast, Buttery Lemon Mint Sugar Snap Peas and Golden Potatoes Au Gratin, and finish with a seasonal Coconut Lemon Layer Cake! Everyone will want to gather around your table to make delicious memories!
Bunny Peep-tinis
2018-02-23 18:05:40
Serves 4
Bunny Peep-tinis are flavored with vanilla and strawberry offering the perfect flavor combination for spring and Easter holiday celebrations!
Nutrition Facts
Amount Per Serving
* Percent Daily Values are based on a 2,000 calorie diet. Your Daily Values may be higher or lower depending on your calorie needs.
Ingredients
corn syrup
yellow, purple and pink cake sparkles or sugars
yellow, purple and pink bunny Peeps
1 cup vanilla vodka
1/2 cup cran-strawberry juice, such as Ocean Spray
Instructions
Spread a thin layer of corn syrup on a paper plate. Sprinkle each color of cake sparkles or sugars on additional paper plates.
Dip rim of glass in corn syrup and then in one of the colors of sparkles or sugars.
Make a small cut in bottom of each bunny and place on rim of glass.
Combine vanilla vodka and juice. Pour into prepared glasses.
Notes
Makes 4 servings.
For just a single serving combine 1/4 cup vanilla vodka and 2 tablespoons juice.
Swirls of Flavor https://swirlsofflavor.com/