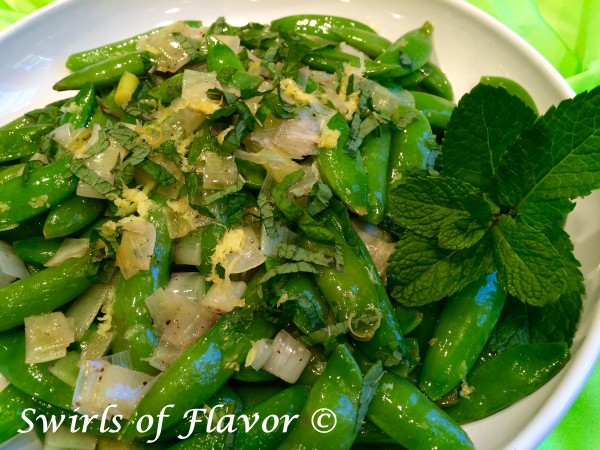 Sugar snap peas and leeks….a sure sign that spring has arrived! Buttery Lemon Mint Sugar Snap Peas, the ideal combination of springtime flavors, will brighten up any holiday or spring menu. There's nothing quite like the crisp crunch of a springtime sugar snap peas and it's fresh sweet flavor. Packed with Vitamins C and K, manganese and iron, sugar snap peas are a great nutrition source too! Look for crisp firm pods (be sure to remove their "strings" before using) or indulge a bit and purchase packaged already stringless sugar snap peas*, also in your produce section.
In the same family as garlic and onions, leeks have a mild sweet flavor adding just a subtle hint of a delicate sweet onion. Also a good source of Vitamin C along with Vitamins A, K and E, anti-oxidants and minerals, leeks are great sautéed or eaten raw in your salad. Sauté sugar snap peas and leeks in butter with a little white wine, topped off with fresh mint and lemon and your guests will be so thankful that spring has arrived with Buttery Lemon Mint Sugar Snap Peas!
Golden Potatoes Au Gratin, Lemon Roasted Springtime Asparagus and Gingered Cinnamon Honey Glazed Carrots will also bring springtime to your holiday table. Coconut Lemon Layer Cakewill finish any day on a sweet note!
Buttery Lemon Mint Sugar Snap Peas
4 Tbs. butter
1 leek, white and light green parts chopped, 1 1/2 cups
1/2 tsp. kosher salt
1/4 tsp. pepper
1/4 cup white wine or chicken broth
1 pkg. (15 oz.) stringless sugar snap peas*, 5 cup
1 Tbs. thinly sliced fresh mint
1 Tbs. lemon zest
1. In large skillet melt butter over medium-high heat. Add leeks, kosher salt and pepper and cook until just softened, 3-4 minutes.
2. Add wine and boil 1 minute.
3. Stir in sugar snap peas. Reduce heat to medium-low and cook, covered, until tender-crisp, 5-7 minutes.
4. Remove from heat. Transfer to serving dish and top with mint and lemon zest.
Makes 4 cups/8 servings/ 1/2 cup per serving.
*I love the convenience of these packaged sugar snap peas that have already have had their strings removed saving minutes of prep time….and every minute counts especially on a holiday! Available in the produce section of your grocery store.